Evan Walsh, Transcript Reporter
An Ohio Wesleyan record was broken when two OWU students earned a Top-5 finish in last month's American Collegiate Moot Court Association's national championship.
In Moot Court, students argue for or against a fake case that requires each team and its members to interpret constitutional rights that apply to it.
OWU was eligible to send four students (or two teams) to this event, which was attended by more than 350 schools from across the country.
Michael Esler, a professor of politics and government, accompanied seniors Katherine Berger and Rhiannon Herbert and juniors Forrest Dearing and Chloe Dyer on the trip.
California State University in Long Beach hosted this year's championship.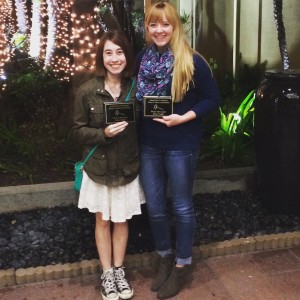 "It's a great opportunity to cultivate and begin the process of developing arguments, learning the necessary forensics and getting arguments ready for competition," said Michael Crum, one of the team members.
The team, which meets several times each week to discuss different cases, earned praise from President Rock Jones for their commitment to the program.
"Our students who participated in Moot Court worked very hard in preparation for the competition and did very well against very strong teams," Jones said.
Berger and Herbert earned a Top-5 finish in the American Collegiate Moot Court Association's national championship, setting a new OWU record. Last year, they had a top 20 finish.
In a press release, Essler said, "At last year's nationals they won every round in the preliminaries, one of only six teams to do so but they were undaunted, knew what they had to do, and took care of business with the determination that has characterized their performance throughout their moot career."
The team proceeded to win three consecutive rounds against higher-ranked teams, including two of the nation's top-ranked teams.
Jerry Lherrison, a former team member, spoke highly of the Berger and Herbert's record-setting performances.
"I think they are both phenomenal debaters," Lherrison said. "They're going to make incredible attorneys one day."