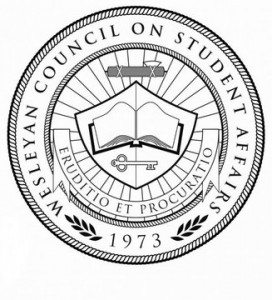 As the semester winds down, senators continue to work on projects outlined at their last full senate meeting that were designed to effectively spend leftover funds.
At the Nov. 30 full senate meeting of the Wesleyan Council of Student Affairs (WCSA), vice president Emma Drongowski, a senior, said work on the projects will continue next semester.
She also briefly explained to the senate what happened at the last faculty meeting when faculty voted to not allow several students into the meeting.
Drongowski said the decision only applied to that specific meeting. At the next meeting there will be a new vote to decide if guests should be allowed in.
She said if closing the meeting off to students "becomes a trend," there will be a discussion about other ways students can access information regarding what decisions were made.
The main topic of new business was introduced by junior Caroline Anderson, chair of the Administrative Policy Committee (APC).
APC has revised the WCSA constitution, and a bill to accept the revisions will be voted on next week by the full senate.
"We put in new sections that we felt were more appropriate for WCSA in terms of our function," Anderson said.
Parts of the constitution were clarified and reorganized, and there was a section added about committees.
Drongowski added that "some cool charts" were also put in.
"It has changed nothing we do in practice currently," Drongowski said.