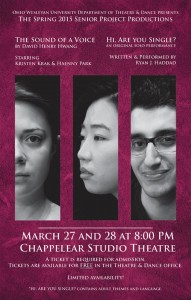 A chilling Japanese ghost story and an inspiring performance about one's real life perseverance were the highlights of this year's senior theatre productions.
The two acts, presented by the Ohio Wesleyan department of theatre and dance, took place in the Chappelear Studio Theatre on March 27-28.
Seniors Kristen Krak and Haenny Park performed "The Sound of a Voice" by famous professor, playwright and screenwriter David Henry Hwang. Senior Ryan Haddad performed an original solo piece titled "Hi, Are You Single?"
"I have been working with this material for about a year, it has not always been in solo performance form though I knew this was going to be my end goal," Haddad said. "It was in my mind as a solo piece but I didn't start crafting it like one until the fall."
"Hi, Are You Single?" deals with Haddad's personal struggles growing up as a gay man with cerebral palsy. The performance brought with it an element of comedy, simultaneously provoking thought about how people treat one another.
"I've done a lot of autobiographical performance work over the past two years but usually they have been short pieces in workshops, mostly with performance artist Tim Miller," Haddad said.
Haddad sites Miller, who is here on a theory to practice grant, as being instrumental in the development of his solo performance.
In "The Sound of a Voice", Kristen Krak plays a lonely man on a journey who is trying to figure out the mysterious secret of a woman (played by Haenny Park) who lives alone in the woods. As the play progresses they grow to understand and even care for one another but the ending is anything but happy as their secrets unfold.
"I enjoyed the performance," junior Ryan Burkholder said. "I thought it was kind of weird having two women performing a story between a man and a woman."
Burkholder was one of many – including OWU President Rock Jones – in the packed crowd at the Friday night showing.
Haddad said that many people work behind the scenes on these performances and that all are important.
"So many people have influenced the writing and the performance," Haddad said. "I have two wonderful collaborators, Margot Reed and Ian Boyle… and Ed Kahn in the theatre, oh my god he is remarkable."