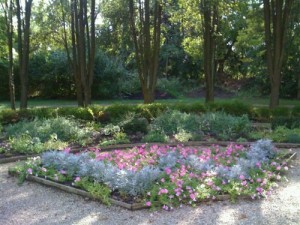 Anna L. Davies, Transcript Correspondent
In a partnership with Stratford Ecological Center, Ohio Wesleyan University's Monnett Garden will get a honey producing and observation apiary on April 22 for students of all majors to use.
The apiary is financed by an approximately $1,000 Theory-to-Practice grant written by junior zoology and nonfiction writing double major Meg Deeter. The grant Deeter received will cover the costs of beekeeping equipment and a stipend for a current lecture series about beekeeping by Stratford apiarist Dave Noble.
Noble's last two lectures have been about the pollination industry and the honey bee genus Apis, respectively. Stratford will be providing the hives for no charge and will act as the main apiary caretaker and owner. "It's a growing trend for campuses to have apiaries, and I wanted to bring that here," Deeter said.
"I'm hoping for a foundation for students like me. I'm not the first and I won't be the last. I want it to be something that stays when I'm gone." "My main goal is to have a hands-on experience for parasitology and entomology students," Deeter said.
Deeter said the apiary would still be open to students of any major. "I emphasized in my grant that this project would be interdisciplinary," she said. "I don't like the sciences and the arts being separated."
Deeter said she was inspired to start the apiary over the summer while interning at a fish and wildlife center and watching her boss breed honeybees. While staying late in parasitology lab last semester, Deeter also overheard OWU professor of zoology Ramon A. Carreno mention wanting an observation hive.
"I also want an outreach for kids. Dave Noble helps with OWjL (Ohio Wesleyan Junior League) and wants to bring kids here to campus to study our apiary," Deeter said.
Noble's focus is getting young people interested in bees. "I came to bees when I was in college. My mentors started keeping bees when they were eight," he said. "10,000 kids on average come to Stratford every year on field trips. I get to interact with all of them," Noble said.
Like Deeter, Noble said he also wants science, humanities and social science college students to get involved. "I'm a huge proponent of the liberal arts because you have a specific major but get exposed to all these other things to create a wide foundation for life," Noble said.
Noble's next lecture is on March 28 and will be about threats to honeybees. The series continues with an April 11 lecture on honey bee genetics and an April 18 lecture on how to not get stung.
All lectures will take place at noon in Schimmel-Conrades Science Center room 163.