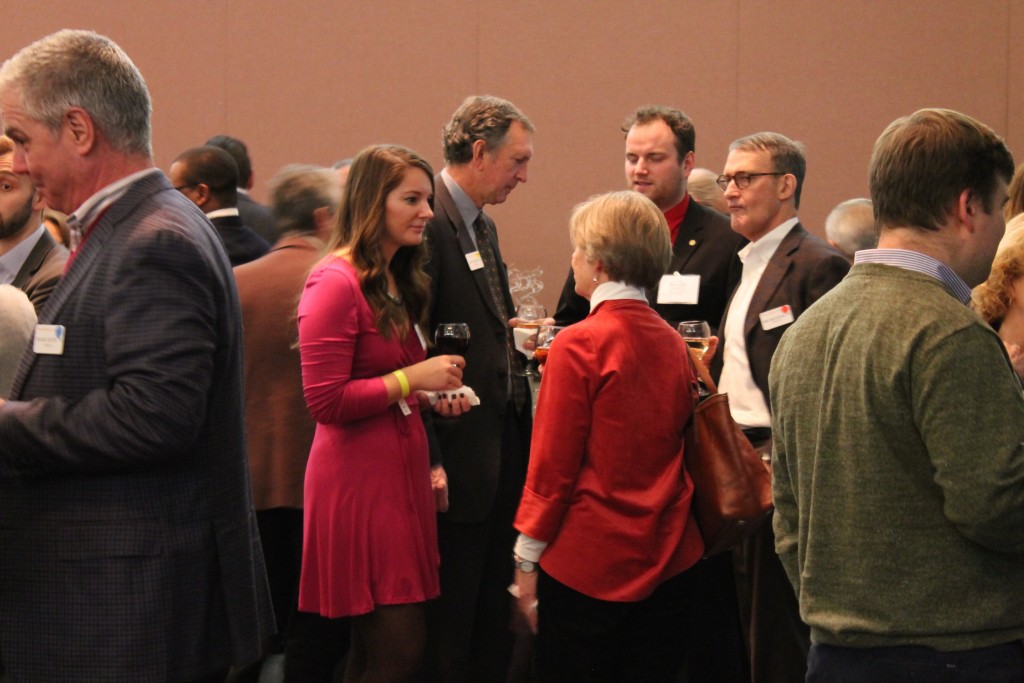 Areena Arora, Managing Editor
Olivia Lease, Online Editor
The Ohio Wesleyan Board of Trustees (BOT) passed a resolution to support the goal of enrolling 2,020 students by 2020 when they visited last week.
This goal, according to the BOT campus retreat report shared by President Rock Jones with faculty, calls for a 25 percent growth in total student body over the next five years. Ten faculty members were also present with the trustees for discussion.
On Feb. 11, Wesleyan Council of Student Affairs (WCSA) invited the Board of Trustees to dinner to discuss a myriad of issues and celebrate their love for the school.
Topics such as the importance socioeconomic and racial diversity among the students, and enhancing school spirit were discussed. Also at issue were the appropriate role of academic advisors and campus accessibility for students with different abilities.
In his opening statement, Thomas Tritton '69, chairperson of the board, said, "We [the board members] love coming back to campus because it allows us to reminisce. We love sharing good memories, and of course, blocking out the bad ones."
Addressing the students present, Tritton said, "You all are going to be us someday. I hope that doesn't scare you too much. It should inspire you instead."
Junior Jess Choate, president of WCSA, said she wanted those in attendance at the dinner to focus on "looking to the past in order to better the present."
Choate talked about discontinued OWU traditions such as Spring Fever Day during which a bell was rung and the students were allowed to ditch class in exchange for other fun activities. WCSA, she said, is aiming to reintroduce old traditions.
The idea of rethinking OWU's plentiful travel opportunities was also discussed. Laurie Anderson, professor of botany-microbiology, suggested offering a competitive scholarship so more students can go on travel-learning courses.
Will Kopp, chief communications officer, suggested the idea of an "angel fund" or emergency scholarship to help students who are struggling to pay tuition. "It's just a shame," he said.
Senior Emma Drongowski, former WCSA vice president, who was in attendance and remembered planning the event last year, said, "It's very stressful. I mean, people on the Board of Trustees are very important people and they have a limited amount of time on campus. So as a student, we know how valuable that time is."
"At my table, we talked about varying abilities of students coming in, specifically academic-level abilities and how to best support them," said Drongowski. "I think all the issues talked about today [at the dinner] were important, but the overall question on most people's minds was retention just because that is indicative of a lot of other things on campus."
According to U.S. News and World Report's 2011 edition of America's Best Colleges, OWU's retention rate was 87 percent. The current rate however, is 81 percent, showing a drop of 6 percent in the past five years. In 2011, OWU had the lowest freshman retention rate of the Five Colleges of Ohio or the Ohio5 (Oberlin, Kenyon, Ohio Wesleyan, Denison and Wooster).
Gregory Moore '76 said, "I love the big 2020 plan. We want to get more students to come and stay. The trustees are really starting to echo with what students have been saying. We are starting to listen more."
During the retreat, the board reviewed results of the Student Satisfaction Inventory survey, which was collected in October 2015, and engaged, along with faculty, in conversations with students about ways to enhance the student experience and increase student satisfaction and success, according to the retreat report.
In an email, Rock Jones, the president of OWU, said, "This is an exciting time at the university as we set out on this new, critical pathway. We must embrace appropriate change while remaining true to our historic mission, be willing to take urgent action, keenly focus on proper execution and be dedicated to our nearly 175-year-old commitments to a liberal education, diversity and public service."