By Sara Hollabaugh, Online Editor
Known to many as "The Stretch," a staple in Delaware since 1990, The Backstretch has rebranded from just a bar to The Backstretch Kitchen and Drinks.
Owned by Joanne Meyer and her son Kyle Meyer '02, an OWU alum, The Backstretch is populated daily with OWU students and local customers.
According to their website, the Meyer family understood that frequent customers using the space for a quick drink at the bar also wanted food.
Though The Backstretch is limited on space, they installed a full-service kitchen over two years ago, allowing the bar to provide a full and seasonal food menu.
Since the kitchen has been installed, The Backstretch has rebranded their logo and updated their website.
"This was just a natural progression," Meyer said. "The food business has really taken off and so it was a natural evolution to update the 20-year-old logo to incorporate all aspects of the business."
As for future changes, Meyer said there is always room to improve.
"Last year, we also had been focusing on the outside: updating, painting and installing the patio," Meyer said. "This year's plans are for updating and doing some things to the inside of the premises."
Meyer said they have received positive feedback on their efforts to update The Backstretch.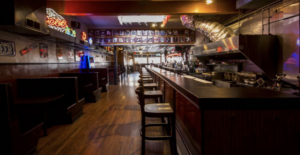 "It has been overwhelmingly positive," Meyer said. "Everyone has agreed the progression of updates and changes we have made in the past couple of years has been great."
"We have had alums in and they have all liked the new logo and the food," Meyer said.
OWU senior Cait Burton-Dooley said she thinks the rebranding is strange for students.
"The Stretch has always been a bit seedy and knowing that it's been cleaned up feels a little like we're losing some-
thing," Burton-Dooley said.
However, Burton-Dooley said the changes will not stop her from going.
"I'll still go because their food is good and their drinks are bomb," Burton-Dooley said. "It'll just take a little getting used to."
In addition to The Backstretch changes being different for students, the list of restaurants allowing students to use their OWU meal points has been updated for the semester.
After changing the card reading system last fall, Nancy Tumeo from the card office announced the seven restaurants returning this spring are Hamburger Inn, Home Slices Bakery & Café, Domino's, Opa Grill & Tavern, J. Gumbo's Delaware, Subway and Victor's Tacos.
This list leaves out El Vaqueros, typically on the off-campus dining program, due to technical difficulties with the card reading system, according to Tumeo.
As for The Backstretch, Meyer said they would not be opposed to joining the program, but do not know what it entails.
"We have talked about it in the past, but haven't had the time to get with OWU to learn about the system," Meyer said.