Students wish for luck during Lunar New Year
Students lined up for the free authentic Vietnamese food offered by Ohio Wesleyan's Vietnamese Student Association (VSA), who hosted the traditional celebration of the Lunar New Year on Saturday, Jan. 28.
It was held in the Hamilton Williams Campus Center in Benes B and C. VSA offered OWU students the chance to celebrate the lunar holiday and enjoy some of Vietnam's traditional dishes.
The Lunar New Year, also called "Têt," is a holiday celebrated in Vietnam that signals the beginning of spring. People typically celebrate in a festive manner with good food, and an exchanging of gifts.
The Benes Rooms were decorated with festive lights, posters and red lanterns. In many Asian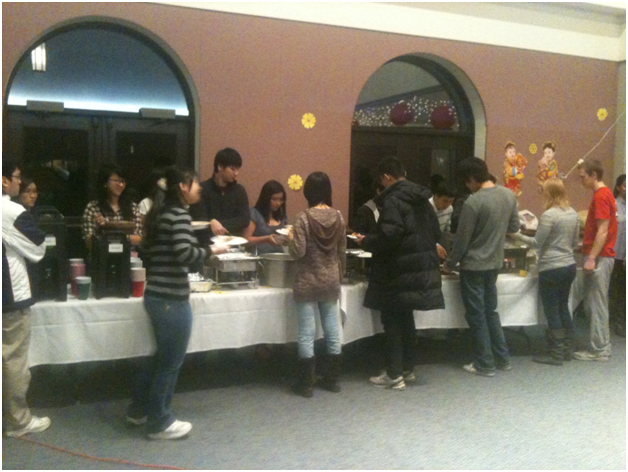 countries, the color red holds the symbolic meaning of luck which added an authentic flare to the Lunar New Year celebration.
Members of VSA gave away small envelopes filled with Asian candies to those who attended as a gift in appreciation of their attendance.
VSA's celebration of the Lunar New Year gave international students the opportunity to celebrate a holiday tradition away from home.
The event also educated fellow American students on Vietnamese traditions and the diverse taste of their food.
Sophomore Rebecca Overbeeke said, "I liked expanding my taste buds to a different culture, and the fact that the food wasn't store bought, but prepared by the VSA members showed that they genuinely care about the celebration of their culture. The atmosphere of the entire event was very relaxing too because they were playing soft music that sounded like music from Asia."
Students involved in VSA set up a buffet-style dinner and served the students some of their favorite traditional  Vietnamese dishes.
Some dishes offered included vegetable spring rolls with a peanut butter dipping
sauce, pork, noodles, and sticky rice.
Senior Alex Clapp said, "I
loved all the food and it was
fun to try new dishes I've never had before."
VSA impressed their fellow OWU students who attended the event by preparing and cooking dishes that originated from their Vietnamese culture.
Clapp said, "I was very impressed that all the food was prepared by the students themselves. It was a pretty big turnout of people which allowed the Vietnamese Student Association to share their food and culture with others."