The Bishops ended their regular season with the OWU invitational on Jan. 21.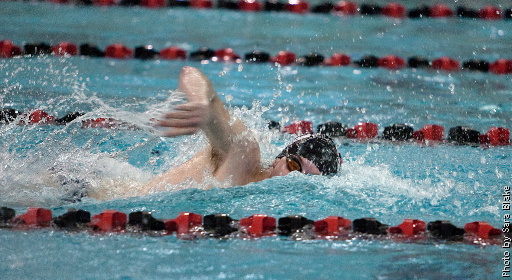 The women finished fourth out of five and the men finished second out of five.
While the teams did not win the meet, they were pleased with their overall performance.
"The season has been great. I am very happy with my performance and the performance of the teams this season," said sophomore Katie Helfrich.
"The invitational was a blast and I always enjoy seeing others do well. My favorite thing to do is cheer on my teammates," she said.
Helfrich posted the team's best women's individual finish, with a second place time in the 100 breaststroke and an added sixth-place finish in the 200 breaststroke.
Freshman Matthew Mahoney had the highest score for OWU men and won the 100 breaststroke in 1:00.38, placed third in the 200 breaststroke and fourth in the 100 freestyle to help the Bishops advance in the invitational.
"I have been very pleased with how my technique and endurance have developed over the course of this season under the instruction and help of my two coaches, Richard Hawes and Mike Kroll," Mahoney said.
"Without their help and critiques of my strokes and technique it would have been extremely difficult to be where I am now with my times and ability," Mahoney said.
"I can also confidently say that without the help of my fellow teammates who have pushed me in every practice, I would not have been able to swim the great times I achieved at the invitational."
Some of the other standouts for the Bishops were sophomore Jennifer Erichsen who finished third in the 1000 freestyle, sophomore Melissa Ward who was third in the 100 butterfly and senior Morgan Canup who placed third in the 1-meter diving.
For the men, the 800 freestyle relay team of Mahoney, sophomore Taylor Smith, freshman Marcus Ramirez and sophomore Sean Anthony helped the team finish second.
Hawes was pleased with the performance of the team at the invitational, especially due to the tremendous amount of effort required of the swimmers.
"Swimming is a sport where the season is more or less practice for the conference championships," said Hawes.
"Our last regular season competition in combination with the meet the night before, University of Findlay and the OWU Invite, was a test to see how (the team) swim(s) tired.  This part of the season is very difficult as it is the peak in terms of workload," he said.
The swimmers are now preparing for the North Coast Athletic Conference meet where they will face some of their toughest competition.
"I am looking to swim the best I can and leave everything in the pool," Mahoney said.
"I feel that I owe it to the seniors who have provided great leadership and advice over this season to do the very best I can," he said.
The NCAC tournament swim meet will take place Feb. 15-18 in Canton.