Babbling Bishops take improv to a new level
Ohio Wesleyan's improv- isational comedy troupe, The Babbling Bishops, knows the business of being funny is more than just funny business.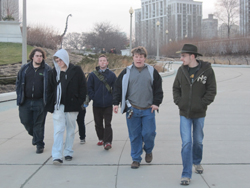 After their recent trip to Chicago to hone their skills through improv workshops, the black t-shirt clad and barefoot "Babblers" are gearing up to put their new knowledge to practice.
Junior Andrew Rossi, also known by his troupe-given name "Attenborough," explains that the Babbler's annual trip focuses mainly on strengthening the skills of the troupe.
"Chicago is college for the Bishops," said Rossi. "We go to be critiqued, to learn new methods of improv and to refine our form both individually and as a group."
A fellow member, junior David "Pop Fly" Reitan, elaborated a little on what these workshops involve.
"While we were in Chicago we took workshops at the Improv Olympic Theater (iO)," Reitan said. "This is, I believe, our third or fourth consecutive year that we have been taking lessons there.
"We were under the instruction of Greg Hess, a guy who's been in the biz for about 10-12 years and is part of two groups at iO, one of which, The Cook County Social Club, is revered as the best improv group in Chicago."
In these workshops, the Babblers focused on their dynamic and how to better interact on stage.
"One of the big things we
worked on was reacting to and building with our scene partners, and not stepping on stage with a rigid plan of how the scene will go," said senior Brock "Snake Hips" Schludecker.
The Babblers hope what they have learned from their workshops will allow them to better fulfill their purpose on campus. Rossi explained that the Babbling Bishops are fun; they give the campus a regular dose of original, improvised comedy.
He said they exist to entertain the campus and
to ensure the audience has as much fun watching the shows as they do performing and practicing.
Senior David "Jumanji Schonberg" Ordosch explained he had tried out for the Babblers during his freshman year, after attending the workshops they put on for new students. He enjoyed himself greatly, and wanted to join the troupe.
After not being admitted the first time he auditioned, he was inspired to work hard on his improv skills. He then came back the next year for auditions and
made the troupe.
Reitan expressed similar sentiments, and said he was impressed that people his age were able to get up on stage and do something like improv. After seeing the first show of the semester, he was hooked, and went to every show there afterwards.
At the end of the year, after the senior show, he made a pact with his friend to audition the next year.
The troupe strives to bring not only humor to campus, but also a stress relieving activity.
Junior Dave "Dunkaroos" Winnyk said the Babbling Bishops bring a "pressure release valve of humor" to the stressful college climate.
The comedy, however, does not end on the stage. Many of the Babblers have a deep attachment to comedy and what they do.
"Ever since I was a youngster, I loved comedy," Winnyk said.
"From when I was super little, walking around asking grownups 'ya wanna hear a joke,' to memorizing my favorite stand-up routines to impress my high school peers, I love to make people laugh…I think comedy and laughter keep us from getting too down on what can a lot of times be a cruel, awkward, and uncomfortable world."
Reitan explained that the Babblers are more that just an activity to him; they also connect on an emotional level.
"The most rewarding part of this experience is that I get to spend a couple hours a week with some of the most creative, fun, caring, quick-witted people I've ever met, that I've ever loved," he said.
"I will be hard-pressed to find some other group like this one. In some ways I hope I don't, in some ways I hope I do. To be a Babbler is to be part of 20-year history that is exclusive to OWU. I find that to be one of the most special things about my life to date."
Overall, OWU's improv comedy troupe is very dedicated to their work.
Their desire to bring humor to campus, coupled with their drive to maintain continued excellence in their performances, makes them a deeply committed and tight-knit entertainment group on campus.