OWU men's tennis capitalize the Crusaders in singles, doubles
The Ohio Wesleyan's men's tennis team easily out-played the Capital University Crusaders in a non-conference match Feb. 17, winning 7-2.
Doubles
No. 1 OWU doubles duo junior John Rissell and sophomore Richie Karban demonstrated tentative superiority against the Crusaders. Their rapport helped propel them.
The duo's cohesion rang clear, especially in pressing times, against the No. 1 Capitals doubles players Kenny Duncan and Tommy Stein.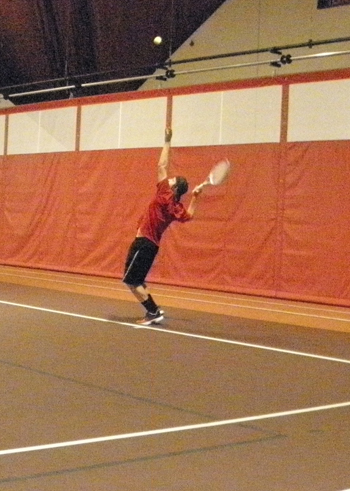 In one rally, Rissell shoots his racquet with too much topspin. The ball tries, but just cannot clear the net's peak: sweet-words by partner Karban, maybe a high-five or two later, and Rissell is back on his game, serving aces and spitting winners.
That is how the majority of the match went—general dominance by Rissell and Karban with short spurts of inconsistent shots remedied by excellent team cohesiveness.
From the forefront it was clear: the Rissell-Karban combo had the communication and togetherness their opponents lacked. Rissell and Karban's moves were calculated and strategic while Duncan and Stein stayed stagnant. Rissell and Karban clinched the match, 8-4.
Rissell said he and Karban have been playing together for over a year.
Singles
OWU No. 1 junior Will Thieman dominated in singles against Capital No. 1 John Murray.
After the first game and a few self-motivating shouts: "I need to focus, I need to focus"– he was off. Pushing almost no unforced errors, Murray would have to win each point to beat Thieman, said Bishop tennis coach Eddie Echeverria.
Each game Thieman won in the first set seemed to cause visible redness in Murray's face. Game after game after game after game went to Thieman. His opponent made false calls: "Out," Murray indicated with an open finger. Murray's own teammate on the sideline said, "That was in."
Thieman goes on to beat Murray in the set 6-0. In the second set Murray fared a bit better, but was trumped by Thieman's persistent consistency and collectedness, who won the set, 6-2.
Thieman said he has been playing tennis since he was 10 and has learned to stay mentally tough. Despite his high match scores he said he thought he would do better.
Overall
Echeverria said the team did very well. "It helps build confidence (for the upcoming match)," he said.
Echeverria said he expected an overall win, but warned that it could lead to player overconfidence.
"Once a man gets lazy, a man's legs get lazy. Overconfidence brings error and the opponent feels they have a chance," he said.