New home for Chelley Belly's, same great sandwiches
Chelley Belly's Soup and Sandwich, once located on Winter Street, has recently moved onto S. Sandusky.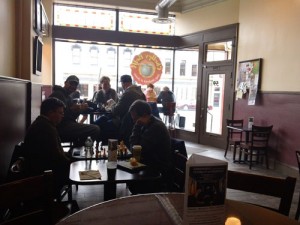 Owner Michelle Runyon said the move was due to the new location being "(A) nicer space, bigger space, and more visible."
Runyon said the restaurant's business seems to have gotten better with the move.
"We've been seeing new faces," she said. "I just hope that they keep coming back. We have noticed an increase, it's just a matter of if it keeps going that way."
Junior Liza Blakeslee has been working at Chelley Belly's since last May and also agrees with Runyon's idea of better business.
"(The move has) given us a lot more business, I think," said Blakeslee. "She (Runyon) has to look at the final statistics to see if we actually have benefitted."
Runyon also said that she does see a lot of OWU students, but the number has been going down this past year.
"I see a lot Ohio Wesleyan kids, especially when their parents are in town and they'll bring them here," said Runyon. "It could be part of the economy, but I have noticed a decline in the number of students. I don't think it's the location that's done that though. We have been seeing more family business people, people who work in town than we have in previous years."
Blakeslee said the move of the restaurant didn't have much effect on her working there, except for a month or so where."I didn't end up working much because we were preparing for the move."
She also said the best part of working at Chelley's is the free food.
"Usually, if we work a longer shift or work half a day then we can get a meal there for free," Blakeslee said.
Blakeslee said if a customer was unsure on what to get when ordering at Chelley's, she would recommend 'The Smokey.'
"That's our most popular sandwich," she said. "It's a turkey, bacon and cheddar cheese sandwich. If you are a vegetarian, I would say the Roma Tomato Mozzarella."
Sophomore Katalyn Kuivila, who visits the restaurant from time to time, said she has her own personal favorite.
"(I like) the 'White Italian' and I also really like their desserts. They have really good sugar cookies," she said.
Runyon said there's something special about the baked goods at Chelley Belly's.
"We have a lot of baked goods," Runyon said. "Everything is made here, in house, on the premises. We bake the breads fresh here, too."
The soups at the establishment are also made on site, including their best seller, the tomato bisque.
Kuivila said she has been there since the move, and though there are some advantages, there are a few drawbacks.
"I've been (there) a couple times and it's okay," she said. "They have a bit more space but it's also a little bit further away… I think in this new location they should put more seating in; they have the room for it."
Kuivila also said, depending on the time of day a customer goes to Chelley Belly's, the wait can be kind of long. Sandwiches are made to order, and this can sometimes cause a hold up in the line.
Chelley Belly's prices tend to be below 10 dollars for a meal and they are open Monday-Friday 10:30 a.m. to 7:00 p.m. and on Saturdays from 11:00 a.m. to 5:00 p.m. Visit them at Facebook.com/ChelleyMyBelly.