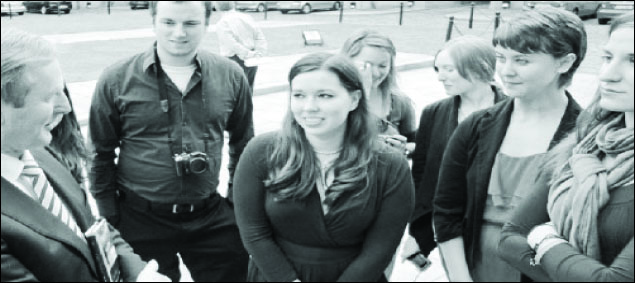 Students, faculty learn from experience abroad
Every year, Ohio Wesleyan students embark with professors to explore and experience the world.
During spring break, travel-study programs dazzle students with sights, sounds and events.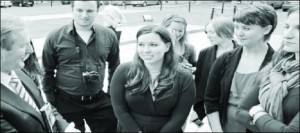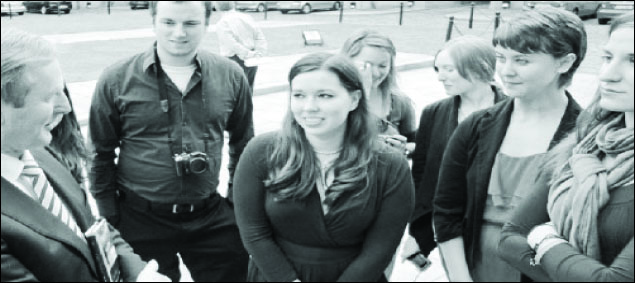 While students may never forget their time in Costa Rica or Ireland, they are not as lucky as the professors who lead the trips.
For Dr. Edward Burtt, Dr. Sean Kay and Dr. David Johnson, it's a blessing to get the opportunity to travel almost every year.
Dr. Edward "Jed" Burtt
Burtt has taught many biology and zoology classes since joining the Ohio Wesleyan faculty in 1976. He taught his first travel-learning course in 1980, leading a group of students to Ecuador and the Galapagos.
Burtt said he finds every travel-learning experience special.
"I love introducing students to new ideas, new experiences, new knowledge," Burtt said. "Such introductions are so central to a travel learning course that it makes such a course very special."
He said he is thrilled to see Costa Rica's lush, tropical environment again.
"The chance to spend time in the field in the tropics is magical," he said.
" You cannot imagine how wonderful the birds, mammals, reptiles, and on and on are … Did I say the birds are wonderful? They are."
Dr. David Johnson
Johnson, a professor from OWU's botany-microbiology department said while he has not been to some of this year's research locations in Costa Rica, he has been to many countries to study tropical plants.
Johnson said he is looking forward to guiding students during the trip.
"Part of the fun with group is getting to see a place
through other peoples' eyes. I'm always excited, because I know the students are in for an amazing experience."
Johnson said he is always nervous before a journey. This might be due to his experience with the unexpected while abroad.
His "craziest" experiences include jumping out a second-story museum window in Malaysia and being trapped in a cab to Jakarta, Indonesia with his narcoleptic taxi driver.
Dr. Sean Kay
Kay, a professor in OWU'spolitics and government department, has been visiting Ireland since 1987.
He guides students through the country and allows them access to senior journalists and Ireland's foreign minister.
Students also get to meet with average Irish people and hear their stories.
Not all of his trips abroad have been easy—in 2005, Kay and his daughter got caught up in the London train attacks. Kay saw the horror of the July bombings firsthand when a train in front of them exploded.
Still, Kay said he bonded
with strangers that day, united by tragedy.
Kay believes travel is an important part of understanding one's part in the world.
"The best part is we learn more about ourselves, seen through the eyes of those outside our nation," Kay said.