Professor discusses national mystery on History Channel
On January 14, 1950, West Point cadet Richard Cox vanished into the night and forever entered the halls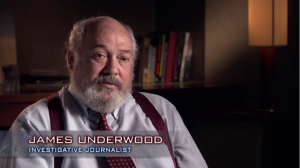 of unsolved mysteries.
Numerous manhunts by the FBI amounted to little more than empty leads.
But where the FBI and other investigators failed, James Underwood, Ohio Wesleyan adjunct journalism professor, succeeded.
On March 17, Underwood appeared on the History Channel to recount some of the clues he followed nearly 30 years ago.
Underwood started his investigation in 1982 and ultimately acquired over 4,000 documents related to Cox.
He said multiple news agencies and FBI agents have since contacted him to see his collection.
The History Channel gave Underwood little time to prepare for the interview. They contacted him March 7 and flew him to San Francisco two days later.
He shipped the producer some of his case-related documents when he returned home on March 10. On the show "America's Book of Secrets", Underwood talked about how he believed Cox left West Point to join the CIA.
Numerous sightings after his disappearance bolstered this claim, including one in 1960 which hinted Cox played a role in the Bay of Pigs invasion.
Few people have the opportunity to say they have been involved in what has been called one of America's top 50 mysteries. Underwood said he continues to wonder about Cox's case.
"If I don't think about the Cox case every day, there is hardly a week that goes by that I don't think about him, his family, the dozens of people I've interviewed and the case itself."
Underwood said he has always hoped Cox might contact him and answer the multitude of questions left unanswered.
"But, as the years go by (he would be 84 years old if still alive) the likelihood of ever knowing what really happened to him diminishes," Underwood said.
Underwood said he may donate his case files to Ohio Wesleyan.
These historical documents, some topped with FBI and CIA headers, comprise all that is publicly known about Cox's disappearance.
The Journalism Department may digitize these documents so anyone can review Cox's case.
Assistant journalism professor Melinda Rhodes said she plans to upload the historical files onto the library or journalism department website.
"I think this is an example of the way primary source material can be digitized and uploaded for the use of as many people are interested in the case." Rhodes said.
"It illustrates the paper trail that tells us much about the history of an individual and, as a result, our collective history. It speaks to politics and policy in context."
Underwood's interview can be seen in "America's Book of Secrets: West Point" on the History Channel.