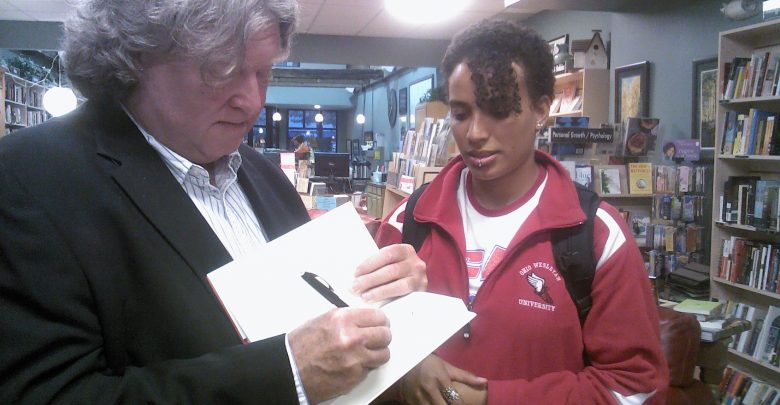 Olmstead book reading captures essence of life during Korean War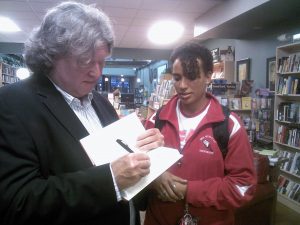 Beehive Books was buzzing with students, faculty and community members Tuesday April 3 when English Professor Robert Olmstead presented a reading from his newly released book, "The Coldest Night."
"Tonight was one of the highlight (events). He's such a well known author and his books are very well received and he lives in our community," Mel Corroto of Beehive Books said.
Corroto said Beehive Books hosts several readings and events throughout the year, featuring authors from all genres.
"It's hard because of the space, so it inhibits people who want to browse and hang out," Corroto said.
"But on the other hand, we love to do the events."
Patrick Allen, a friend of Olmstead, attended the reading.
"Typically, when I hear about Bob having a book reading, often he's out of state … So I was really pleased he was going to be in town."
Allen has read many of Olmstead's books and said he is excited about this newest one.
In her introduction of Olmstead, Corroto mentioned awards won by his previous books, including the 2007 Chicago Tribune's Heartland's Prize for Fiction won by "Coal Black Horse." "The Coldest Night" is the third in the same series as "Coal Black Horse." The completing novel is "Far Bright Star."
"Back in the mid '90s I became very interested in America's legacy of war and then how war becomes almost an inheritance that passed down through families," Olmstead said. "I don't know if it's true, but I've heard a statistic that America has reached at least one war-like adventure per year … The way that we (America) see ourselves and the way we think of ourselves is really quite different than the way we actually behave."
Olmstead's novel is about a young boy named Henry who falls in love with Mercy, a girl of higher social standing than he. The reading detailed the night of Mercy's graduation from high school.
The tone of this reading was as if the narrator of the story knows what is going to happen after this night.
The narrator is building a world of love and romance for the couple, only to be broken by a confrontation with Mercy's father when he tells Henry to leave his daughter alone. Henry ends up enlisting in the military and finds himself in the midst of the Korean War.
"I'm always trying to answer some questions," Olmstead said in an interview before the reading. "You get to your time and place, you find the sound that you want, but then you're trying to learn something. You're trying to teach yourself something. You want to know what's going to happen, just like when you turn the pages to find out what happens when reading a book. When you're writing one, you write the pages to find out what's going to happen."
Every writer has a style, and Olmstead used one word to really describe what goes on behind writing a novel.
"It's madness," he said. "You're really never not writing … You're always thinking about it, and it's never far away. With something like a novel, it really does require a sort of immersion, a whole body, whole mind sort of commitment."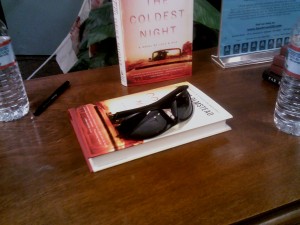 "Maybe you're working on what becomes page 167. You have to remember what was on page 32 … You really need to get it laid down, and then you go back."
After the reading, Olmstead answered questions about his writing style, the literary devices used in his novel, and his research techniques.
Olmstead said he used both primary and secondary sources, occasionally interviewing veterans from the Korean War, as he collected information for his novel.
"You have to be careful because the more you know, the more (research) becomes an impenetrable wall of knowledge," Olmstead said in the interview preceding the event. "We are dramatists, and our biggest challenge is to forget everything we know and begin to dramatize to create an unfolding drama with characters moving through time and place."
When asked what was one of his favorite things about writing this novel, Olmstead said he enjoyed his character Lou Divine, a GI Henry meets in Korea who has a smart mouth and a wry wit.
Olmstead's other novels have received good reviews from critics such as Madison Smartt Bell from The New York Times.
"His prose has the skill for lending each present moment an extraordinary, sensuous glow" Bell said in a review.
"The Coldest Night" went on sale the same day as the reading. The book is in stock at Beehive Books for purchase.