Freshman makes the magic happen at Ohio Wesleyan
By Margaret Bagnell
Transcript Reporter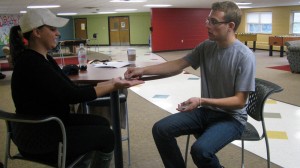 Freshman Bill Boaz may appear to be a typical college student, but he's got something different up his sleeve. Boaz is an 18-year-old magician.
At a very young age Boaz said he fell in love with magic and now has dozens of awards and his own company, Magic & Illusions.
"I first got interested in magic when I was about four years old," Boaz said. "I remember watching TV and back then there were all these shows of magic on TV, and I saw David Copperfield making a glass ball float and it was the most beautiful thing in the world. So for my fifth birthday my parents gave me a magic kit and I never grew out of it."
Boaz said receiving the kit for his birthday was the first inspiration to get into magic. Now he can perform the glass ball illusion trick, just as Copperfield did.
Boaz said Copperfield was something of an idol as he began his journey into the world of magicians. By the time Boaz was in middle school he was performing for small events and birthday parties. Up until the age of 15, Boaz said he taught himself all of his own tricks.
Magicians can perform tricks by using a "close up" show or "stage illusion." Boaz said his favorite way to perform is through the use of a close up show, which is magic that uses small objects like cards, coins or a watch.
"It's the most effective form of magic," he said. "Stage magic is a grand illusion where on stage you can make tigers appear, girls vanish, things like that. I can't bring large illusions to college. I can't store them in my dorm room. But I enjoy both of them in different ways."
Two of Boaz's more recent acts are called "Luck be Lady," which is one of his originals and "Shape of my Heart."
"The hardest one that I've learned is choreographed to music," he said. "Incorporating music into your show makes the audience feel the show more. It's a routine to music by Sting and during the song they talk about all of the different playing cards and all of the sudden all of the aces pop out of the deck on queue with the music. A sequence of that kind of nature is very difficult."
Some of Boaz's favorite tricks to perform involve cards and a lot of hand movement. He is an international champion of close up magic with cards and started using cards when he was 8.
One trick Boaz performs is the "nun" trick, where all of the Queens, the sisters, find each other in the deck. Another card trick Boaz said he likes to perform involves the question of fate or chance.
"I believe in fate," said Boaz as he performed another trick involving a deck of cards.
Before every show Boaz said he performs a series of four hand exercises to warm up and the last one onstage leads into a trick.
"In class I do these exercises sometimes when I'm just sitting there and I start twiddling my fingers," he said. "I did one trick in class before, but what happens a lot is people will tend to call upon you to entertain the class, so I don't really publicize myself as a magician in class. I keep it secret unless people already know about me, but I don't want anyone to treat me differently."
All of Boaz's effects are his own and he said he created the majority of his magic, but when he does buy special props for a certain trick they come from custom sites used primarily by magicians.
Boaz was a self-taught magician throughout his earlier years of training and during this time he learned some tricks by other magicians at conferences. At 15, Boaz received a scholarship to go to Canada and learn from some of the world's best magicians, which is where a lot of his influence came from.
In Canada he spent one week in the summer learning the tricks of the trade and hanging out with well-known magicians. Boaz has won numerous awards based on his skills and has been recognized for his exceptional talent in stage and up close magic.
"My home conference was at Magi-fest, the world's oldest magic organization, where I won my first award at age 14," Boaz said.
"It's in Columbus and it's kind of an underground thing. It's sort of like a gathering for magicians. It's one of my favorite conventions."
Boaz said he travels frequently with his magic from New Jersey to Las Vegas, and has performed all over the country. "Las Vegas was my favorite concert week, I was one out of 10 magicians in the world to be showcased and perform in the showroom," said Boaz.
Traveling has been set aside for Boaz as he focuses on his college education. However, Boaz is still performing his magic
"Because of college it's a lot harder to book shows, it makes traveling a bit more difficult. It would be cool if a show appeared at Ohio Wesleyan. If someone asked me to do a show I would definitely go for it," Boaz said.