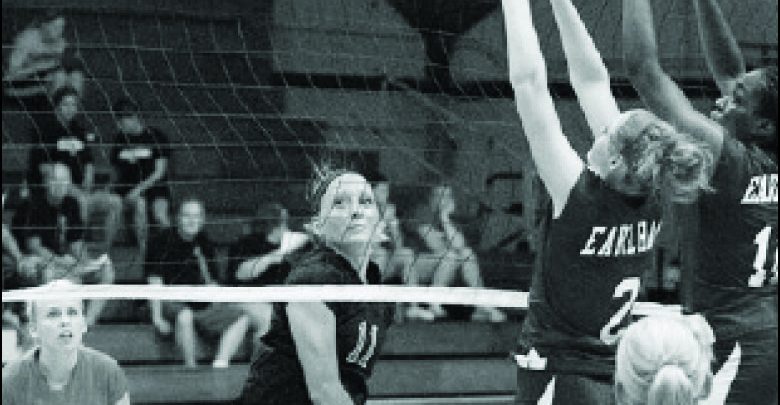 Volleyball improves record, optimistic about season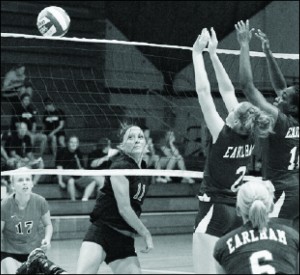 By Tim Alford
Transcript Correspondent
In just over half of the season, Ohio Wesleyan's volleyball team has already won nine more games than they did in all of last season. Their record stands at 11-9 so far this season after a record of 2-29 last season.
Coach Taryn Haas said in an email interview she has used the quote "find a way" to encourage her smaller outside hitters to get the big blocks.
"We've also talked a lot about game smarts, and intelligence on the court, which can make a huge difference," Haas said. "With our early wins, we've gained some much-needed confidence in our abilities. I think that, along with the added depth to our roster to push our intensity at practice, has led to a more successful year so far."
Haas said the team has had great wins against Earlham College and Adrian College, as well as some close losses against Kenyon College, Trine University and Otterbein University.
Junior defensive specialist Emily Stewart said the team's mentality has helped lead them to success.
"In general, we all just have a much more positive attitude and we believe in our self a lot more," Stewart said. "The fact that our coaches were so excited about this season really helps keep us motivated. One thing that is different from last year is our will to fight, we aren't giving up as easily, we have heart and we have been proving that."
Senior Brittany Vickers, the starting setter, said senior leadership has been key to the team's success.
"I think it comes from having four great senior leaders, our senior class has been through a lot of tough times playing OWU volleyball but we all managed to stay with it," she said. "That takes a lot of heart and a lot of courage. Coming in this season all four of us were ready to take charge on the court and off the court to make this year a success."
Vickers said the freshman class has made a difference this year too.
"I also think this year's freshmen class is full of difference makers," she said. "…They are all so positive and just genuinely wonderful people. I think everyone on the team is happy to see each other every day this year, which can make all the difference when you're playing a team sport together."
Haas said this added depth has helped rebuild the team.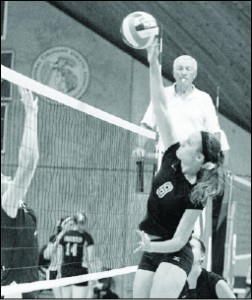 "Although it sounds cliché, I truly believe every single player on our team has been a part of the rebuilding process this year," Haas said. "Our depth is what has challenged our starting six to become the players they are today. Not only that, they continue to push each other day in and day out at practice."
Haas said this is her second year with Ohio Wesleyan and last year was a great learning year for her and the team.
"While we didn't necessarily get the wins that we wanted, the hard work put in last year has really set us up for this year," she said. "The seniors (Brittany Vickers, Megan Weissenberger, Ashley Haynes and Heather Kuch) took interest and truly believed in the change I set out to make and their buy-in has led to our program's early success."
Haas said the team has started the conference games, so every game will be big for the success of the season.
"We're approaching each game with excitement, confidence and enthusiasm, because we know that we have the opportunity to do something that hasn't been done in OWU volleyball lately, and we're looking forward to that chance," she said.
Stewart said the team knows that they are "underdogs" in the conference and they love surprising other teams.
"We have no pressure on us," she said. "We just get to show up every day and surprise people with what we are capable of. It's awesome. Nobody knows what is coming because they underestimate us. For us, it's just important to have fun and play with heart. If we do that, we will have no problems."
Vickers said staying confident and having fun will be key to continuing the team's success.
"We need to come into every game feeling happy to be there and to have the opportunity to play with each other, and with the confidence that we are a talented team," she said.
"We also need to continue to work hard and smart in practice. It's easy to get tired and overworked in the middle of the season, so taking care of injuries and illness is key to our success as a team."
Vickers said she hopes to make the NCAC tournament this year.
"We've never made it in the three years I've played at OWU and I think it's within our capability as a team this year," she said.
"Handing success well is just as important as handling adversity. I want this team to continue to be successful after this season and I want our senior year to leave our team with positive memories and a tradition of fun and success to carry on."
The Bishops' next home game is Oct. 19 against the College of Wooster at 7 p.m.