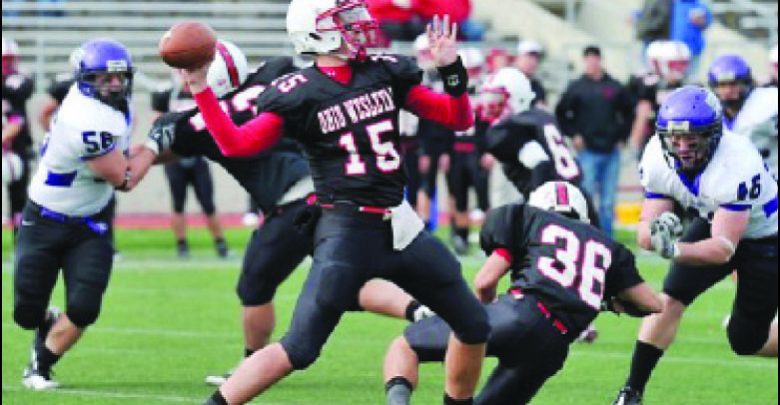 Football secures winning season, looks to continue success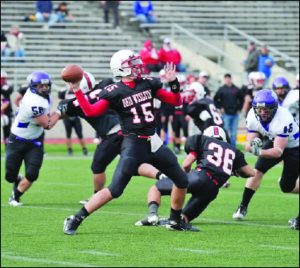 By Taylor Smith
Transcript Reporter
After beating the Carnegie Mellon last Saturday 34-25 the Ohio Wesleyan football team is now 7-0 on the season, their best start since 2001.
The 7-0 start already guarantees a winning regular season record for the Bishops, a turnaround from last year's 4-6 record and 2010's 2-8 record.
First year head coach Tom Watts said everything he has done since being hired started with a large commitment from the administration that enabled the football program to hire a new staff.
Second year coach and co-offensive coordinator Mike Ward, who coached under former head coach Mike Hollway, said the biggest change that happened was the staff growing from two full-time coaches to five full-time coaches.
The team also has seven other coaches who are either part-time or volunteer, bringing the total number of coaches for the team this year to 12.
Watts said the coaches have been "absolutely phenomenal" and serve as a good role model for the guys on the team.
Watts and Ward both said that the players have done a great job of buying into what Watts has changed and the enthusiasm he brings and the team has come together as one.
"We have a really good staff coaching the kids like crazy," Ward said. "I think what Coach (Watts) has tried to do was bring his own spice to things. Bring his type of culture in."
"He came in with a lot of energy and it's a young staff and practices are energetic. That's his coaching style and I think our kids really like it."
Sophomore running back Kevin Herman said the team has reacted well to the change and there is a lot more optimism.
Junior quarterback Mason Espinosa said Watts and the other coaches have done a great job of bringing a sense of discipline to the team and it is something the team feeds off of as one.
"We feel like we're one team, one unit, and I think they have done a great job of instilling that in everybody," Espinosa said.
Ward said the team has really talented players who have matured and the biggest difference this year is the amount of coaching they're getting and the energy that goes into it, which was a problem in the past.
"What's keeping you here, if you came to play football?" Ward said. "It's tough when you bring in a freshman class, some of them start, some of them don't. There are kids who think they should be playing from seven states over. Schools tough and they go home and you start the cycle over the next year trying to keep those kids."
Watts said the team has new slogan this year "JOA" which stands for "Just One Agenda." He said when on the field he tries to be extremely organized and not waste anyone's time.
"They hit the field and they're moving," Watts said. "They're moving, every single minute is accounted for. Coaches and players both know that."
Herman said the practices are very efficient and they place a higher emphasis on playing how they practice so everyone is forced to go hard at all times and not take a day off.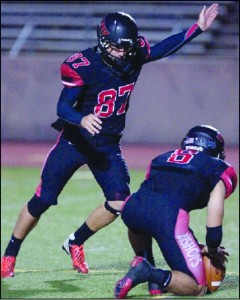 "Off the field we have a new weight room and have meetings everyday so everyone is on the same page and we don't have to waste time during practice teaching the new stuff everyone knows what their job is before practice starts," Herman said.
"We also watch film of our practices and games to fix our mistakes."
Espinosa said the key to success for the team so far has been the hard work they have put in, both in the season and in the off-season.
"Everyone, every person on the roster, has come out everyday focused and worked their hardest to better themselves; to make the team better," Espinosa said. "Saturdays are just a reflection of how hard we have been working through the week."
Herman said the key has been the mindset of the team.
"There's been a change in attitude where we expect to compete no matter who we are playing and are not satisfied unless we win," he said.
Herman said the success of the team adds to their confidence. He said every win brings them closer to their goals and builds momentum. Espinosa said the team does a great job of making success bring more success.
"Everyone loves to win, loves the success, but everyone has been doing a great job of not letting the success make them lazier or content," Espinosa said. "The win every week makes us want to work that much harder the next week, so we go out and do it again. Hopefully we can keep that streak going."
Watts said there is leadership from all around on the team, including seeing the younger kids step up and be leaders as well.
Watts said under the "JOA" slogan there are no individuals. He said the team is playing one game and every player understands there can be only one way if they want to do it right.
"Football is 11 guys going in one direction in order to be successful," Watts said. "That's what we've preached to our kids to understand. You have to put your own opinions aside and come together."