Freshman libero Danielle Birney strengthens the volleyball defense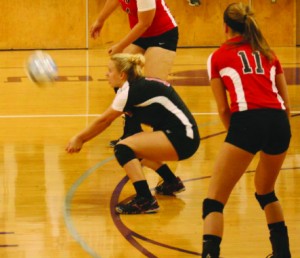 By Margaux Erilane
Transcript Correspondent
The women's volleyball team has long been the brunt of OWU's sports jokes, but having already won more games this season than in the previous three seasons combined, things can only improve for the Lady Bishops.
The Bishops currently have a record of 11-15 and have qualified for the NCAC tournament. The question now most likely on everyone's mind: How did they do it?
The answer has a lot to do with the performance of freshman libero Danielle Birney.
The libero is the one in the different colored jersey who only plays back row. They serve as defensive specialists and can replace any player on the court without using a substitution. Each team is allowed to have one libero and they can enter the game at any time.
Though liberos often receive little recognition compared to their offensive counterparts, they hold one of the most important positions on the court.
Volleyball is a game that can't function without defensive players as they are needed in every play. Birney has greatly assisted in strengthening the Bishop defense.
Senior outside hitter Megan Weissenberger said Birney's back row play is a major factor contributing to the success of the team.
"Our defense wouldn't be as strong without Birney in the back row," Weissenbergr said. "She's scrappy and picks up a lot of balls, which allows us to run a more effective offense."
Senior setter Brittany Vickers said Birney's smart game play and ability to play alongside other teammates makes her a good addition to the line-up.
"Danielle is great at reading the attack and she makes a lot of hustle plays," Vickers said. "She and (junior defensive specialist) Emily Stewart compliment each other well."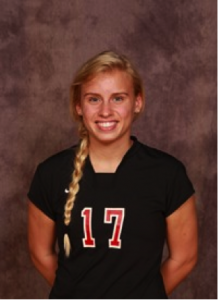 Currently in her rookie season, Birney holds the highest average digs per set with 5.74 since 2007 when Jaime Scharf averaged 6.94 in 2007. In addition to her defensive contributions, Birney has also recorded 22 aces, 20 assists, and seven kills, making her an all-around benefactor.
Birney said she came into preseason this year after a summer of preparing herself for the college game.
"Over the summer, I worked out on a regular basis, played at a local high school, and participated in beach tournaments weekly," Birney said.
This proved beneficial for her as she quickly secured her spot in the starting lineup as libero.
Despite her statistical contributions, Birney still relies on her teammates. She said her favorite part of being on the team is, "having the support of 14 other girls no matter what."
Birney said she hopes the team will continue to improve and grow while building off of the accomplishments this year.
"There were a lot of close games we could have pulled out but we're taking them as a learning experience and preparing for the next ones," Birney said. "I just hope we can improve our record more and more each year."
The Bishop's play date is Saturday Oct. 27 where they will play Oberlin College and Buffalo State College.