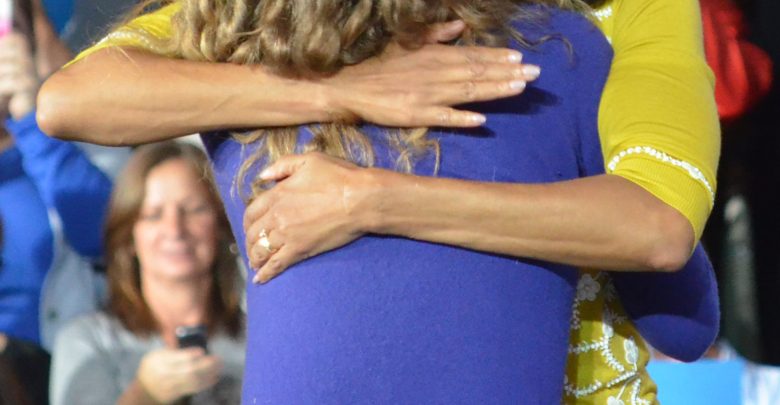 Michelle Obama encourages voters to move forward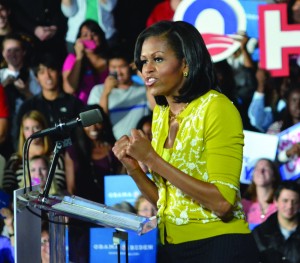 By Marissa Alfano
Editor-in-Chief
Amidst a crowd chanting, "Four more years. O-BAM-A, Ohio. Four more years" First Lady Michelle Obama delivered a dynamic speech at Ohio Wesleyan University on Oct. 15 about early voting and the importance of keeping her husband, President Barack Obama, in office.
According to, Charlie Cooperider, Delaware County fire marshal, 2,000 people attended the event in the Branch Rickey Arena.
The arena was set up with a small podium on a black stage with the lone word forward, which has become the trademark slogan for the Obama campaign. Behind it, center stage, hung a large American flag with an Ohio flag and an Ohio for Obama poster on either side.
OWU's a capella group, Pitch Black, performed from the stands as students, professors and Delaware community members filed in one by one, being cleared by secret service and lining up as close to the stage as they were allowed.
The OWU pep band also was positioned to the left of stage with Pitch Black and performed a number of songs while people were getting situated.
Excitement was palpable in the air, as spontaneous cheering by the crowd erupted intermittently, alternating with the band and Pitch Black.
Chaplain Powers began the event by inviting everyone in attendance to enter into prayer with him.
"We pray for the blessings of the women in our midst," Powers said. "May God bless her heart, her head and her family as the First Lady of her land."
Gerald Schardt, a retired soldier and accountant from Sunbury, O.H., led the pledge of allegiance. Following this, the national anthem was sung.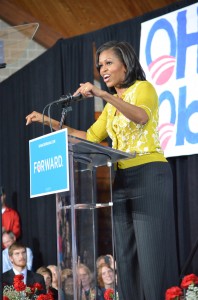 Katie Keating, a Delaware county regional field director for the Obama campaign spoke next. She said her and her mother became involved in the campaign process for Obama four and a half years ago. She said she wanted to help with the campaign, but never realized how it would truly benefit young people like herself.
"I can now stay on my parents' insurance until I am 26, student loans interest rates are down and tax cuts save families money," Keating said. "But it's not just the president's work; it's our work. Changes happen because my mom and myself knocked doors four years ago."
She stressed the importance of early voting and informed those gathered that there would be a bus available after Michelle Obama's speech to transport people to the polls. There were only 22 days left until the election, and according to Katie, each day is important.
Former first lady of Ohio, Frances Strickland, spoke next.
She said she was especially excited to see all of the OWU students in the crowd and hoped they would take the time to vote.
"This is one study break you will remember for the rest of your life," Strickland said. "I urge everyone to vote early; the election is too important to wait. The first lady is a partner with the president for the forward thinking project, Staying Healthy. The choice is clear and the way you can help is clear. Vote early, volunteer and use the power of your voice."
Junior Hayden Barns took the stage as the next and final speaker before Michelle Obama.
She said she initially decided to get involved with the campaign because she felt strongly that President Obama should be in the White House for the next four years.
She applied to be a summer organizing fellow in her hometown of Charlottesville, Va., because she said, "it sounded like it would be a challenge and fun experience — which it was."
Upon returning to OWU, she decided to be a fellow in Delaware County. Barns said she is working hard to re-elect the president.
"The president has fought so hard for us, and that is why I am fighting for him," Barns said. "I have knocked on hundreds of doors, made thousands of phone calls and registered over a hundred voters."
She expressed her concern at there only being so few left to make a difference in the election.
"The time to act is now," Barns said. "I am asking you to join me and your fellow classmates to do your part to move this country forward. Even if you've only got a little time, even if you can only get one of your friends to vote for President Obama, it will make a huge difference here in Ohio."
Barns said that she was excited to announce the First Lady because she truly believed Michelle Obama was a role model for all Americans.
"I now have the pleasure to introduce our special guest–someone who has worked hard her whole life to get to where she is, and inspires me with her commitment to her family and her country," Barns said.
"Her leadership as an advocate for women, military families and children's health makes her a role model for me and Americans all across the country. She inspires me to work harder in school and in my community so that I too can make a difference and help change the world. So please join me in welcoming the First Lady of these United States, Michelle Obama."
The room erupted with loud cheering and applause as Michelle Obama walked across the stage with a huge smile on her face and hugged Barns, who said the experience was incredible.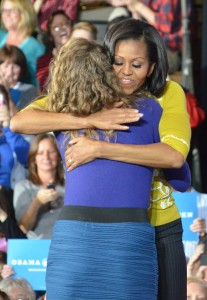 "Michelle Obama is someone who I admire so much," Barns said. "Just to have her visit our school was such an honor, and to get to introduce her and meet her backstage was ridiculous. I only got to speak with her for probably 20 seconds before I went on stage, but her appreciation and warmth was so genuine."
As Michelle Obama took the stage, she thanked Barns for her work on the campaign, President Rock Jones and his wife Melissa for hosting her and everyone from Delaware and Ohio Wesleyan for attending.
"Well, sounds like you all are pretty fired up and ready to go," Michelle said. "I have to tell you that I am pretty fired up and ready to go myself, especially because this morning I cast my vote early for Barack Obama. Yes. It felt so good.
"Right now, my absentee ballot, it's on its way to Illinois, my home state — which means that we are one vote closer to reelecting my husband and moving this country forward for four more years. So forgive me if I'm a little excited today; for me, it was Election Day."
The Obamas' decisions to vote early marks the first time a presidential candidate and his wife have voted absentee and not shown up to the polls on election day.
This reflects the Democratic campaign's emphasis on early voting. Michelle continued her speech by talking about why she loves Barack.
"See, when I'm out on the campaign trail, I get to do one of my favorite things in the whole wide world, and that is to talk about the man I've loved and admired since we first met 23 years ago," Michelle said. "Yes, he's kind of cute. And he's charming, and he is incredibly smart. But let me tell you, that is not why I married him. No, what truly made me fall in love with my husband was his character."
She said he has been consistently working to achieve the dreams of his mother and grandmother, that hard work would be rewarded and those who did well would then help others, too.
She talked about the kind of America her and Barack hoped to build.
"And they also believed that when you've worked hard, and you've done well, and you finally get the chance to walk through that doorway of opportunity, you don't slam it shut behind you," she said. "No, you reach back and you give other folks the same chances that helped you succeed."
"We believe in an America where we all understand that none of us gets where we are on our own — none of us; that there's always a community of people lifting us up; where we treat everyone — everyone with dignity and respect, from the teachers who inspire us to the janitors who keep our schools clean," Michelle said.
"See, in this America, when one of us stumbles, when one of us falls on hard times, we don't tell them, tough luck, you're on your own. No, in this America, we extend a helping hand while they get back on their feet again."
Michelle waited for the applause to die down before explaining what her experience as First Lady has taught her.
"And over the past three and a half years as First Lady, let me tell you, I have seen up close and personal, really, what being President really looks like," Michelle said. "I have seen it. And I have seen just how critical those values are for leading this country. Let me tell you, I have seen how the issues that come across a President's desk are always the hard ones — always. The decisions that aren't just about the bottom line, but they're about laying a foundation for the next generation."
She interacted with the audience when they yelled "we love you" or "we love Chicago," by responding to their comments with a broad smile or a few reassuring words.
She addressed the issue of education and what it means to young people today.
"And when it comes to giving our young people the education you all deserve, Barack knows that like me and like so many of you, we never, never could have attended college without financial aid," Michelle said. "We wouldn't be here without financial aid. In fact, when Barack and I first got married, our combined monthly student loan bills were actually higher than our mortgage. So when it comes to student debt, Barack and I, we've been there. This is not a hypothetical situation."
Her voice became more serious as she began to explain why this next election would be so important and how Ohio voters could make a difference.
"And as my husband said, this election will be even closer than the last one," Michelle said. "That is the only guarantee, and it could all come down to what happens in just a few key battleground states like right here in Ohio. Right here.
"So let me put it in perspective for you, especially to young people who are — many of you will be first-time voters. Now, back in 2008, let me just explain what happened in Ohio. We won the state by about 262,000 votes. Now, that may sound like a lot, but when you break that number down, that's just 24 votes per precinct — you hear me — 24. Everybody in here knows 24 people, 24 people who may not vote or may not vote for Barack Obama."
Michelle also emphasized the importance of voting, especially for younger voters.
"So, see, the thing that I want particularly our young people to understand if there is anyone here who might be thinking for a minute that their vote doesn't matter, if there's anyone you come across who might think that their involvement doesn't count, that in this complex, political process, that ordinary folks can't possibly make a difference, I just want you to keep those 24 votes in your mind," she said.
Michelle revealed a plan for the Democratic Party for the next 22 days.
"The press is looking; it's a secret plan," Michelle said, laughing. "Don't tell anybody about the plan. But for the next 22 days, we are going to need you to work like never before. Sign up with one of our volunteers here today to make calls, knock on doors — 22 days.
"But talk to everyone you know: your friends, your neighbors, that cousin you haven't seen in a while, that student sitting in your next class — you know he's kind of a knucklehead and may not be — you know the one. Just tap him on the shoulder; be nice. Don't call him a knucklehead, not to his face.
"You just want to encourage him to get to the polls. In fact, right after this event — don't leave yet — we have a bus that is going to take any of you here who wants to go straight to the Board of Elections to cast your ballot for Barack Obama."
Michelle said voters should stay strong during the election season.
"Don't let anyone talk down our country or our future," she said. "You all have every reason to be optimistic about what lies ahead for you, because here in America, we always move forward. We always make progress. And in the end, that's what this is all about. That's what elections are always about. Don't let anybody tell you any differently. Elections are always about hope."
After her speech, Michelle shook hands with those seated behind her on the stage and others who came forward. People filed out of the arena, leaving it empty again, but for the lone podium with the word forward.
According to President Rock Jones, the university did not solicit the visit from the First Lady, but was contacted by the campaign and asked if it could visit the campus to explore possible venues for a visit.
He said the administration has received similar requests from both campaigns and has done its best to accommodate all of the requests, as he believes that making such events available to students is beneficial to a life-long involvement in politics.
"Attending rallies gives students the opportunity to see the political process in a close and personal way," Jones said. "This can inspire students to become much more engaged in the political process throughout their lives."
Jones said preparing for the First Lady required much effort by many people on campus.
"We organized a team of people, led by Sue Weil, to work with the First Lady's staff to prepare for her visit," Jones said. "Other faculty helpers included Dr. McLean from the Arneson Institute; Roger Ingles from athletics since Branch Rickey Arena was selected as the venue; Art Reitz from Public Safety; Cole Hatcher from Media Relations; and Dennis Wall from B&G."
Barns said she had a great deal to do preparing for the First Lady as well.
"To prepare for FLOTUS (First Lady of the United States), we made hundreds and hundreds of calls to Obama supporters in Delaware letting them know about the event," she said.
"On the Friday before she came, we distributed tickets from the OFA office and in HamWill. I found out I would be introducing her on Friday night, submitted my speech for vetting on Saturday morning and got it back Saturday night to practice it. I think I was selected because I have been a dedicated volunteer on the campaign for 4 months."
Many students wondered why all classes were not cancelled on the Monday Michelle Obama visited. Jones said there was a reason for this.
"Many classes had mid-term examinations scheduled for this time, and it would not have been appropriate to require faculty to change their course schedule, particularly at the time of examinations," he said.
Sophomore Eilee Foley was afforded the opportunity to watch Michelle Obama's speech from the limited stage seating right behind where she was speaking.
"Standing behind Michelle Obama was a once in a lifetime opportunity and the fact that it was my birthday makes it even better," Foley said.
"Her speech was very personable. For example, she kept referring to her husband as Barack not Obama and related to what Ohio Wesleyan students care about. I was very impressed with how she worked the crowd with her words and actions because afterwards she went around and shook everyone's hand, showing that she really is a First Lady," she said.
Foley said she has been active in the election by casting her vote.
"I have already voted absentee in the state of New Hampshire and am really looking forward to the results of this election, but one thing I wish is that I would've voted as an Ohio resident instead of a New Hampshire resident because my vote would have made a greater impact in the swing state of Ohio," she said.
OWU has a long tradition of being politically involved and having important speakers come to campus.
Jones said he thinks students this election year are living up to these high standards.
In the coming days before the election, OWU students are expected to continue this political involvement and to make a difference in the swing state of Ohio.