Sheafor twin swimmers look forward to competing together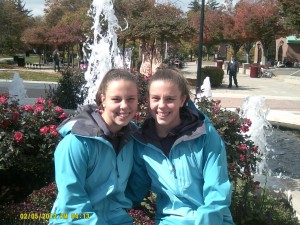 By Sadie Slager
Transcript Reporter
Haley and Tirion Sheafor say everything's better when they're together. The identical twins, who hail from Charlotte, N.C., are first-year students on OWU's swimming and diving team.
Tirion said their swimming careers started very early in life.
"Since we were four, we always liked the water," she said. "So our parents signed us up for swim lessons. North Carolina is one of the biggest states for swimming and the times are generally faster there."
Haley said that while they participated in a summer league swim team from ages four to nine, they had to choose swimming over soccer when they entered high school.
"It was a joint decision," Tirion added.
Another joint decision was the twins' decision to come to OWU.
Tirion said swimming had a big influence in their school choice.
"Ever since we chose to do swimming, we knew we wanted to go to a smaller school so we would be able to swim," she said. "There is a nice new pool here and the swim team has a good reputation. Before we even started looking at schools we knew we would go to the same one."
Also at the top of their list, Haley added, were UNC Asheville and Dickinson College.
"We went to a small high school, so we also wanted a small college so we would know everyone," she said.
Tirion recalled OWU coming up on their radar during the college search process.
"We did personality tests online to see what schools would fit us, and OWU was one of them," she said. "Then we visited here a couple of times."
Haley and Tirion are glad to be a part of a college team, as the team they were on in high school was a club team and didn't do anything together outside of practice and meets.
"We're looking forward to that team feeling," Tirion said.
Haley said she and her sister share many similarities in the pool, but excel in some different areas.
"For the most part we do the same events," she said. "But Tirion is better at butterfly, and I am better at freestyle. We usually have
the same times for backstroke."
In addition to participating in the same sport, Tirion and Haley chose the same area of study at OWU.
"We want to major in early childhood education," Tirion said. "We both want to do the same thing. We have three classes together, and two separate."
Tirion said she and Haley tend to make similar decisions, but make them on their own.
"We just like the same things," she said.
Another thing they agree on is their favorite moments from the swimming portions of the 2012 Summer Olympics.
"Our favorite swim was Katie Ledecky's 800 freestyle," Haley said.
"And our second favorite was Brendan Hansen's third place finish in breaststroke because he started in lane eight and still got third place," Tirion added.
Haley said she and Tirion don't currently have any Olympic aspirations, but they would consider being swim coaches after college.
In their first college meet, the Kenyon relays meet on Oct. 20, Tirion and Haley teamed up for the 200 backstroke relay and competed in a few other events separately.
While Haley specializes in freestyle and backstroke, Tirion's main events are usually backstroke and butterfly.
Both sisters agree that they are more successful when they do things together.
"We're generally better together, whether it's in school or sports," Haley said.
Tirion echoed this statement.
"We've always been together, so when we're apart it feels like something is missing," she said.