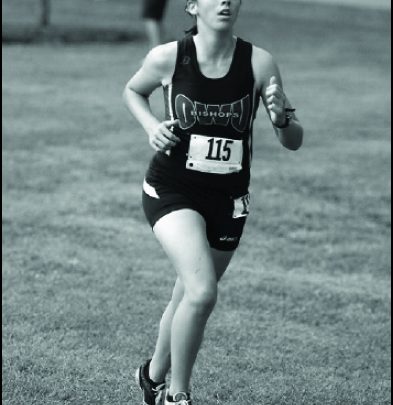 Runners finish strong in NCAC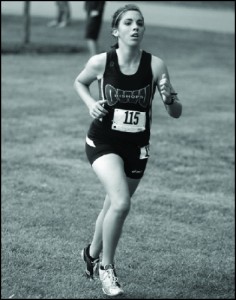 By Taylor Smith
Transcript Correspondent
The Ohio Wesleyan cross country teams feel like they still have more to show after their performances at the North Coast Athletic Conference (NCAC) Championship.
The men's and women's cross country teams finished third and fourth, respectively, last Saturday Oct. 27 at the event hosted by Wooster. The coaches' poll predicted the men would finish third and women fourth.
On the men's team, seniors Tyler Tomazic and Nathan Kafity along with freshman Nathan Madonich, received honorable mention All-Conference selections. Tomazic was the Bishop's top performer, finishing 17th overall. Madonich was 20th with Kafity right behind him at 21st.
On the women's side, sophomore Hannah Sampson finished 13th overall, receiving a second team All-Conference selection. Freshman Abbey Warth was 18th overall and received an honorable mention All-Conference selection.
Head Coach Matt Wackerly said he didn't think the teams ran their best races, but did well enough to place and will focus on regionals this weekend.
"We always run our best at the end of the year," Wackerly said. "I'm not sure where they'll place us but we'll find our course. We can't control what other teams do obviously. But I think both teams for sure will run their best."
Wackerly said the he has different goals for the men's and women's teams but overall he expects both teams to be successful in their post-season competition.
"For the men, the goal is to try and make a run at qualifying for the national meet which will be really hard, but we will learn to give it what we can," Wackerly said. "For the women, we just want to keep improving and end the season on a high note."
Wackerly said Tomazic had an outstanding race and that it was probably the best of Tomazic's career. He also said senior Jake Bonnell had a great race.
Kafity, who has potential to qualify for nationals, said the team as a whole was great, but he personally had a subpar day.
"I should have run much faster, there is no question about it," Kafity said. "However, my season doesn't focus on conference at all; my season focuses on regionals and nationals."
Kafity said he was tripped from behind going downhill and trampled by six or seven other runners and passed by 30 or 40 people.
Madonich said the depth of the team is more visible now than at the beginning of the season.
"Overall, I think the race went really well for the whole team and the team aspect of it is starting to come together," Madonich said. "You know, I'm running well but I think there is still some stuff we could work towards. Making sure everyone is together going into the last mile is really key for our team to run well at region al's."
Sampson said she was pretty pleased with her performance despite the weather, course and competition they were against.
"The course was really hard and there were a lot of really good runners," Sampson said. "I think our conference has definitely improved since last year. Given the running conditions of the day and the people we were up against, I think we did pretty well."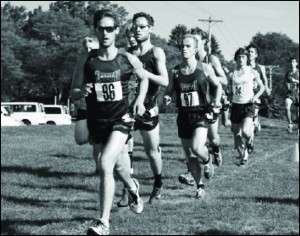 Warth said she was happy with her results because of the toughness of the course. She said the team did pretty well and passed as many people as they could which was the women's team's strategy for each race.
Wackerly said Sampson and Warth each had a solid race.
"Abbey Warth had a great race," Wackerly said. "She keeps getting better each week. She has a big future since she's just a freshman. Hannah gets a little better every week and this was no exception. She beat people that beat her two weeks ago."
Multiple runners said that the race was hard because Wooster is a course with a lot hills and there was wind and rain to add to the difficulty.
Kafity said it is interesting to see runners reach the fourth mile hill.
"People always slow down and look pretty miserable by the time they reach the top," Kafity said.
The team said they're looking forward to the flat course this weekend in Indiana.
Wackerly said the men's team has a chance to qualify for nationals if they can get into the top three, but Kafity and Sampson also have a chance to qualify on their own.
"Kafity has a shot at qualifying individually," he said. "Hannah Sampson would have an outside shot. It would take a big race from her, but I don't think it's beyond her realm of what she can accomplish."
Sampson said he hopes to qualify for nationals but thinks it will be difficult and just wants to focus on the regional championship.
"I would really like to (go to nationals)," Sampson said. "It depends on how well I run at regional's. I would have to make another really big jump I feel like personally, before I can get to that level. But my goals are to be all region again and then to try to make it to nationals."
Kafity said he is excited for the regional championship and the chance to qualify for the national championship.
"I'm pumped for it," Kafity said. "The team is coming together right now; the other thing is I've been visualizing this race all season long. I know exactly where I want to be, how I want to feel at mile three and four.
"I just think things are on their way. I've definitely got a shot to qualify as an individual, but we have just as equal shot, now, as qualifying as a team."
Madonich said heading into the regional championship the team needs to have the mindset that they're hungry for that national spot. He also said Kafity just has to go out and get in the mix at regional's.
"I know (Kafity) is a really strong runner," Madonich said. "Doing some workouts with him, I can't do all of them because he is a really tough guy. I think once he gets in there he's just as strong physically as those guys and if not mentally stronger; and so he will have to get top seven to qualify individually and I think he is capable of doing that.
The men and women's cross country teams run Saturday Nov. 10 in Anderson, Indiana for the NCAA Division III Great Lakes Regional Championship.