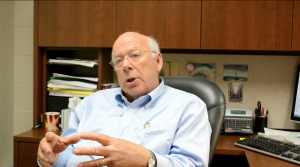 View an interactive version of this story at Transcript Investigations.
By Noah Manskar, Editor-in-Chief
and Suzanne Samin, Transcript Correspondent
Someone wanted students to know about the ongoing faculty salary dispute at Ohio Wesleyan.
A small lime green flyer was posted, showing a run-down of faculty salaries in comparison to other colleges that are members of the Great Lakes College Association (GLCA).  On the flyer, OWU ranked 10th out of thirteen.
The flier had no other writing or comment—simply the figures there, in multiple locations on campus for students to see.
While the subject of faculty salaries floated in and out of students' minds, the facts were very much up to speculation. Some people had heard, from their professors or otherwise, that salaries were lower than they would like it to be. Others had never thought twice about it. But these fliers, many of which were posted on the doors of student residences, started a new conversation.
As this conversation began, a larger one had been going on among the faculty, administrators and Board of Trustees for decades about whether this was a problem, and if so, how the university would fix it.
While the perspectives vary and the arguments vary even more, there is one thing everyone can agree on—the issue is very real, and the faculty is demanding it be acknowledged.
A Broken Commitment
Over 100 OWU faculty signed a letter sent to the Board of Trustees dated April 3 explaining their grievances with the newest agreement announced by University President Rock Jones at a faculty meeting in March.
The letter, which opened with a statement about how rare it is for faculty to directly communicate with the Board of Trustees in a form of opposition, immediately addressed the faculty's long battle for "salary correction."
"For nearly a decade, the faculty of Ohio Wesleyan have (sic) seen their salaries fall in comparison to our peer institutions," the letter said. "…On occasion, they have sunk to the embarrassing position of dead last. We have watched, even during the period of salary correction, a variety of other projects, improvements, and goals repeatedly jump to the head of the institutional agenda, each one deemed a higher priority than bringing faculty salaries in closer conformity with those of similar rank and experience at the institutions with which OWU so often compares itself."
The letter went on to explain that each year that passes without bringing salaries to par with those at peer universities according to the median salaries for professors at each rank in the GLCA is income lost to patient, loyal faculty who "deserve the dignity of being paid as the dedicated, accomplished, long-serving professionals we are."
According to the faculty, their salaries continue to be inconsistent with OWU's place as a nationally recognized institution, and putting other budget priorities ahead of them "needs to end now."
Professor of History Richard Spall is the chair of the University Governance Committee, which serves as the faculty arm for OWU's "shared governance" policy. In this system, the faculty, administration and trustees all collaborate to make important decisions for the university.
Spall said he was brought onto the committee in 2008, shortly after it held the first meeting to resolve this problem. In January of 2009, the Board of Trustees presented their agreement to make increases in salaries.
"At the time of the discussion, it was completely understood that the commitment was to raise Ohio Wesleyan salaries to the median of the GLCA by rank," Spall said.
GLCA schools have three ranks of professors—full, associate and assistant—each with a descending level of commitment and, by extension, salary. In order to increase salaries by rank, OWU would have to increase each level of salary to their respective medians.
Spall said the Board of Trustees promised this within five years. The following year, the first stage of this increase was implemented.
"The year after that, because the university was in difficult financial straits, a pause was imposed. And so no further progress was made in the second year," he said.
The faculty letter addresses this: "(W)e have made precious little progress in improving this situation, and we know everyone acknowledges this is simply untenable. The state of faculty salaries at each rank remains egregiously low and the cumulative effect of this chronic condition is a source of urgent faculty concern."
According to the letter, four years into the adopted salary correction, full professors earned only 87% of the GLCA median; associate professors only 85% of the median; and associate professors only 89% of the median of their counterparts.
The ordinal rank of OWU faculty salaries for full, associate and assistant professors is only ninth, tenth and eleventh respectively, and the faculty believes it could very well sink to the bottom again.
Spall said much of this concern is coming from the fact that in 2012, the university recommitted itself to the goal of increasing faculty salaries in the 2012-2013 academic year.
"Most recently, the board has informed us, through the president, that they regard reaching the median in the GLCA as meaning not by rank, but across all ranks," Spall said. "And, that is… that is a lower goal. Second, they have decided that even though we have been reassured that the pause year didn't stop the clock; it was just we didn't make progress that year. We have now been informed that they regard the pause year as having stopped the clock."
Because of this, the faculty, in general, would receive a salary raise across all ranks so that the gross income of OWU professors would meet the GLCA median. This means less money. Paired with the pause year, it means less money over a longer period of time.
The faculty letter responded to and commented on this development.
"…It is clear that what faculty have unmistakably understood to have been promised is not what is currently contemplated," it said. "We cannot disguise the fact that what is presently planned with regard to faculty salaries is not acceptable. It is inconsistent with what has been routinely promised is the goal…with statements that say the faculty are valued. It is unworthy of a great institution and of those who are entrusted with its mission, integrity, and reputation."
According to Spall, in every discussion the University Governance Committee has had with the Board of Trustees or the administration, the committee has always defined the negotiations as by rank, or asked to double-check. On either occasion, the trustees have confirmed it and not challenged it until now.
In response to this development, the committee called a meeting of all teaching faculty, to answer questions and concerns about the Board's and administration's new plan to increase faculty salaries to the GLCA median across ranks. While the committee called the meeting, Spall said instigating and organizing faculty protests is not on its agenda.
"If individual faculty members want to take action, that's up to them," he said. "…On the other hand, we did tell the administration that we wouldn't be putting out fires for them either."
Dale Brugh, professor of chemistry, said he felt the committee's main purpose in this situation is to be a liaison between the faculty and the trustees. Based on its recent reports, he said it's been questionable how big a role faculty play in governing the university.
"I think the point of contention is whether or not there's a real cooperation between administration and the faculty," he said. "There's supposed to be—there's supposed to be this system of shared governance where we know what's going on, the administration knows what's going on and both sides contribute equally to the running of the institution. And I think part of the issue now is that perhaps there isn't shared governance."
Spall said the faculty is united in terms of not taking action that would harm OWU students. However, he said faculty morale is the lowest he has seen it in his 29 years with the university because of the trustees' inconsistency.
Brugh said he is "disappointed" with the most recent developments in the debate because he thought there was a clear agreement between the faculty, the administration and the Board.
"We thought we had an agreement that started three years ago, and I think everyone trusted the administration that they would follow through on their commitment," he said. "And, you know, you get a promise from somebody and you just say, 'Okay, they've promised me something,' and over time it becomes maybe evident that they're not going to deliver, and so when you fully make the realization that they're not going to deliver, that's when it looks like it's all boiled up."
However, the issue does not seem to be a simple matter of financial infeasibility.
"They aren't making the argument from the point of we can't afford it," Spall said. "They're making the argument from, 'That's not what they agreed to.' And yet this was articulated on so many occasions publicly, including (by) the president at faculty meetings, and now they're asserting that it was never understood that way."
The letter brings up an additional problem: a reallocation of funds that should have been added to the faculty salary pool.
"It recently came to our attention that funds for the faculty salary pool that, at most institutions, are the core of monies to keep institutional compensation on par have routinely been removed from the compensation budgets for other purposes," the letter said. "Last year alone, the presumed salary correction amounted to a commitment of only $100,000 of 'new' money for the purpose, which is why our average salaries increased only 0.7%. The loss of appreciated faculty salary pool funds over a period of years is in large measure how we came to this troubling position, for the decline correlates closely to the siphoning off of these funds for other purposes."
Spall said this is a concern for the faculty.
"We do know that some time in recent years, four or five years ago, someone in the administration began diverting funds that would typically recirculate (sic) into the salary pool for other purposes," he said.
He said over time, each faculty member gets small raises, which oftentimes put their salary significantly over the standard for their position. When a professor changes schools, retires or dies, that extra money is put back into the faculty salary pool and distributed amongst the remaining faculty. Over the past few years, this money has not found its way back to the pool, and has instead been redistributed to unknown areas.
The perceived miscommunication and lack of transparency within the administration and board of trustees has frustrated the faculty, which they made clear in their letter to the trustees.  This dishonored agreement, paired with what the faculty considers to be an unorthodox reallocation of funds, are what make their case.
Understanding the Data
In the past two years, Ohio Wesleyan faculty salaries have been ranked in the bottom third among the twelve Great Lakes College Association (GLCA) that reported data to the American Association of University Professors (Antioch College did not report). Faculty in every rank—full professor, associate professor and assistant professor—make less than 90 percent of the median GLCA salary for each.
In 2012, OWU's average full professor salary of $81,800 was ninth of 12 in the GLCA. The average associate professor made $61,000, 10th in the GLCA; and the average assistant professor made $53,300, 11th in the GLCA.
Full professors made 88.8 percent of the GLCA median; associate professors made 84.7 percent of the median; and assistant professors made 89.7 percent of the median. The difference between the median full professor's salary and the OWU's average full professor salary was $11,700; for associate professors, $12,050; and for assistant professors, $6,100.
The salary for the average Ohio Wesleyan professor across ranks in 2012, according to university data, is $67,695. OWU ranked 10th of 12 in the GLCA that year, and that average professor made 90.8 percent of the GLCA median across ranks.
The difference between OWU's average salary and the median was $6,856. This indicates it would cost far less money to bring salaries to the median across ranks than on a by-rank basis.
In 2011, Ohio Wesleyan's GLCA rankings for average full and assistant professor salaries were the same—9th and 11th, with salaries of $80,000 and $52,500, respectively—but OWU's average salary for associate professors was last in the GLCA at $58,300.
Full professors made 96 percent of the GLCA median; associate professors made 83.8 percent of the median; and assistant professors made 88.2 percent of the median. The difference between the median full professor's salary and OWU's average full professor salary was $3,050; for associate professors, $11,250; and for assistant professors, $7,000.
Across ranks, the average OWU professor made $67,228 in 2011. That salary is 91.8 percent of the across-ranks median, and $6,033 less than the median.
Full professors made $1,800 more in 2012 than 2011, an increase of 2.25 percent. Associate professors saw an average correction of $2,700, or 4.63 percent. Assistant professors' salaries increased an average of $800, or 1.52 percent.
Across ranks, the average OWU professor made $1,767 more in 2012 than 2011, an increase of 2.78 percent.
Unlike those for faculty, salaries for three main administrators—the president, vice-president for Finance and Administration and Treasurer, and provost—have been near or above the GLCA median recently.
According to data from the 990 forms universities file with the Internal Revenue Service (IRS) from 2010—the most recent year for which data is publicly available—Ohio Wesleyan's president, Rock Jones, made $267,406, eighth of 12 in the GLCA in 2010. His salary was 97 percent of and $8,296 less than the median.
Comparing equivalent officers at GLCA schools, OWU's Eric Algoe, vice-president for Finance and Administration and treasurer in 2010, made $165,696 that year, fifth in the GLCA. His salary was 107.4% of and $11,396 more than the median. Jim Galbally replaced Algoe on an interim basis in the fall of 2012. Dan Hitchell took his place in January of this year.
Looking at GLCA provosts, David Robbins, OWU's provost in 2010, made $186,353 that year. His salary was the highest in the GLCA for his position, 114.6 percent of and $23,775 more than the median. Charles Stinemetz replaced Robbins as interim provost in the fall of 2012; Stinemetz was officially given the provost position this past February.
According to Michael Long, chair of OWU's Board of Trustees, these three examples may be outliers. He said the Board's analysis shows "that on the whole, the officers are just below median collectively in salary." He also said some faculty are "well above" their rank's median, as some administrators are.
A Deep History
The debate over faculty salaries is a longstanding issue at Ohio Wesleyan, and it has a complex historical context.
According to David Robbins, professor of psychology and former provost, the current dispute has its roots in a sequence of events starting in the mid-1970s. Shortly after Robbins's arrival to the faculty in 1973, he said, a "slight downturn" in full-time student enrollment forced the university to hire fewer faculty than it had in the previous decade. The student body was replenished in the late 1970s with a flux of students from private schools on the eastern side of the country. According to Robbins, they were relatively smart with moderate SAT scores, but had "motivation problems."
"Classwork was not their first priority," he said. "They may have been more interested in sports, or more interested in fraternities or partying."
Frustrated, the faculty told then-Dean of Admissions Fred Weed to stop admitting those students and to tell schools to advertise OWU to their brighter students. Not wanting their students to be rejected altogether, the schools directed the sub-par students elsewhere, but didn't send more talented ones to OWU in their place, causing enrollment to drop drastically.
According to Office of Admissions data, OWU had 2,351 full-time students in 1979. By 1983 it fell to 1,646, and reached its low point in 1985 at 1,387.
Robbins said the situation created a "budgetary crisis." To cut costs the administration, led by former University President Tom Wenzlau, cut several academic departments—including Community Studies, Speech and Social Welfare—resulting in the termination of 12 tenured professors, which Robbins said was "quite traumatic in our environment." A tenure freeze was also instituted, so all new faculty were on hired on a temporary, term-by-term basis.
Two cost-saving salary programs were also launched. One was an early retirement severance package, where professors stopped working before age 65, the usual retirement age, for one or two years' pay. This cost money up front, but Robbins said it was a long-run savings because it further shrunk the faculty.
Another program was three-year unpaid leave, targeted at younger faculty who might have wanted to "try different things" in other fields, according to Robbins, without giving up their job at OWU. Robbins said both programs still exist today "with some modification."
Additionally, the Board of Trustees furnished what Robbins termed a "risk investment" of around $6 million to "offset" budget deficit the low enrollment created.
Robbins said the "rocky road" enrollment has traveled has had lasting effects on the university's financial stability.
"(W)hen 70 percent or more of the operating budget is based upon tuition, room and board, that creates problems with building a budget year after year," he said.
Because the budget is so variable annually, it's become difficult to rectify the faculty salary problem since salaries are commitments made over several years.
When the enrollment crisis was somewhat assuaged, David Warren replaced Wenzlau as university president in March of 1984. Robbins said Warren was a "dynamic" president who brought attention to OWU from the beginning of his term—the president's house wasn't yet available when he started, so he moved into the dorms with students, which was covered on national television.
According to Robbins, Warren was the "architect" of the university's honors program, which was the inception of merit-based financial aid at OWU. He said its goal was to "improve the profile of the class, bring more students to campus and recover at least a little net revenue from room and board and whatever tuition they may be paying." It also hoped to attract students who might not qualify for merit scholarships, but would still contribute to improving the university.
"The theory was, also, that that student from Galipolis or wherever who was extremely capable that got a no-need scholarship might also bring a friend, who might still be a good student, but not quite eligible for the honors program," he said.
The plan was successful. By 1989, five years after Warren's inauguration, full-time enrollment was 1,904; in 1990, five years after the low point, the university had 1,992 full-time students. But financing the honors program and its merit scholarships came at a cost to the university's endowment.
According to Robbins, there are two primary subsets of OWU's endowment. One is the permanent endowment, money the university invests in various places. Only the interest this money earns can be spent; the initial investment, known as the principle, cannot be touched. According to OWU's 2010 990 form filed with the IRS, the university's total endowment that year was $186,632,438. Of that, 64.438 percent, approximately $120,262,210, was permanent endowment.
A second category is quasi-endowment, money given by donors to the general endowment fund not specified as a contribution to the permanent endowment. This means the university can spend the principle as well as the interest. 5.411 percent, or $10,098,681, was designated as quasi-endowment in 2010. The initial funding for the honors program came from the quasi-endowment in the mid-1980s.
A third type is term endowment, funds that must be spent within a designated time period. In 2010 30.151 percent of the endowment fund, about $56,271,546, was term endowment.
Robbins said the university projects a 15-percent return from the endowment each year, five percent of which goes into the operating budget. That payout rate is maintained even when investments don't yield 15 percent, leaving less money to add back to the endowment and adjust for inflation.
"That hurts, because you're cutting into that stability, that growth," Robbins said. "But we weren't taking out principle—that's the important thing."
Because the first merit scholarship money came out of quasi-endowment principle, the program shrunk the overall size of the endowment, which caused it to yield less interest. This gave the university less money from the endowment to use for the operating budget and, in turn, the faculty salary pool.
Robbins said Ohio Wesleyan commissioned a team in 1986 to develop a plan for raising faculty salaries to fourth in the GLCA. It contained two faculty, himself and Joanne Harvey from the economics department; two administrators, Provost Bill Benz and Bob Holmes, vice-president for University Relations; and two trustees, current emeritus trustee Phil Meek and former trustee Bob Mecum.
The solution they found was to raise salaries annually by the GLCA average plus three percent. Robbins said two factors made this strategy a difficult one to maintain.
For one, the GLCA average is a "moving target." Each school tries to keep its salaries as high as possible relative to its peers, and each adjusts its salaries on an annual basis to stay away from the bottom of the list.
"So you're always trying to play a little bit of catch-up on the basis of if the other schools are trying to compete against you of not wanting to be beneath you in terms of average faculty salaries," Robbins said.
Second, when professors retire or die, they're usually at the top of the salary list and get replaced by someone at an entry-level salary, which Robbins said makes the average look lower than it actually is.
Robbins said there was also a debate then over whether to evaluate salaries alone or total compensation, which equals monetary salary plus fringe benefits. The sextet settled on a salary-based solution, which Robbins said he advocated for because benefits are more variable and harder to measure between schools.
"(I)t's a little better today, it's more standardized today, than it was back in the '80s, but some institutions might include costs that other institutions would not," he said.
The goal, though, was never achieved. Many more have been set, but none of them have been met, either—other things, like facility improvements (dorms, athletic facilities and the JAYwalk, for example), get in the way, and the Board of Trustees is reluctant to give additional funds from the endowment because of how much it has shrunk.
"Each president has come in and made a promise to increase salaries, and we try," Robbins said. "But the bottom line has always been that the Board, in their fiduciary responsibilities, want to see a balanced budget, and from their fiduciary responsibilities, do not want to get in a situation like we were in back in the '80s, i.e. using principle out of the endowment."
According to Robbins, more money for the salary pool could potentially come from increased revenue as a result of a decline in the number of students receiving need-based aid, a reduction in merit scholarships or an increase in the size of the student body.
Another source is the annual fund, money given by alumni to the school's general operating budget rather than to a specific department or cause. In recent years the annual fund has grown and been used to offset reduced payouts from the endowment in balancing the budget.
The Administration Responds
At the April 15 faculty meeting, University President Rock Jones presented a plan to raise faculty salaries to the GLCA median across ranks in three years. In his presentation, he acknowledged some financial obstacles Ohio Wesleyan has faced in recent years.
The university's net tuition revenue is about $2 million less now than it was in the 2008-2009 fiscal year, when University Governance Committee chair Richard Spall said the salary initiative was first discussed. Additionally, data from the Integrated Postsecondary Education System (IPEDS) indicates net revenue per student is $12,548 lower than the GLCA median without OWU included.
Jones said the budget model he and the administration have prepared will add to the faculty salary pool from budget reserves. It will also "build a base" for further growth by bringing in large freshman classes, since tuition is the university's largest source of revenue—over 70 percent, according to former provost and current professor of psychology David Robbins. Jones said the pause in salary increases was a result of a revenue decrease brought by a small freshman class.
According to Michael Long, chair of OWU's Board of Trustees, the faculty salary pool will increase $600,000 over the next fiscal year, with the total compensation pool increasing $720,000. Jones said the salary pool will grow $1.6 million over three years; additions to the benefit pool make the total expansion over $2 million.
With that increase, Long said the difference between OWU's average faculty salary across ranks and the GLCA across-ranks median will decrease from $6,625 to $3,559, moving the university from 10th to ninth among its peers.
With the GLCA median salary across ranks increasing at a projected two percent, the budget model will raise OWU's average across-ranks salary to the median by the end of the 2015-2016 fiscal year. Average total compensation, measuring fringe benefits plus across-ranks salary, would hit the median in the next fiscal year and extend about $5,000 past the projected median in 2016.
Long said the budget model hasn't been voted on, but the Board's Finance Committee "expressed appreciation for the model's intention to move faculty salaries to the median, while also asking questions about OWU benefits in relation to other GLCA institutions."
The trustees' written response, dated April 13, to the faculty's open letter to the Board said salaries are their "number one priority," which Jones said hasn't been the case in the recent past. He said there's historically been a larger gap in faculty pay between OWU and its peers than for administrators and staff, so the issue will require more attention.
Jones said he thinks the salary issue is an "essential" one.
"The faculty has the responsibility for developing the curriculum and delivering the education that is why we are here, and they should be compensated fairly and equitably," he said.
According to Jones, the additions to the salary and benefit pools will "take a toll on other aspects of the university"—they don't allow for any increases to program or department budgets and will result in smaller raises for non-faculty.
While the faculty feel the administration and the Board of Trustees committed to raising salaries to the GLCA median on a by-rank basis, the Board resolution from January of 2010 did not specify whether the initiative would move forward by rank or across rank. Long said the Board is still considering which standard is best.
"This issue remains to be addressed, and the faculty's open letter to trustees has caused us to seek more information about this distinction and its impact," he said.
According to Long, no Board records indicate which framework would be used, either. Jones said the Board was "less clear in its understanding" than the faculty and has continued to evaluate which model to use.
The Board's letter to the faculty said the trustees have also considered comparing Ohio Wesleyan's total compensation—salary plus fringe benefits like healthcare, tuition remission and others—to its GLCA peers instead of salary alone. If this were the case, OWU would fare well. According to IPEDS data, OWU's fringe benefits as a percentage of salary is highest in the GLCA at 40.6 percent. The university's standalone benefits package ranks third at $27,502. If salaries were at the median by rank, OWU's total compensation across ranks would be third-highest in the GLCA at $106,760.
While the budget model uses the across-ranks standard, Jones said it was "certainly…not communicated clearly" to the faculty that that framework would be used.
Robbins said the original goal set by the administration and Board was different than the budget model Jones presented in April, and that he acknowledged the dissonance between the faculty's understanding and the Board's.
"I think the president is on record as saying that his goal—we may be mincing words here between a goal and a commitment—but his goal, and we talked before about the difficulty in reaching goals, his goal was to do rank-by-rank," he said. "But as he indicated in the last faculty meeting, the Board's resolution talked about increasing faculty salaries without reference to rank-by-rank. So there is that perceived difference."
Long said the university doesn't have the financial resources to raise salaries to the GLCA median by rank. According to Dale Swartzentruber, associate dean for institutional research, two factors complicate using the by-rank system.
One is the fact that OWU has the highest proportion of full professors—45 percent—of any GLCA school. Swartzentruber said this happens because associate professors are eligible for promotion to full professor after five years in that rank, two years less than at most of the university's peers.
"Because we have so many, it costs us a lot of money to try to hit the goal of paying the fulls comparably to the fulls at the other schools, (be)cause we have so many of them," he said.
Another factor Swartzentruber said makes the by-rank framework more difficult is OWU's "non-overlapping" salary policy. This dictates that the highest-paid associate professor can't have a higher income than the lowest-paid associate professor, and the highest-paid associate professor can't make more than the lowest-paid full professor.
According to Swartzentruber, a few professors hit the "ceiling" salary in their rank and start to get smaller raises than if they were in the next highest rank. He said the Faculty Personnel Committee, which handles faculty promotions, sometimes favors promotion if a candidate is at the ceiling.
"We don't typically have very many people who are hitting that ceiling of the associates, so in some sense it's kind of a moot point," he said. "They can continue to make more money as associates, but occasionally we do have people that are at the top of the rank and are being deprived of raises that they would otherwise get. That's the perspective that they have, is that they're being deprived of the raises that they otherwise would have earned."
Swartzentruber said the non-overlapping salary structure is uncommon. Robbins said he thinks OWU keeps the policy because it's "equitable" for faculty."
"When I stand up in front of my class and lecture about the role of the amygdala or the role of the hippocampus in influencing behavior, I want to be considered just as important as…(when in) the economics department, a faculty member stands up there and talks about economic trends, and when an education or and English faculty member stands up and talks about them, I should be valued in the same way," he said. "What better way of doing that than paying us the same amount?"
In its letter, the Board thanked the faculty for "bringing to (its) attention that funds released when senior faculty retire have not been routinely returned to the faculty salary pool." It said neither the Board members nor Jones knew the additional salary money was leaving the pool, and agreed that the practice should be reinstated.
According to Swartzentruber, it's "not entirely clear" why the practice was stopped, but caused salary pool growth to slow in recent years. When raises were given to faculty, the additional money resulting from the difference between retiring faculty's pay and their replacements' was supposed to supplement the amount of money budgeted for faculty salaries.
"(I)t wasn't necessarily a mistake that was made, but I think that the growth in the average salary at Ohio Wesleyan wasn't as large as people thought it should be given how much additional money was (supposedly) being put back into the pool," he said.
Because the money wasn't being "recycl(ed)," Swartzentruber said, there weren't as large additions to the pool as there should have been. Jones said this is called salary compression.
"Salary compression is more likely to happen in faculty ranks—this is not just here, it's also at other places; that's why you have to be very careful not to let it happen—when people are here for a long time," he said. "When administrators are replaced or even hourly people, you have to pay the market to hire the person."
According to Swartzentruber, these surplus salary monies weren't specifically being taken out of the salary pool for use in another particular section of the budget. He said he thinks the money should have stayed in the pool, but that he doesn't think it was stopped intentionally or that its discontinuation was the result of "incompetence."
"I think what we were doing was not the proper thing, but it wasn't malicious—it wasn't that someone was saying, 'Ah, now we can take that money and use it for that,' or, 'I hope a whole bunch of people retire, cause then we'll have even more money to spend on this or that,'" he said. "…I think there was just a lack of understanding of the implications of our process."
Jones said he is "perplexed" as to why it's taken so long to rectify the salary situation at Ohio Wesleyan. He said salaries lost a lot of ground between 2004 and 2009, but he doesn't know exactly what happened because he wasn't inaugurated until 2008.
He said the recession that began that year has played a big role in reducing the resources OWU has been able to dedicate to salaries. 2008's freshman class had $1.6 million in government aid that doesn't exist today, which the university has had to make up for in scholarships.
"I think the model that we've developed is a first step," he said. "But we'll never be absent of the circumstances of the broader world, and if we had another significant recession and suddenly had significantly less money, there are many things that we want to do today that would be difficult to do tomorrow. So I think we need to all understand that we're doing everything we can, but we are not immune from external forces."
The Board also took note of the external factors than can affect the university's finances.
"We must also remember that a good budget process does not eliminate the potential for a negative financial outcome in the event of low enrollment, economic recession, or similar adverse event," it wrote in its letter.
Robbins said he thinks the issue of by rank versus across ranks has only become contentious recently because the faculty and administration were just "pleased" the Board said anything on the matter. He said most trustees come from a "different environment" than others associated with the university.
"(T)hese are, a lot of them, business people," he said. "They come from an environment where long-term commitments like this are not made to their employees and where salaries are individually negotiated, sometimes benefits are individually negotiated."
Jones said some of the goals the university has set in the past, like the 1986 salary enhancement's ambition of getting salaries to fourth in the GLCA, were "unrealistic" because they weren't financially sustainable.
"I would love to pay our faculty at that level, but the resources are not available," he said.
Looking Ahead
To Jones, the faculty salary issue is a "complex" one that "has a lot of emotion charged behind it." He said he thinks it will take "discipline" to make sure the administration's plan gets carried out.
While he acknowledged the one-year delay in increases, Long said the Board of Trustees "has not reneged" on its 2010 resolution to get salaries up to the GLCA median. The Board's letter to the faculty contained a "warm welcome" for the two parties to continue to discuss their "shared goals for OWU."
"(T)he Board has remained committed to raising faculty salaries, and has allocated as much funding as possible to this goal, while continuing its obligation to consider other pressing needs as well, including compensation for non-faculty, resources for departmental and program budgets, and care for the facilities," Long said.
According to Swartzentruber, Ohio Wesleyan isn't alone in dealing with this problem. He said faculty here play a more significant role in governing the university than at other schools, which he appreciates—he started as a psychology professor in 1992 and moved into a full-time administrative role three years ago.
"Some schools, the faculty really just have to go along with whatever the administration thinks is best," he said. "And the faculty here don't tolerate that, and I think that's appropriate. I like working here…. And although everyone would like to make more money than they currently make, the difference between what we make as faculty here and what we'd like to make is not, like, double."
Chemistry professor Dale Brugh said the issue's roots in the university's history have exacerbated the problem—several faculty have been at OWU for between 30 and 40 years, and are especially upset now because they've "dedicate(d) their lives" to the institution. He said some of his peers won't be satisfied unless the administration and the Board fulfill their commitment to the by-rank framework; others have talked of unionizing. Most want a "clear sense of openness" from the Board and administration, to "feel like (they are) a part of the process."
"As a scientist, for me it's important that people look at the same data—that the more people you have looking at the same information, the more likely you are to notice problems with it and to discover errors and to then make good decisions, to correct mistakes before they actually are made," he said.
Robbins said he's in favor of a by-rank solution. But he said he thinks the non-overlapping salary policy is good for the university, despite the confounding effect it may have on using a by-rank standard for increasing salaries. Unlike OWU, Robbins said, schools like Ohio State will pay an incoming economics professor more than the most senior education professor, which he doesn't think is fair.
"That's not who we are," he said. "That's not the kind of values system that we're trying to place upon our students."
Swartzentruber said he's not sure the issue will ever be completely resolved.
"I think it's human nature to expect that you'd like to make more, or to expect that you're going to get a bigger raise than you actually got," he said. "I don't want to undermine the faculty concern, cause it's a serious concern and we do, in fact, have an underpaid faculty here. It's just a matter of, relatively speaking, how much underpaid are they?"