Veterans denied justice by a broken system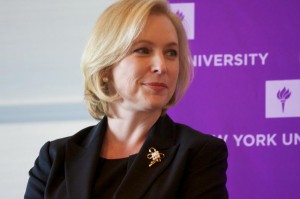 By Spenser Hickey
News Editor
Since World War II, as many as 1,000,000 men and women have gone into the service, eager to serve their country, only to be sexually assaulted by their comrades. Most never reported it and only a very few that did saw their assailant be convicted and thrown out of the service.
The number of military sexual assault survivors is greater than that of servicemen and women killed in action in every conflict the U.S. has taken part in—combined.
According to recent testimony by Marine Commandant James Amos, 85 to 90 percent of sexual assaults remain unreported in today's military, despite twelve months of efforts by the top brass to effect change.
Now, after so many decades, Congress is planning legislation to fight the problem, either by putting control of sexual assault cases at the highest levels of military authority (as Ohio Rep. Mike Turner's bill advocates) or removing it from the military's control all together (what Sen. Kirsten Gillibrand of New York is calling for).
Under the current system, an officer in charge of the case can change the verdict on a whim, even without being present at the trial, because the alleged rapist is a husband and father, and it's thought they don't do that sort of thing. It's happened.
Ultimately, that's the problem with any system that tries to handle sexual assault cases in-house — it creates a recipe for potential injustice. Look at the Catholic Church or Penn State; look at the allegations of failures in reporting and violations of survivors' rights at the University of North Carolina-Chapel Hill or Dartmouth College.
The Joint Chiefs of Staff have balked at Gillibrand's call for sexual assault cases to be overseen by civilian prosecutors, saying it would undermine unit discipline and trust.
"The role of the commander should remain central," said U.S. Army Gen. Martin Dempsey. "Our goal should be to hold commanders more accountable, not render them less able to help us correct the crisis. The commanders' responsibility to preserve order and discipline is essential to effecting change."
But it's not essential, though, as several nations have proven.
In the militaries of England, Canada, Australia, Germany and Israel, for example, unit commanders do not have control over sexual assault cases, and their militaries aren't falling apart.
When asked about the methods foreign militaries use to combat sexual assault, the Joint Chiefs of Staff said they'd "look into it," so maybe that's why they're convinced commanders need to retain their control — they aren't actually aware there are other systems that actually work better.
Military commanders have frequently claimed social change is a threat to unit discipline and order in response to government pressure, whether it was for racial integration, allowing women to serve in active duty or overturning "Don't Ask, Don't Tell." And now it's being marched out again, hopefully to the same lack of success as in the past.
While congressmen and women from both parties have been united in their pressure on military officials to carry out effective changes, one took the opportunity to put his foot in his mouth and make one more misguided statement about the causes of rape.
"The hormone level created by nature sets in place the possibility for these types of things to occur," said Sen. Saxby Chambliss (Ga.), in a statement that bumbled him into the realm of Todd Akin and so many other politicians — from both parties — who have made callous or misguided remarks about sexual assault.
While his statement was slammed in the media, conservative news site RedState posted a strong defense of Chambliss's remark, claiming "the liberal media" was deliberately ignoring the context of the statement, and that the context excuses it.
The whole six-and-a-half-minute speech Chambliss gave, the "context" RedState offers, has nothing to do with hormones, but with how the military has failed to create an environment that makes men too afraid to commit rape; instead they've created an environment that explicitly or implicitly permits it.
But then Chambliss made his claim, wholly unrelated to the speech he just made, that it's the natural hormones that make this possible.
As RedState writer Erick Erickson puts it in his defending piece, it's because 17-23 year old men are "horny" and a commander was "encouraging soldiers to hook up on base as much as possible" — and when these base impulses are added that to a broken system of reporting and prosecution, rapes are going to happen.
(Side note: if Erickson's name is familiar, it's because he, along with Lou Dobbs, recently lost a heated on-air debate on gender roles and sexism with Fox News anchor Megyn Kelly — and I doubt he's learned much from it.)
Here's the thing though, Sen. Chambliss and Mr. Erickson — hormones, as you put it, are "natural." That means we all have them — so if all the men in the military have these hormones and many are in these systems where they can get away with rape, why don't they all do it? And why are some of the alleged rapists outside that 17 to 23 age range?
Chambliss's and Erickson's statements presume that if a young man is in a room with a woman he's physically attracted to, and there's little chance of punishment involved, he'll have sex with her whether she wants to or not, because the hormones take over.
It's a disgusting premise for us young men, that we all have some repressed rapist on our shoulders; and it's one that completely ignores the gender dynamics of rape survivors in the military (more men have been raped than women, according to DoD estimates) and the more common reasons most rapes occur in the military.
As with any crime, the motives behind these rapes differ from case to case, but "natural hormones" are one of the least common factors. Military sexual assault, like prison rape — another systemic failure of reporting and justice — is primarily a crime of predation and power rather than passion, targeting the people offenders see as weaker and subjecting them to what they consider to be the worst humiliation.
It's not about sexual desire, but establishing and reinforcing power and control, and sadly the military already has a power-based hierarchal system that is being exploited by sexual predators who target their subordinates in the ranks.
In addition, rape — often against women and children — has been one of the oldest weapons militaries use against their enemy's populations to further subjugate them and weaken their morale. It's seen in ongoing regional wars around the world; in the invasions of the Germans, Soviets and Japanese in World War II; and in hundreds of other conflicts going back to before ancient Rome and Greece. War and sexual violence have been entwined since the first groups of humanity took up arms against their neighbors.
In the case of our current military, I see some of these assaults as a violent physical expression of a broader attitude infecting the services — that women are weak and good only for sexual subjugation. It's part of a last-ditch effort to keep the military exclusive to men, and sexual assaults are an unseen salvo in this mostly undeclared war.
When it's not directly about power, it's because men think they have a right to use women or men for their own sexual gratification, regardless of their wishes. While Chambliss's solution — that the military stop rape by making men fear the consequences too much do it — might work sometimes, it's still not the right solution.
Instead, the military, and our entire society, need to teach men to treat people with respect and dignity, and to value the consent of their partner. That's how we take back the military and end the invisible war.
But enough of Chambliss, Erickson and their wildly off-kilter perspectives on the causes of rape, which thankfully have been slammed by politicians on the left and right — let's look at something else in this debate, something favorable a politician said.
"I cannot overstate my disgust and disappointment over continued reports of sexual misconduct in our military," said Arizona Senator John McCain, a Navy veteran. "We've been talking about this issue for years and talk is insufficient."
He recently said that he could no longer recommend to women in his constituency that they join the military, due to the rampant sexual assaults.
It's a bold move for a politician to tell citizens not to join the military, and I applaud McCain for doing so. But he missed one particular statistic about rape in the military: over half of survivors are men, not women.
It's not that surprising, when you consider that there are six times more men than women in the military; and men are less likely to report assaults than women, due to the aggressive hypermasculinity of military culture, which portrays being assaulted as the ultimate weakness in an environment where power is paramount. Like I said, this is about power, not passion.
"The biggest reasons men don't come forward (with sex assault reports) are the fear of retaliation (from fellow troops), the fear of being viewed in a weaker light and the fact there are very few, if any, services for male survivors," said Brian Lewis, a Navy veteran and rape survivor, in an NBC News interview.
In light of this, I'd say everyone, regardless of gender, should think about the risks before enlisting in the military. I know I won't enlist as long as the problem continues. Not just because of the danger, but because I refuse to be part of an institution where rape is an occupation hazard.
That's not hyperbole, not a slick phrase I made up — it's an actual judge's words, based the number and frequency of assaults, from a 2011 lawsuit against Donald Rumsfeld and Robert Gates.
"If they actually had systems of accountability that prosecuted and imprisoned perpetrators, you would get rid of the rapes right away," said attorney Susan Burke, who represented the plaintiffs — 28 veterans who were raped during their military service — in the 2011 lawsuit.
I don't know that I'd go so far as to say a new system would end rapes entirely – it should be based off the civilian criminal justice system, and sexual violence is still a serious issue outside of the military. But it would certainly be better.
The current system has failed most veterans who turned to it at every step of the way.
It's failed at preventing assaults; it's failed at offering comfortable reporting of them; it's failed at prosecuting assault cases; it's failed at punishing those convicted in accordance with their crime; and it's failed at treating survivors' mental and physical scars as a result of their military sexual trauma.
The civilian criminal system is not without its flaws — look at the absurdly lenient sentences of the Steubenville rapists, or the grotesque case of the Central Park Five (teenagers of color wrongly convicted in the 1989 rape of a white woman).
But it's still an improvement over the current military system, and it's long past time for the military brass to swallow their pride and adopt a new system – or for the government to compel them to do so through legislative mandate.
Each day last year, an average of 38 men and 33 women in our armed forces were sexually assaulted by those they served with.
They'd each made the noblest choice an American can make — stepping up to risk their lives in our defense.
I'm hard-pressed to think how their commanders, as well as our collective response to the problem, could have let them down more.
For an in-depth view into this crisis, watch "The Invisible War," available on Netflix Instant.