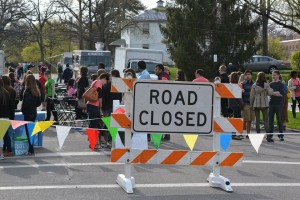 With an higher turnout of around 100 more students, this year's Rock the Block ramped up the post-Day on the Jay concept begun last spring by bringing in more food trucks and a band from Columbus.
The event was a collaboration of several organizations, including the Campus Programming Board (CPB), Residential Life, the Student Involvement Office and CLEAR (Choosing and Learning Environments with Alcohol Respect).
"We have a new musical group (the Floorwalkers)…this year we're getting a band from Columbus," said Residential Life Coordinator Levi Harrel, also an advisor to CPB.
"They were one of the bands we've been looking at for a while," said CPB co-president Elle Benak, a freshman.
The Floorwalkers, who just released their sophomore album, started in Cleveland and were named best band in Columbus by readers of (614) Magazine in 2010, 2011, 2012 and 2014.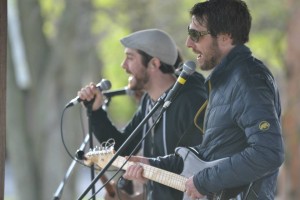 Their Facebook page lists them as a garage soul band, and an OSU Lantern article said they draw influences from "blues, rock 'n' roll, funk and soul."
Last year, music was provided by students ‒ Wahoo Sam Crawford, a band of mostly class of 2014 graduates, and the Arjune DJs.
The Floorwalkers drew less of a direct crowd to Delaware's nearby Bicentennial Park, but were still listened to by students eating dinner and taking part in other activities on Rowland Avenue.
Whit's Frozen Custard brought ice cream cups for students, which were provided free and were a big hit.
"I got free Whit's, and there's flower pot painting ‒ it's good," freshman Emily Burns said.
Senior Luke Peters said he liked the free Whit's, but didn't want to spend a lot of money at a food truck, particularly Kinetic, which charges $8 for its signature wraps and bowls.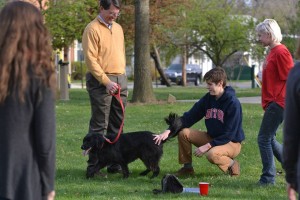 For freshman Sarah Kohn, the food truck options were a relatively new experience; she went with Kinetic for dinner.
"OWU doesn't have avocados and I'm eating avocados," she said. "I'm really happy."
Freshman Abigale Lyon also got Kinetic, though she came to the event to see the flower pot painting run by Modern Foreign Language House and its moderator junior Alanna Spalsbury, a fellow member of Delta Gamma.
The food trucks included PhillyBuster, Holy Smoke BBQ and Kinetic, co-managed by Andrew Tuchow (class of 2013).
Most students got Kinetic, but freshman Bailee Bonanno went with Holy Smoke BBQ and liked her meal a lot.
Eric Smith, a post-graduate intern with the Student Involvement Office, led the food truck selection effort and said variety was the main goal.
"We have a really good variety of food for everyone to enjoy," Smith said.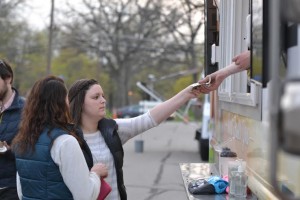 Last year, OWU brought Kinetic and local favorite Dan's Deli to Rock the Block but Smith decided against Dan's this time since students can eat there most Wednesday, Friday and Saturday nights.
"We wanted to spice it up (and) see what else we could throw in the mix."
"I think the event overall went very well," Harrel said afterward, noting the crowd seemed very energized.
For next year, the organizers plan to expand even further.
"We're going to have more tables, more games, more events for students to participate in," Harrel said.