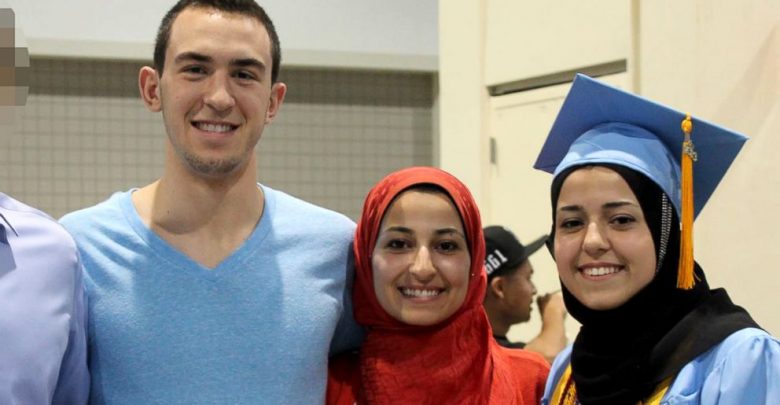 In memory of Deah Barakat, Yusor Abu-Salha and Razan Abu-Salha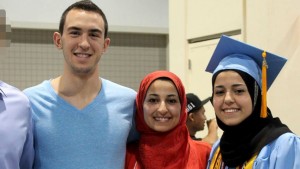 I've been afraid this would happen ever since the Charlie Hebdo attack. But I, and the nation, should have been fearing it since Sept. 11, 2001.
Three Muslim students living near the University of North Carolina in Chapel Hill were murdered Tuesday night.
Their names were Deah Shaddy Barakat, Yusor Mohammed Abu-Salha and Razan Abu-Salha. They were the same ages as many of us: 23, 21 and 19.
Deah Shaddy Barakat and his wife Yusor, who graduated from nearby North Carolina State, were planning to become dentists; he'd been raising money to support Syrian refugees.
According to VICE News, their neighbor Craig Hicks turned himself in and has been charged with their murders.
VICE reports that Hicks is believed to have posted anti-religious messages on Facebook; CNN reports he is an atheist.
Facebook was how I heard about this; I saw news posts with a headline like "Three killed in shooting at UNC."
Another school shooting, I thought. It was sad, of course, but I was hardly surprised – and what does that say about the nation we live in?
Then the details emerged.
Police have said Hicks had a dispute with his three victims over parking in the area; Dr. Mohammed Abu-Salha, Yusor and Razan's father, says this is a hate crime and that Hicks had animosity toward his daughters and son-in-law because of their religion and culture.
It's not certain that this was a hate crime, even in spite of the Facebook posts and Dr. Abu-Salha's comments. And I don't know what was in Hicks' mind, if he is the killer.
I do know that if three devout Christians were murdered, and a Muslim man had been charged after posting anti-Christian messages on Facebook, well, there would be a media field day over that, particularly from conservative-leaning news sites.
I know that every time I checked CNN Wednesday morning, they were devoting their airtime to ISIS and their actions in the Middle East, not these murders of Americans on US soil, in their own home. They do have an online story, but that gets a lot less attention than what's presented on screen.
After learning about these murders, my first class met with a former media coordinator with the Columbus office of the Council on American-Islamic Relations (CAIR).
She spoke about the need for balanced and humanizing depictions of Muslims in the media; her visit had been planned well in advance, but the previous night's killing made it incredibly powerful.
As a Unitarian Universalist (UU), I am reminded of the 2008 murder of two UU members in their Knoxville Church, by a terrorist claiming to act in the name of Christianity and right-wing conservatism.
But that doesn't compare to this; I was not a UU at the time, and it was an isolated incident; we don't have to fear daily aggression in the same way many Muslim or Arab-appearing people do in the United States.
I am reminded of the terrorist attack against Sikhs in Oak Creek, Wisconsin, which left six dead in 2012; this attack was also carried out by a white supremacist.
I am reminded that as the news media focuses on self-proclaimed Islamic groups like ISIS and their murders of Western hostages, the overwhelming majority of their victims are Syrians and Iraqis, many of them Muslims.
I am also reminded, as Al Jazeera America has pointed out, that Mexican drug cartels have also used Christianity as a tool in the same way that ISIS uses Islam, and that they are carrying out televised, gruesome executions and general mass murder with far less media scrutiny in the United States.
On Wednesday, the Chaplain's Office devoted their mid-week prayer service to remembering these three lives, and informed us that the community service learning office is working with Tauheed to raise funds for their charity. It's called Project Refugee Smile, and it'll help Syrian refugees in Turkey receive proper dental care.
And that reminds me of one last thing. Two years ago, I wrote a story about OWU students standing in solidarity with fellow students at UNC-Chapel Hill.
That time it was about sexual assault, but it's time we stand in solidarity with UNC students again – with UNC's Muslim community, their friends and the entire nation's Muslim community.