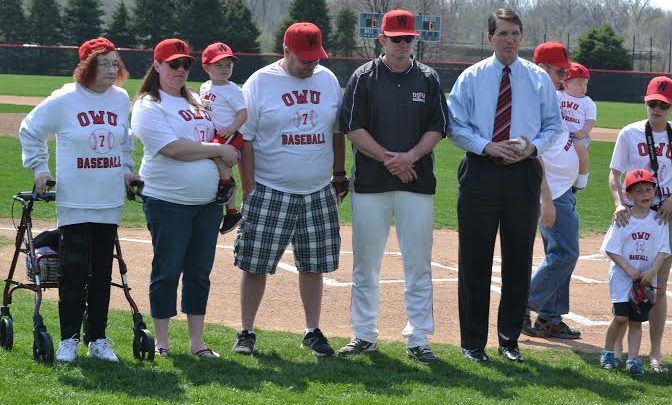 Ryan Missler's last ball game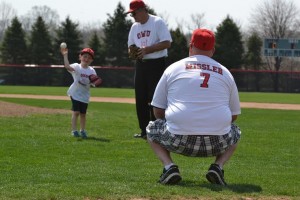 When Ryan Missler hit a home run, it went farther than people were ready for.
At home in a practice game, he knocked a ball into the middle of Route 23, a record, then broke it by hitting the ball past 23. At Wittenberg, the ball went far over the fence and hit an oak tree so hard it ripped the skin off the ball.
After a game at Ohio State, which Ohio Wesleyan won, his two home runs made the news on all three channels; radio broadcaster Dave Maetzold described it by saying "this is Ryan Missler, and he hits a missile out of Bill Davis Stadium."
Against the College of Wooster his sophomore year, Ryan hit a two-run homer, the only score of the first half of the doubleheader, and then his brother Aaron hit a home run with Ryan on base to win the second half 2-1. They advanced to the tournament because of the Misslers' work.
Ryan and his brother Aaron, who graduated in 1996, were the first brothers to play baseball together for the Battling Bishops. College was the first time they took the field together since Little League.
Ryan's father Mike managed to get all but one of the home run balls hit by them; he wrote down the distance and date for each and hung onto them.
Last summer, Mike, Aaron and many of the teammates were gathered around this collection remembering him at his wake; Ryan died in a car accident August 9 at the age of 38.
In his three years at Ohio Wesleyan, Ryan set the record for most home runs in a season and tied the record for career home runs, along with setting additional records.
Behind these high statistics was an intense drive to play the best possible game, no matter what.
On defense, he occasionally got an error for not completing a play that was nearly impossible to begin with – but he always tried.

"He made a play…I didn't know how he even got to the ball and then he threw it and it was a short hop that I basically had to do the splits to get it," Aaron said; it was one of their best plays together.
"When he was out here, he was out here for every pitch," Mike said.
This included a time when Ryan had accidentally been hit in the head during warm ups; former Coach Roger Ingles (now Athletic Director) wanted to bench him for the doubleheader but Ryan insisted on not sitting out since it would have been the first time missing a game.
Ryan took the field, despite having a swollen, bloody left eye – which he needed most as a right-hander – and hit two home runs in one inning. In baseball, even being up to bat twice in an inning is a rare feat.
"There was nobody as intense as him," said Eric Heise ('98). "That was the thing about Ryan. Whether it was on the field, whether it was in the weight room, whether it was playing a video game, studying…he wanted to be the best at whatever it was."
"The more he played, the better he got so after he graduated he became twice the player he was in high school, and he was all-Ohio in high school," said Tim Saunders, Ryan and Aaron's baseball coach at Dublin Coffman High School.
But while he was a great player, everyone – from his high school and college coaches, teammates and family members – agreed he was a greater person.
"His statistics speak for themselves, but what they don't say is what a great young man he was and how much he contributed to the baseball program," said Pat Huber ('62), a leader in the W Association of Athletics alumni.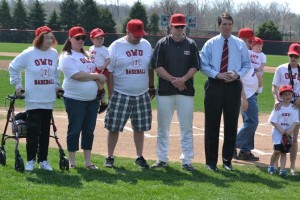 In 2008, when Ryan was inducted into the OWU Athletics Hall of Fame in his first year of eligibility, he made a list of teammates he thought deserved the same recognition.
"If there was a Hall of Fame for being a man, he would have been in it," Mike said. "He cared about everybody…we were lucky to have him for 38 years."
In one game, the shortstop was being heckled by the other team's fans and it was getting to him; Ryan just went over to him from third base, put his arm around him and then gave the fans "a shit-eating grin" as Mike put it.
The fans heckled Ryan instead after that, but he could take it easily and dish it back – not too long after that he hit one of his many home runs.
This dedication to his teammates didn't end after graduation – Ryan was one of seven seniors on the baseball team in 1998 and they were a very close group.
"You could go six months and not talk to him, you call him and tell him you need him and he'd drop everything and leave," said Thad Reinhard ('98).
"Ryan was my strength, my encouragement, my best friend," said Heather Missler, Ryan's widow.
"We shared a love that some go their whole life in search of."
After graduating, Ryan spent time in the minor leagues with affiliates of the Boston Red Sox and Cincinnati Reds; he got a tryout with the Reds as a pitcher but pushed himself too hard and blew his arm out.
After that he worked alongside Aaron at their father's irrigation company, which has provided services to many of OWU's athletic fields. He married his wife Heather and they started a family. Heise and Reinhard agreed his competitive intensity – while always positive – mellowed a lot because of them.
"Every day he was anxious to get home to be with his family," Mike said.
"One of my greatest memories was watching the love our boys, Trent and Caden, had for their dad," Heather said.
"Ryan would walk through the door and the boys would light up with joy by just being in his presence. Ryan was a loving father and husband and he's missed beyond comprehension."
Ryan still didn't back from a challenge at times, though – Mike said he helped out on a job at Ohio University on Aug. 5 that was as tough as any they'd ever done, without any complaint.
The day he died, Ryan was playing a round of golf with Aaron, Mike and some friends. He started out badly, but he didn't care a bit.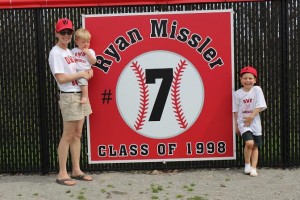 Eight months later, many of Ryan's friends and family were gathered at Littick Field once again, as the baseball team held a special ceremony to the man they'd dedicated their season to.
Coach Tyler Mott organized the event, held April 18, which included remarks from Mike – who thanked the university, saying Ryan had said he was very lucky to attend OWU, and that this was the highest honor a college could receive – and a cookout led by Mike.
The team also officially dedicated the sign that had been in left field all season, retiring the first number in OWU baseball history.
The team then swept Denison University in the doubleheader honoring Ryan, with scores of 6-4 and 11-6.
But while Ryan's number was retired before those games, it was not his last game at OWU. His last OWU game wasn't in 1998 either.
David Eastman, the announcer and an assistant professor of religion, said Ryan is now forever a part of the Bishops' team since no one else will ever wear number seven.
So as long as the Bishops are taking the field, he'll be considered with them in spirit.