How Gender and Greek life shape SLU membership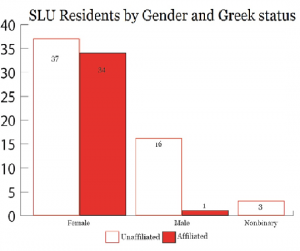 At the start of each spring semester, OWU's Small Living Units seek new members ‒ but they're running into increased competition with fraternities, most often for male candidates.
"I think that the fraternity system here at OWU, the fact that it's residential, is why the gender ratios are so skewed in the SLUs," said Citizens of the World (COW) House moderator Kerrigan Boyd, a senior.
"…In some ways it's kind of cool that the SLU community is primarily driven by women, just because I feel like there are so…few things in society that are, but I feel like we strive for a community that's inclusive of a variety of diverse backgrounds, including gender diversity."
In terms of gender, OWU's student body as a whole is 54 percent female and 46 percent male, according to the OWU website; data on non-binary students was not available and is not recorded by the University.
Non-binary, as described by sophomore Women's House (WoHo) resident Rowan Hannan, refers to a gender identity that is different from the one assigned at birth; this includes a wide variety of genders beyond assigned and self-identified male or female.
A survey of SLU gender demographics finds that there are more than four times more women in SLUs than men and at least three non-binary students, including Hannan, who live in WoHo.
These statistics were provided by SLU moderators and some residents; there may be additional non-binary SLU residents whose identities aren't fully known or realized, and were not counted accurately as a result.
Senior Meredith Harrison, WoHo moderator, said the SLU community tends to be fairly homogenous as a whole.
"We have a lot of cisgender, heterosexual white people; it's predominantly female," she said.
Low male participation – and a new exception
"There are absolutely less men who go through that (SLUsh) process, but I think at the end of the day that is a choice that our male students have to make (between fraternities or SLUs)," said Levi Harrel, residential life coordinator for the SLU community.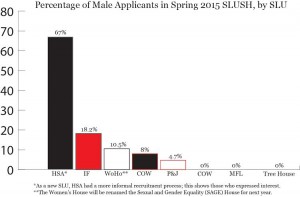 The Memorandums of Understanding (MOUs) between Ohio Wesleyan and the seven residential fraternities currently on campus require all fraternity members to live in their houses, unless they work for Residential Life or the houses are above capacity.
"I can understand why the university wants to fill all the (fraternity) houses, because it's more efficient that way," said senior Brian Cook, president of the Inter-Fraternity Council (IFC).
"At the same time, I think I can understand why SLUs might be frustrated with that process."
The MoUs make it rare for active fraternity members to live in SLUs, although there are some ways they can do both at the same time.
The most likely way for active fraternity members to live in a SLU would be if their organization is non-residential ‒ such as Phi Gamma Delta (FIJI) or one of the National Pan-Hellenic Council groups, nine traditionally African-American Greek organizations. Currently, no one is using this option, however there will be a member of FIJI in the House of Spiritual Athletes next year.
While FIJI will be a residential fraternity again starting next semester, the chapter will be above occupancy due to increased recruiting in the past. It's not known yet whether HSA will have a house or if it's members will be living in other housing, though.
With ten members, HSA's residents will make up half the male population of next year's SLU community, but they plan to recruit women in the future.
"We had interest from some women, but there were a lot more guys interested and we didn't want to have an awkward guy to girl ratio," said freshman Conner Brown, one of two candidates to be HSA moderator.
"We do plan to offer and integrate women into the SLU in the future but we knew we may not even have a house this next year."
The second most likely exception is if they are the moderator ‒ equivalent to a resident assistant for dormitory life, thus exempting them from the Greek residency requirement.
There is one actively Greek male moderator, senior Noah Manskar, who's also the only male moderator this year. To do this, he had to join his SLU, become moderator and then go Greek ‒ then be selected as moderator again to remain in the house.
The structure of this year's fraternity rush and SLU rush (SLUsh) processes also required potential new fraternity members to make a decision on their bids before receiving SLU interview results, leading several male students to opt out of SLUsh entirely.
Challenges with fraternity recruitment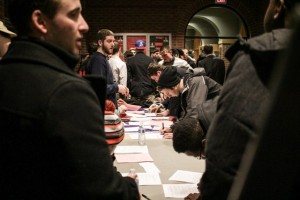 "I've heard of a lot of men who drop out – they do start slushing and then they drop out because they get bids," said senior Meredith Harrison, moderator of the Women's House.
The House of Peace and Justice (P&J) was hit particularly hard by this ‒ originally four men signed up for interviews, but three received fraternity bids and withdrew from the SLUsh process to accept them.
"We had one (man), out of 21 people (who applied)," said Manskar, P&J's moderator.
"I think we have definitely noticed a decrease in the amount of men who have applied to houses this year," said junior Reilly Reynolds. "I think all the members of the SLUs have."
Reynolds is moderator of Tree House, which had 17 students apply during this SLUsh season. None of them were men.
"I really don't think it's fair to the guys, because they have to make a decision on Greek life before they make a decision about SLU life," she said.
Sophomore Cindy Hastings, also a Tree House resident, added that the low gender ratios can also deter some non-Greek men from the SLUsh process, as they may not be as comfortable applying and interviewing at an all or mostly-female house.
The Women's House encounters this in more than most; Harrison said the current name may discourage some men from applying. This year they had two men apply, which she said is "really good for us."
While it's rare for men to be involved in SLU and fraternity life simultaneously, students can do both over their four years at Ohio Wesleyan, and several have. In most cases, though, they leave their SLU to go Greek, rather than the other way around.
Senior Kyle Simon is one of those who've done both ‒ he lived in the Women's House (WoHo) his sophomore year before moving into Chi Phi last year.
"It was really, really wonderful," Simon said about his time in WoHo.
While he enjoyed the experience, he found Greek life offered a different type of community that appealed more; close personal friendships with future fellow members also led him to Chi Phi.
Simon remains active in some SLU programs, and credits his dual experience of SLU and Greek perspectives as being really helpful.
"I think they're really good options for people, but they're completely different types of structures," he said.
"Every SLU and every Greek organization's so different that it's not really the same decision (to join one or the other.)"
Harrison said Simon's done a lot to connect her house and his fraternity after leaving, though the two organizations already had a strong connection.
During Take Back the Night, an annual Women's House event, members of Chi Phi will guard WoHo in its residents' absence. This safety measure is due to a 1984 incident where two male students threw a smoke bomb into the house and nearly burned it down.
"I feel like, as far as fraternities go, we've always had a really good relationship with Chi Phi," Harrison said.
Benefits of Greek and SLU overlap
Alpha Sigma Phi also has a former SLU resident, junior Scott Woodward, and current SLU resident Noah Manskar.
Woodward lived in the House of Thought (HoT) last year and moved into Alpha Sig this year after accepting a bid.
"Deciding to slush and live at (HoT) was one of the best decisions I've ever made in college," Woodward said.
He decided to rush to learn more about the Greek community, something he hadn't considered joining before coming to college.
"Leaving House of Thought for Alpha Sig was the definition of bittersweet," he said, but the commitments of both would have been too much to handle on top of academics and clubs.
Brian Cook, president of the Inter-Fraternity Council, is also a member of Alpha Sig and he described the benefits the chapter has received from having SLU members.
"The people that tend to join SLUs, at least in our example, (have) a different way of thinking about things than people who may be prone to join a fraternity so it's good to have that kind of diversity of thought flowing around," Cook said.
In particular, he discussed how Manskar has integrated one of his Peace and Justice house projects into Alpha Sig's OWU chapter community.
Two years ago, Manskar hosted a V-Men workshop for the campus, but had a small turnout of 15 participants.
V-Men is a program created by the V-Day organization, which also created the Vagina Monologues, to bring men together around the issue of violence against women and girls.
After joining Alpha Sig last spring, partly to integrate SLU ideals into the fraternity community, Manskar held the workshop within his new chapter.
"All of our guys loved it and we really appreciate him doing that," Cook said; the chapter is now making it part of their new member education process.
"At least in our example those guys (Manskar and Woodward) were willing to take the charge on that, because of their experience with holding those kinds of programs in their own SLUs," he added.
While Meredith Harrison said she hopes for more fraternity-SLU outreach, she sees a lot of positives in the relationship between SLUs and OWU's sororities.
"For Women's Week, a lot of sororities support it and I think that is because we have so much Greek representation in our house," she said.
This year, the Women's House has had one member from Kappa Alpha Theta, one from Kappa Kappa Gamma and two from Delta Zeta, though one of them withdrew from the university after the fall semester.
"(SLU membership) does impact (the sorority community), but in a natural way because they're living with different people, so they get to share those things that they're learning with different people," said sophomore Jocelyne Muñoz.
"They get to get other perspectives, so (it's) definitely a positive."
Muñoz is community development director of OWU's Panhellenic Council, the sorority equivalent of IFC, and a member of Delta Gamma.
Strong bonds between SLUs and sororities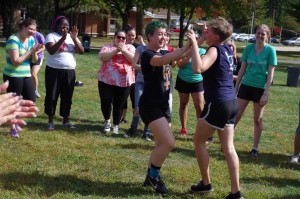 Unlike fraternity members, sorority members cannot live in their houses at Ohio Wesleyan, and so a sizeable percentage of the female SLU community are also sorority members.
Of the six female SLU moderators this year, for example, four are in sororities.
"(SLU life) encourages more active members in the OWU community," said junior Natalie Geer, president of OWU's Panhellenic Council.
Muñoz added that living in the same SLU "absolutely" connects members of different sororities, and that the presence of sorority members in SLUs "definitely" brings their non-SLU members to events.
"There is (an) impact from having your sisters in (SLUs) so more of those sisters will attend those events because they're involved," she said. "But I don't think it should stop others from attending those events, just because they're getting that (sorority) support anyways."
At the Citizens of the World (COW) House around half the female residents are in sororities but this doesn't have a significant impact on the House culture, according to moderator Kerrigan Boyd.
"I think that people who are involved in SLUs and Greek life a lot of times are leaders and people that really strive to be deeply involved in the OWU community," said Boyd, also a member of Kappa Kappa Gamma.
"…I think that having people who are leaders in multiple settings, not just SLUs, doesn't isolate us; I think that that's been a strength."
"I think my experience with all the Greek women I've lived with is they are fully part of both," said Noah Manskar, Peace & Justice House moderator.
"They hold officer positions in the sororities and they put on great house projects here. I think it's good that the SLUs are kind of integrated with the sororities…(they) seem to mesh very well."
In P&J there's an even split this year: six affiliated women, six unaffiliated women, and five men. Among the sorority women of P&J, there is one Kappa, two Tri-Deltas and three Kappa Alpha Thetas.
Kappa Alpha Theta has the highest number of sorority SLU residents, with eleven.
A safe space for other gender minorities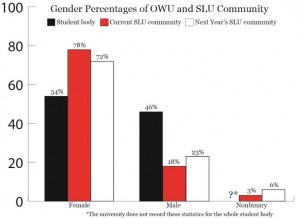 Each year, SLUs must go through a renewal process; this year the Women's House requested to change their name to the Sexual and Gender Equality (SAGE) House after lengthy discussion among current and potential new members.
The change was part of a deliberate strategy by moderator Meredith Harrison to make the house more queer-inclusive. Queer, used as a positive term by Harrison, refers to non-heterosexual sexual and romantic orientations and non-binary gender identities.
"This year, we started having conversations about the house name and how it could be really alienating to our non-binary housemates or trans men on this campus," she said. "…I'm really proud of my community for wanting to become more inclusive."
Hannan, who joined the house at the start of this year, said they've been able to better understand their gender identity because of their time in the house and the supportive environment it's residents provide.
"Because we continually work to create a safe space, it has allowed me to explore my gender as well as the way I perceive others," Hannan said.
"I often forget that when leaving the SLU bubble that people will not ask for my pronouns, will assume my gender based on the way I present, and will often not acknowledge the existence of non-binary genders."
While they could only speak from their own experience, Hannan said they thought the SLU community can be more comfortable than Greek life for non-binary students.
"Fraternities and sororities literally represent the gender binary," they said. "…However there are trans and non-binary people who are happy in fraternities, and I think it isn't something to necessarily be generalized."
The number of non-binary SLU residents for next year will increase from at least three to at least five, and not all of them will live in the SAGE House.
"I have only experienced one slush with the house so I can't speak to a trend, but there were several non-binary applicants this year, and I know there have been in the past," Hannan said.
"I wouldn't say there is more, but I feel that PRIDE and SAGE have both done very well this year in creating an atmosphere of acceptance and safety, and allowed people to explore and come out in their identities."
Harrison added that the house's name change reflects a growing trend in the feminist movements that SAGE reflects.
"Women are not the only gender minorities – the trans community, non binary people, you can't ignore that and you can't ignore that in feminism, you can't ignore that in the queer movement," she said. "So I think changing the name and the mission statement is absolutely necessary for how gender politics are going."
Hannan said they want to create more safe spaces for non-binary students, but also "brave spaces" where students can "challenge what people say and try to educate others and create a genuine dialogue."
"The best way to be an ally to people of other identities is to listen, and to use your privileges to challenge ignorance, and empower others," they said.