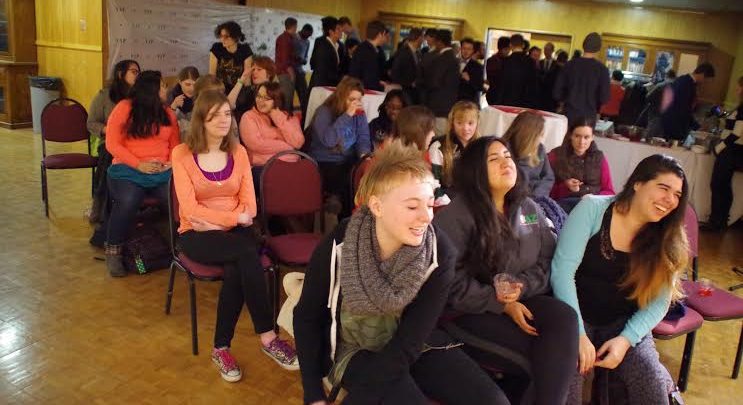 Getting loud at the library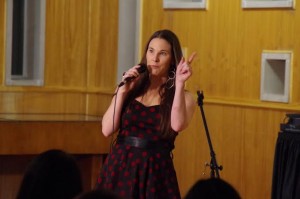 Ohio Wesleyan public services librarian Jillian Maruskin first began planning "Live at the Library" at the start of last semester, and it was finally held Feb. 19 in the Bayley Room.
She received assistance from library social media intern Kyle Hendershot, a senior, and fellow librarian Ben Daigle; performing groups included the JayWalkers, Babbling Bishops and Pitch Black.
"We really wanted to figure out a way to use the library's spaces that they have, so we figured this (the Bayley Room) was kind of an under-utilized space," Hendershot said.
They set the event up between the Grammys and Oscars, and it too had a red carpet atmosphere, with Hendershot serving mocktails and senior Caleb Dorfman taking photos.
"We really want attendees to dress up and feel kind of fancy and special," Maruskin said before the event. "The red carpet and paparazzi will hopefully make attendees and performers feel like movie stars, at least for a little while."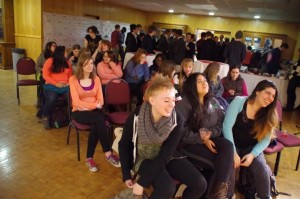 By the start of performances, the seats were all filled, with more attendees standing in the back.
"I think the attendance surpassed what we thought it would be, we had a lot of fun," Maruskin said. "I think on this campus, performing groups support other performing groups and that helps a lot. I was really happy with the (Babbling) Bishops; that was so fun – I've never seen them before."
The Babbling Bishops, a campus improv group, brought out a few new routines they had developed. One, "Story Story Die," had direct audience participation for the first time.
In the skit, participants have to take turns telling a story; anyone who can't keep up has to act out a death scene of the audience's choosing.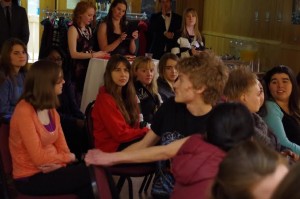 Junior Spencer Dick was selected to take part with the Babblers, and together they told a story of Taylor Swift's fight against unicyclists, Martians and ex-boyfriends.
"I thought it would be fun, I love doing skits and stuff," Dick said; he has similar experience as a summer camp leader.
Junior Dane Poppe, who led the "Story Story Die" skit, said they'd been planning to get audience members involved in short-form games like that.
"It gets more people to come back," he said.
"I'd heard about the Babbling Bishops before, I didn't really know what they did but I knew they were kind of an improv group," said sophomore Jenna Chambers, an audience member.
"It was fun seeing their different games, and everyone got really into it."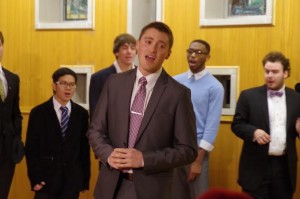 Chambers and several other members of Delta Zeta came to watch some of their fellow members in the Babbling Bishops and Pitch Black. Senior Rhiannon Herbert was one of them, seated next to Chambers, but they didn't know in advance about the formal, red carpet aspect.
"If I knew we would have (the red carpet), I would have dressed up," Herbert said.
The improv act was bookended by a cappella performances, with the JayWalkers leading off the event with seven songs and Pitch Black finishing with a rendition of their recent competition set.
The JayWalkers performed a series of songs – some, like All-American Rejects' "Gives You Hell" and Fergie's "Clumsy," for the first time.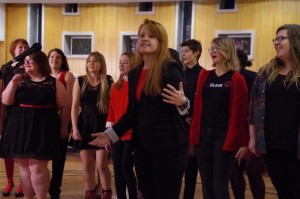 "Of the stuff we knew, we tried to get an even mix of fun, fast (and) slow songs," said their president Gabe Incarnato, a senior.
While Pitch Black performed the same songs from ICCA, they added snapping to their second song "Run To You" and cut out the choreography, due to the smaller performance space.
"We had a week off after ICCA so we haven't much rehearsals yet, obviously that's fresh in our minds," said senior president Grace Thompson. "We like supporting the library and Jillian's one of our biggest fans, so of course we were willing to do it."