Nobel Prize winner to be honored at Heritage Day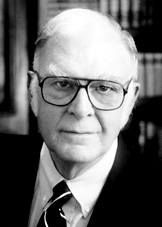 Ohio Wesleyan alumnus and 1995 Nobel Prize winner Frank Sherwood Rowland will be honored at the next Heritage Day celebration in November.
Sherwood, who was born in Delaware, Ohio, won the 1995 Nobel Prize for his work in chemistry alongside fellow chemists Mario Molina and Paul Crutzen.
With the help of Molina, he discovered that propellants from chlorofluorocarbons sped up the breaking down of the ozone layer. Their discovery prompted international change in the chemical industry.
Heritage Day is celebrated on, or as close to Nov. 13 as possible, to commemorate the first day of classes at OWU in 1844.
A committee works all year to put together a day-long event that will inform students about the history of Ohio Wesleyan.
According to heritageday.owu.edu, "Each year a new topic is celebrated bringing together faculty, students, staff, and friends of the University through the Heritage Day committee."
"We're still determining next year's program, but more than likely it will focus on environmental and sustainability issues in honor of Rowland's work," said Heritage Day committee member Chad Johns, the director of mission in the Chaplain's Office.
Rowland graduated high school before turning 16. He went on to attend OWU and graduate in 1948 at the age of 18. He earned a degree in chemistry, math and physics. During his time as a Battling Bishop he was also the sports editor of The Transcript, played on the basketball team and was a member of Delta Tau Delta.
"I think he came back around 10 years ago, maybe a little less, to talk to the fraternity," said junior Bill Milanick, the current president of Delta Tau Delta.
Milanick went on to say that Rowland – as well as Branch Rickey – are the two brightest people to come out of Delta Tau Delta.
"It's inspiring, I won't say we try to live up to his name because I don't think we are going to win any Nobel Prizes but his accomplishments impress upon us to be great," Milanick said.