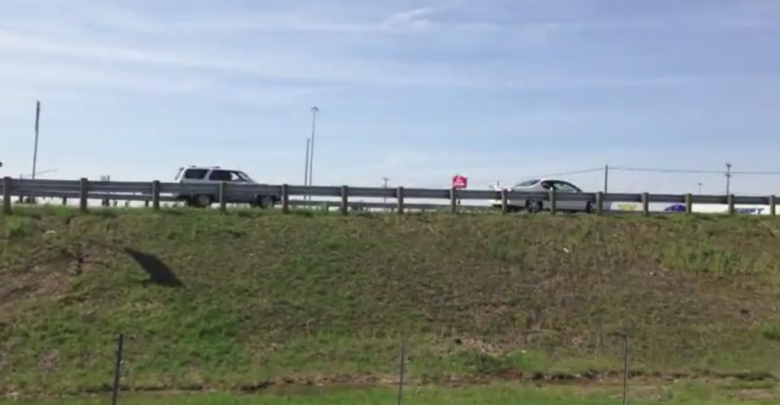 In the Zone: Retail builders vie for permission to develop Delaware County land
By Marissa Alfano, Tim Alford and Brittany Vickers
Transcript Reporters
Directly off the Delaware-Sunbury exit of Interstate 71 lies a swampy, unkempt tract of land behind a Burger King.  Across the street is an undeveloped 88-acre quadrant with NorthGate signs and street lamps along the adjacent road leading to developed land. According to Delaware City Trustee Adam Fleischer, one of these plots of land will support an outlet mall by Christmas 2014.
The Simon Property Group, joined with the Tanger Factory Outlet Centers; and Craig Reality Group, joined with developer Pat Shivley are currently competing for a chance to build an outlet mall on the southeastern section of Interstate 71/Ohio 37/U.S. 36 interchange.
Simon Tanger announced their plans in November for a 350,000-square foot outlet mall that would, according to Fleischer, house more than 90 upscale brand name and designer outlet stores such as J. Crew and Van Maur. The project is expected to create 300 jobs during the construction phase, and once completed, is expected to employ more than 900 people in retail and sales. Tanger already owns the Jeffersonville outlets and Simon owns the Mall at Tuttle Crossing in Dublin.
Shivley, who is teaming up with the Craig Reality Group, has plans for an upscale mall as well, but their project would also include a sports complex with 20 full size soccer and lacrosse fields, eight to 12 baseball fields, a 60,000-square-foot indoor sports facility and plans for a natatorium in the future.
According to Shivley's zoning application, the project is anticipated to be visited by over 3 million shoppers annually, who will spend in excess of $300 million in Delaware County. Over 2,000 people are expected to be employed in its shops and restaurants.
Nancy Burton, Public Information Office District 6 contact for the Ohio Department of Transportation (ODOT), said a Traffic Impact Study is required for any developer in Ohio.
"Anytime a developer or a group or an individual wants to propose building anything that would handle large volumes of traffic…the developer is required to provide ODOT and the county…how the development will move traffic in and out of their development and interchange," she said.
She said solutions to this include stoplights, stop signs and turn lanes, and that it is the responsibility of the developers to build them.  ODOT does not have a preference or any input on which developer is chosen. As long as the developer meets ODOT's standards, the developer will get clearance.
To date, the only Traffic Impact Study received has been from the NorthGate Development Group, which Shivley is working with.
In addition to meeting this requirement, the developer would also need to go through a re-zoning process.
According to Fleischer, the current areas have been primarily agricultural for the past 20 years. It is currently zoned as agriculture and can only be used to grow crops.  Both developers are interested in rezoning the land to commercial use, which would allow an outlet mall to be built there. No developer can break ground to build a mall until the land is rezoned.
Fleischer said although the outlet mall would be in Berkshire Township, he thinks it would be beneficial for the community at large in more ways than one.
"I am personally a supporter of the development, not only for the jobs and the environment, but also because of the tax revenue it's going to bring," he said. "This area of Delaware County is slightly depressed relative to the rest of the county. Delaware County is the wealthiest county in Ohio right now per capita and this area is nice, don't get me wrong, but it's not Powell. It's not Liberty. It's not Lewis Center. I think we could benefit greatly from it."
Fleischer said he thinks development is going to occur, and he prefers that when it is done, it be done right.
"You can't halt development, and you can't halt it for its own sake," Fleischer said. "But what I say to them (people who don't want the area to change) is, 'Well, we can't stop it, but we can make sure it is done right.' We can make sure that density levels are correct; we can make sure that tax money is going to the township and to the community and to the county and to the state."
There have been fears of annexation from the city of Columbus and Sunbury, which could put the outlet mall out of the city's jurisdiction and allow its tax revenues to flow elsewhere. Fleischer said this is always a constant threat when there is development because neighboring cities want to share tax revenue.
Berkshire Township Trustee Rod Myers told Delaware Gazette reporter Dustin Ensinger that he is in strong opposition to any development on the land. His main concern is that the property will be annexed to Sunbury, putting a gap in Berkshire Township.
"If it does get through zoning and it comes to me, I won't vote for this outlet mall as a trustee," Myers told Ensinger.
Sunbury Village Administrator Dave Martin told Ensinger there has already been some discussion with Shivley about annexation; however, Shivley has not committed to anything.
Outside of annexation, Myers said he is also concerned with the increase in traffic and how a sewer service will be provided to the area.
Despite his strong opposition, Fleischer said he has never heard of an outlet mall being denied permission to build.
Delaware County Commissioner Ken O'Brien said he hopes work will be done to roads in the area if development happens, but he is in support of adding an outlet mall in general. He has not, however, taken a position to support either outlet yet because the developers still have to make a case before the county. He said he is most concerned with a sound planning process and will be supportive of the malls if they are going to be done well.
According to O'Brien, the new outlet mall should be capable of successful coexistence with Polaris Fashion Place or Easton Town Center in Columbus. He said he thinks it will draw people to the areas in general and the malls will be different enough from each other that it won't cause too much competition.
"I don't see it as a competition to those kinds of malls," he said. "I see it as a compliment to those malls."
While Ohio Wesleyan is close in proximity to where these malls could be located, Fleischer said the population of roughly 2,000 students does not compare to Delaware County's 160,000 residents, so it is not being taken into heavy consideration by the developers. However, these companies could look toward OWU students for retail employment opportunities and potential costumers.
Junior Casey Smiley, a Delaware resident, said she supports the idea of building an outlet mall in the area and not having to travel as far to reach the others that are currently available.
"I'm excited to get some great bargains at the new outlets," she said. "I don't think the traffic will be bad, but even if there is some more traffic, it will totally be worth it."
OWU students have expressed interest in the sports complex portion of Shivley's plan and not as much interest in the ideas of the outlet malls.
Sophomore Sam Weeks said she would be happy if the Shivley mall and sports complex was built.
"I have to drive all the way to Polaris for an indoor facility because I am on the soccer team, and if it was closer then I wouldn't have to spend as much money on gas," she said. "And that would be wonderful."
Junior Nazar Zhdan did not like the idea of a shopping mall, but being a big soccer fan, was excited about the prospect of the sports facility.
"A sports facility sounds great; a mall sounds horrible," he said. "We shop too much and spend money on stuff we don't need."
Senior Carly Hallal said she thought a smaller strip mall would be better than a full-size outlet mall.
"Polaris isn't that far away; it's only a fifteen minute drive," she said. "And the area is already overdeveloped, so we don't need it."
Junior Dre White, a varsity basketball player at OWU, is also excited about the prospect of having sports resources closer to campus.
"I need a Nike around here," he said. "Closer outlet malls would give students somewhere else to go besides Polaris or Easton that would be so much more convenient.  If students were looking for employment, I'm sure they could work there, too."
With both malls expected to be completed in time for the holiday shopping season, many of the decisions as to which facility will be built will be made in the coming months. At press time, the issue of annexation is still unresolved and neither developer has withdrawn from the rezoning process.