OWU siblings support and encourage one another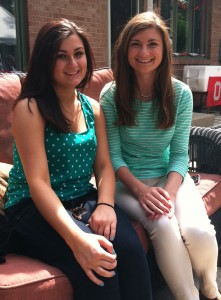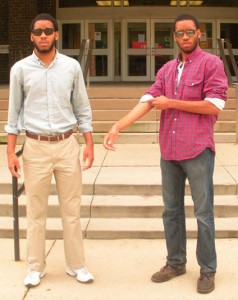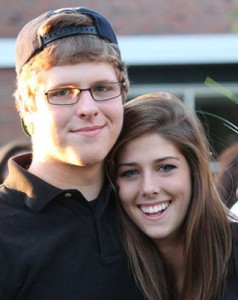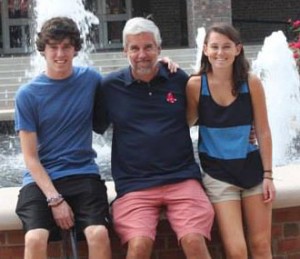 By Sadie Slager
Transcript Reporter
Some students interpret the phrase "home away from home" a little more literally when their sibling joins them at Ohio Wesleyan.
Lucas and Lauren Janowicz, siblings from Toledo, Ohio, said they like being at the same school because they are able to spend more time together.
Lauren, a junior, said it's been "amazing" having her brother at OWU with her so far this year.
"College is so much fun with my little brother here," she said.  "And it's also really comforting to have family here on campus after being here on my own for two years."
Lucas, a freshman, said it was just a coincidence that he and his sister ended up at the same school.
"I'm a basketball player, so I was probably going to come here anyway, but her love of the university made it all the more desirable," he said. "It's nice having someone to show me the ropes."
One thing the Janowicz siblings have in common is that they both play varsity sports at OWU. Lauren is on the women's lacrosse team and Lucas will play in his first season with the men's basketball team this winter.
Lauren, a member of Delta Delta Delta, said Lucas is planning on getting involved in Greek life as well, but they maintain their own unique interests.
"We both have our different strengths," she said.
Lucas and Lauren agreed that attending the same school has been a positive factor in their lives.
"We can help each other when we need it and it's nice that we can stay close," Lauren said.
"It's just nice to have someone to rely on at all times," Lucas added.
Senior Anne Frissora said she feels as though she has gained a new best friend at OWU since her sister Talia started classes this year. Anne and Talia are from Westerville, Ohio.
"Now that my sister is here with me, I feel like I have another friend on campus to hang out with, grab lunch, study or whatever else we want to do," she said.
Anne said she and Talia didn't initially plan on attending the same school, but she knew OWU would be a good place for her sister.
"When my sister began to look at options for college I was a big advocate of OWU because of how much I love it here and I wanted her to have the same great college experience that I am having," she said.
Talia, a sophomore transfer student, said choosing OWU was a "last minute decision." Talia said while her sister had some influence on her choosing OWU, she felt like it was just where she was meant to go to school.
"I knew I was going to do my freshman year at Columbus State and at first I thought I was going to transfer to Ohio Dominican, Mount Union or Ashland University," she said. "I always had OWU in the back of my head and when it came down to the time I needed to decide where I wanted to go I decided on OWU because (it's) so close to my actual home. Also my mom works here, so the tuition was going to be better than any other school."
Anne said she and Talia have different academic and extracurricular interests.
"My sister is majoring in sociology and I'm a history major, so we have different interests and are taking different classes," she said.
Talia said having Anne at the same school makes her feel more at home.
"I feel a little bit more comfortable being in a place away from home knowing I have someone there to help me if anything bad were to happen," she said. "Also it's good to have her around if I have a question about a class or a professor because I know she wouldn't sugarcoat anything."
She said the best part of having her older sister at OWU is knowing she has someone who "has her back" while she's away from home.
"If I needed something because I was having a bad day, or needed advice it's pretty cool to be able to just walk down the street to talk to my sister," she said.
Anne said having her younger sister at school with her makes it easier for them to spend time together.
"It's much easier to hang out and catch up like we do at home," she said. "Although we are both busy with class and extracurricular activities, it's easy to make time to see each other now that we are on the same campus."
Senior Katherine Watson said she hasn't fully felt the impact of her younger brother, Patrick, being on campus because she is abroad this semester and it is his first year here.
"I was, however, at OWU for the first week of school with Patrick and it changed my experience," she said. "I felt a responsibility for his well-being and happiness, which influenced my decisions."
The Watsons hail from Independence, Ohio. Katherine said she is ultimately "very happy" her brother chose to join her at OWU.
"This has been my home with friends for three years and it's very separate from my home with my family, but now the two have kind of merged," she said.
Her brother will make his OWU experience unique from hers, Katherine said.
"We have really different interests academically, so I'm sure he will carve out a very different path than the one I have," she said.
Katherine said she looks forward to seeing her brother on campus when she returns for spring semester.
"I think it will be cool to see him in this new element," she said.  "And also I suppose if there's ever something I want to talk about that only family would understand, it would be comforting that he's so close."
Senior Martin Clark said while he was sure he wanted to come to OWU, his twin brother Malcolm was initially "on the fence," but it worked out well that they ended up at the same place.
"It's always nice to have a familiar face around, especially because we've been together for so long," he said.
Clark said he and his brother have pretty similar passions and participate in the same types of extracurricular activities. While Martin studies politics and government and Spanish, Malcolm majors in politics and government and English. Martin is president of the Wesleyan Council on Student Affairs and Malcolm is president of the Interfraternity Council.
Martin said he and Malcolm have a younger sister who has not started the college search process yet, so it is unclear whether or not she will make OWU her college choice.
For senior Tim O'Keeffe, having his younger sister Claire, a freshman, at the same school as him allows them to share new adventures together.
"It is also great because when you are at home you can try to describe your friends or your school as much as you want, but you can never do it enough justice, so I am glad she is also experiencing first hand all of the stories I have tried to relay to her," he said.
O'Keeffe said that while he and Claire never planned on coming to the same school, he is glad to have his sister here to be able to spend more time together.
"I think the best part is having another shared connection, and at home we are always on different schedules," he said.
Claire said once she saw OWU for herself, she realized it would be the right place for her too.
"At first I was against coming here because he was here, but when I experienced it for myself I fell in love with it," she said. "I knew it would help having him here and having that person that I know I can always go to."
Claire said she and her brother have different OWU experiences because of their involvement in a variety of clubs and organizations.
"He is more involved with student government and I am more involved with Sisters United and SHO," she said.