Students hold 'pro-love' protest against preachers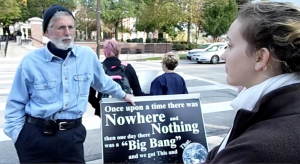 By Spenser Hickey
News Editor
Christianity was caught in the middle as two groups took to the Sandusky Street sidewalks to voice opposing views on the LGBT community Wednesday, Oct. 23rd.
The protest began after two street preachers came to campus around noon to speak against what they considered sexual immorality, homosexuality in particular. The two preachers were brothers and only one, Jerry, would provide his first name. They brought large signs about God's judgment, Bible verses condemning homosexuality, anti-abortion statements and salvation through Jesus Christ.
Junior Sally Stewart and sophomore Katie Berger responded by printing out signs and holding them up in silence as they stood opposite the preachers.
"God is indifferent to sexual orientation," read Stewart's sign, while Berger's said God is love, "no exceptions."
The preachers argued that God would not love a murderer or rapist, but Stewart said that those examples were not related to sexuality, the issue they were representing.
At first, they did not directly engage the preachers, but stood and sang Leonard Cohen's "Hallelujah."
Stewart and Berger received hugs in support from several students, including freshman Evan Hively.
"This is what we need to support," Hively said.
By 3 p.m., twenty students had joined the original two, writing their own messages of acceptance on notebook paper; shortly afterward, the university Chaplains' office sent large poster boards to the counter-protesters.
Stewart said she thought a few students would stand with them, but wasn't expecting the large response; she credited the Chaplains' office for providing signs.
"I'm so proud," she said. "You know, this started out as a friend and I deciding that we were going to stand up for something we wanted to do and next thing I know there are people holding notebook paper signs and yelling and singing together and that was incredible, and next thing I know we've got posters and I'm just – I'm so proud."
With messages like "Honk in the name of love" and "God is not fear God is love" they spread across the sidewalk, waving to cars driving by, many of which did honk in support.
Senior Shelby Thompson, an intern with the Chaplain's office, was one of the counter-protesters; she brought the poster boards from the office to the other demonstrators.
"As long as they're out here saying what's wrong, I'm going to be out here saying what's right," she said. "…This just isn't fair, this isn't right – they're making people upset, they're hurting people, and that is not anything I believe in as a Christian LGBT member."
Senior Karli Amstadt said she considered the preachers' message hatred; she held a sign saying that love was greater than hate.
"OWU is all about love," she said.
The preachers said their message was not one of hate; one said that he was just there as a messenger preaching the word of God and didn't hate anyone.
The other, Jerry, said if they didn't warn someone that they were on a path to hell they didn't love them; he used the metaphor that someone who did nothing while a blind man walked off a cliff could be charged with negligence.
Senior Anthony Peddle, however, said they were misinterpreting the Bible with their preaching, and that they were "picking and choosing" specific verses and rules to follow and use as examples.
He said the students' response showed him how supportive the community is of students regardless of faith, sexual orientation or gender identity.
Senior Naomi Abrams, a Christian and resident of the Interfaith House, said she thought the preachers were missing the point of how good and merciful God is.
"I think that shows, to me, that they don't understand how big God is and that God is so much better than the simple message that they're offering to people," she said. "I think if they truly trusted God more, and if we all truly trusted God more, then we would say the good things about God and the good things about his love."
Several students, in addition to holding signs, debated with the preachers on topics including their treatment of the LGBT community, women's rights, evolution versus creationism and theology.
At one point, freshman Alexis Baker challenged Jerry on whether he agreed with a statement his brother made that women who were raped may be partially responsible.
After a long pause; he replied, "sometimes"; Baker said she found his statement "sickening."
"Just cause a man couldn't control himself, that makes it the man's fault, not the woman's," she said.
While sexual assault can and does happen with all genders represented as survivors and perpetrators, the vast majority – in the United States and throughout the world – occur with a male perpetrator and a female survivor.