'Reverse culture shock' when students return to OWU after being abroad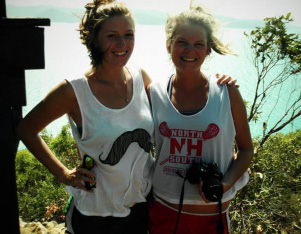 Coming back to a college campus after a long break is usually exciting for students.
After spending a significant period of time at home, many students are happy to be back on campus, with the freedoms that comes along with being in college.
But for students coming back from being abroad for a semester, the adjustment to coming back onto campus can be more difficult for them.
Juniors Kelsey Gallaher, Lauren Moore and Lidia Mowad all participated in the University College Cork, Ireland program this past fall.
Mowad said she picked this specific program because she spent a summer in Ireland four years ago to learn about the conflict in Northern Ireland.
Junior Jordan Bernstein also spent the fall semester away from campus, but she had a different experience than other students who were abroad.
Bernstein participated in the Wesleyan in Washington program in Washington D.C., where she had an internship with Senator Kay Hagan (D-NC.)
"My focus is on American government and I wanted to be in the heart of what I have been learning about and what I love," she said.
Bernstein's roommate, junior Eilee Foley spent her fall semester abroad at James Cook University (JCU) in Australia and junior Hannah Snapp participated in the Salamanca, Spain program.
Foley said she decided to study abroad in Australia because JCU offered her fulfilling psychology courses and she also got the opportunity to live in a small town on a beach.
Each student that was abroad has said that adjusting to life back on campus after being gone for a semester has been hard.
"It is difficult for everyone that comes back from taking some time abroad because there is a definite disconnect between yourself and the campus," Snapp said.
"I'm still struggling with some aspects but I have incredible friends that are making the transition much better. I also have great friends who were also abroad and with whom I can talk."
Mowad said she is feeling reverse culture shock upon her return to the United States.
"For the first month, it's going to be like you are just going through the motions; trying to get back into society," she said.
Gallaher said her biggest adjustment to being back at Ohio Wesleyan is the time change; and the time difference was also a big struggle for her while she was in Ireland.
Bernstein, Foley and Moore all said that adjusting back to the pace of college life and OWU has been challenging, but they are excited to be back in the community with their friends.
One of the biggest frustrations that some of the students faced prior to returning to OWU was not knowing where they were living once they came back to campus.
"My abroad friends and I kept calling and emailing them [Residential Life], and finally I heard on the Wednesday before classes started," Moore said.
"It was unnerving to not know who my roommates would be, how to pack and where I'd be placed until then."
Andrew Peterson, assistant director of Residential Life, said three things go into the planning of rooming assignments: where spots are open on campus, seniority or priority number and preferences of residence halls.
"The biggest challenge is assigning people to the building/room/roommates that they want to live with or with whom they are compatible," Peterson said.
"The difficulty is compounded as we don't know where those spaces may be until very late in the semester when we hear about students going abroad in the spring, leaving the university or graduating."
Additionally, Peterson said that ResLife cannot please every student all the time, and that the lack of off-campus options has nothing to do with the struggle of finding rooms for students coming back after a semester away.
Snapp said she is not pleased with her living situation and she is currently looking to move residential halls.
However, some of the other students said that they are happy with their living situation.
"Luckily, I ended up rooming with my four best friends who were all abroad too," Foley said.  "ResLife came through in the end and provided us with a lovely dorm in Smith Hall."
Every person who participated in a study abroad program said it changed their outlook on life, and may have impacted potential career goals.
Mowad said she feels more cultured and has learned to become more observant of the world.
Bernstein said her opportunity to work in government in D.C. has helped her to figure out her area of focus.
According to Snapp, she learned more about herself during her time aboard and developed a deeper appreciation for travel.
Most students coming back to campus said that they were most excited to be back within the OWU community.
Foley said she missed the simple things, like the long lunch lines in the food court and seeing friendly faces around campus.
"I'm definitely putting my all into everything I do on campus, and I've been open to trying new things and not letting an opportune moment slip by," Moore said.
"Those four months went by way too fast, and I'm going to use every day here to appreciate everything here, because college has an expiration date!"