Denison mourns one of their own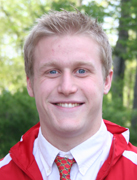 By Ellin Youse and Brian Williams
Editor-in-Chief and Transcript Reporter
Members of the Denison University campus mourned the loss of senior David Hallman III, who was found dead Saturday night.
According to a story released by Denison's communications department, Hallman, 21, was found at 10:34 p.m. after a day-long police search. Denison students, faculty and staff participated in the extensive search for Hallman.
The Erie, Pa. native was last seen Saturday, Feb. 8 at 2 a.m. leaving Brews Café in Granville. After not hearing any word from their son, Hallman's parents called Denison to report their son missing.
Suspicions over Hallman's absence arose when he missed a noon appointment Saturday. After several failed attempts to contact him, Granville police issued a community wide alert.
Additionally, photos of him were distributed to students and Granville residents.  Volunteers were asked to keep an eye out for him, as well as check any warm garages or sheds that someone might take shelter from the cold.
Denison staff members comprised the small search party that found Hallman's body. Hallman was found in a parking garage of an apartment complex.
Granville police have asked the Ohio Bureau of Criminal Investigation for help investigating the events in full, but have confirmed that Hallman died from hypothermia.
Denison is mourning the loss of Hallman campus wide. Denison's communication department said Hallman, a member of the swim team, was well known throughout the small campus and the tragedy is weighing heavily on the family-like community.
After initially informing the campus of his death at 11:24 p.m. Saturday night, the university held a memorial service at its Swasey Chapel.
"This is tragic," Denison University president Adam Weinberg said. "But the strength of our community lies in how we come together in times like these.
"We are strong in moments of joy and celebration, but we are also strong in moments of sorrow and loss. Tonight we all need to be there for each other."
Denison freshman Elizabeth VanNess said the loss of Hallman is tragic, but the strength and unity of the campus is what evoked her true empathy.
"I never knew him, but couldn't help (but) be moved and impressed by the evident concern and responsibility shown by the Denison community as a whole," said Denison freshman Elizabeth VanNess.
Preventing Tragedy at OWU
In recent weeks, Ohio Wesleyan has taken precautions against this kind of tragedy, sending students, faculty and staff frequent emails with information about cold weather safety. Bob Wood, director of Public Safety, said considering the unfortunate loss of Hallman, he is relieved that OWU took the time to reach out to the community when the extreme cold hit.