Speaking out and rising up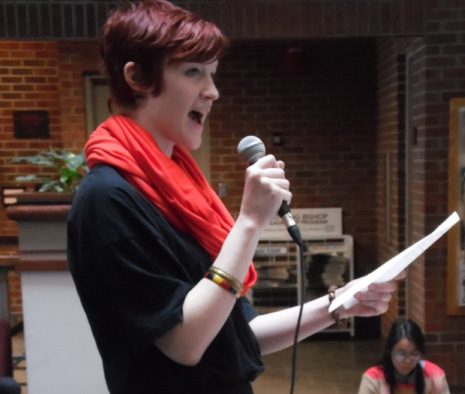 The Hamilton-Williams Campus Center was home to another kind of V-Day this February 14.
As part of an international movement, Ohio Wesleyan students joined forces with countless others around the world who are members of One Billion Rising, a campaign of the V-Day movement against sexual and domestic violence against women.
This year's One Billion Rising was a worldwide event where women and men stood up for justice.
Its name comes from V-Day statistics that one in three women will experience violence in their lives, and that there are around three billion women alive today.
The event is connected to "The Vagina Monologues" and "Butterfly Confessions" which will be performed at Ohio Wesleyan University on March 28 and 29.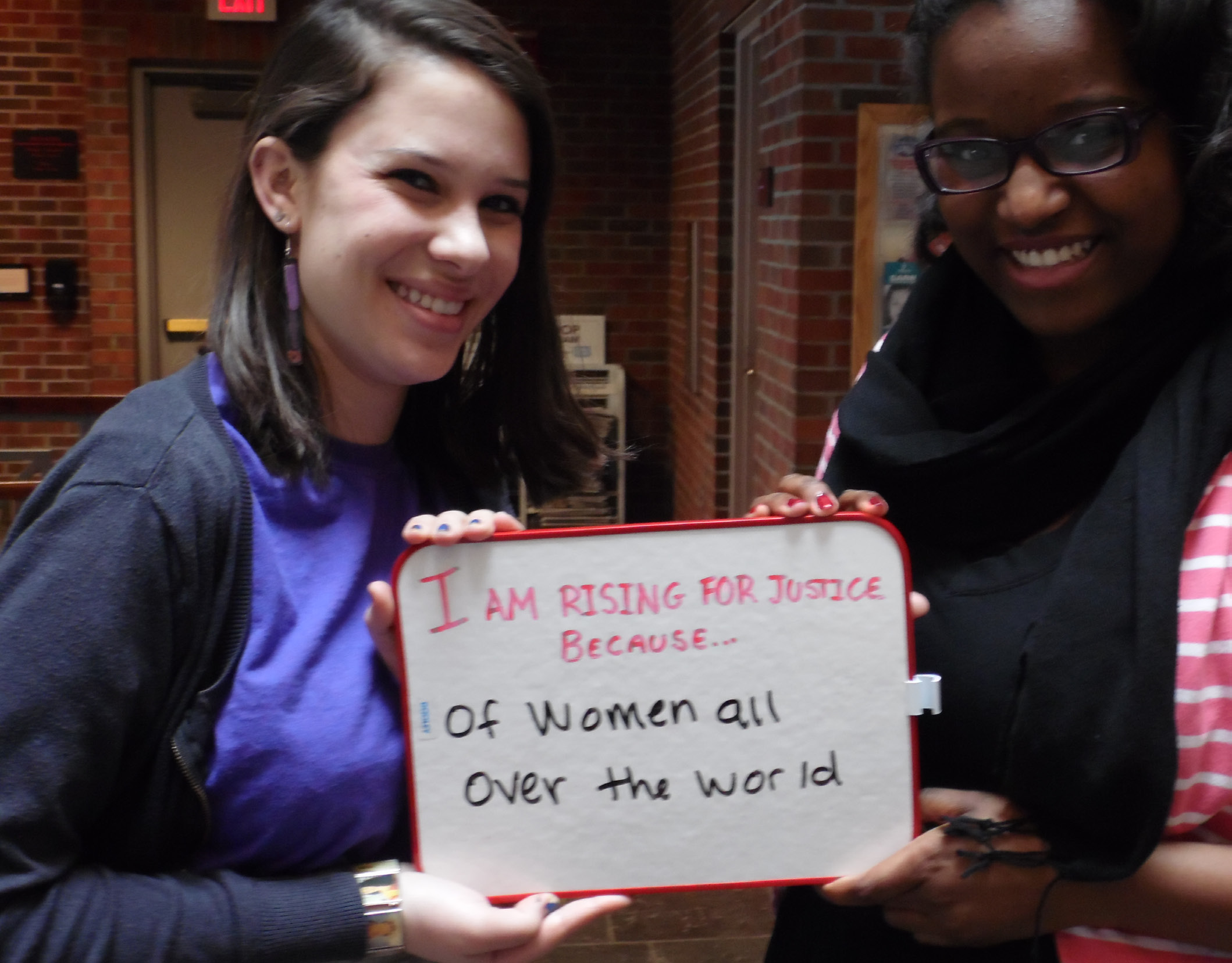 Eve Ensler, the author of "The Vagina Monologues," started V-Day in 1998 and One Billion Rising in 2012.
Every year on Valentine's Day, this event works to end the violence and raise support for local projects and programs that aim to help those abused.
One Billion Rising at Ohio Wesleyan consisted of a description of the core values of V-Day, readings of selected monologues and ones written by students, and the opportunity for students to hold signs explaining why they rose for justice.
Junior Annie Pappenhagen read a monologue based on interviews with Oglala Lakota women from Pine Ridge Reservation.
"I have been interested in indigenous issues since I was 16 and have spent a fair amount of time on Pine Ridge and Rosebud reservations (located in South Dakota,)" she said.
"It is important when dealing with women's issues that we don't forget about the intersectionality between race and gender."
Sophomore Margot Reed read a monologue "They beat the boy out of my girl…or they tried," about transgender issues and violence community members and allies experience.
As an expansion on V-Day, Ohio Wesleyan will perform Ensler's "The Vagina Monologues" and Yetta Young's "Butterfly Confessions" on March 28 and 29.
The performances were advertised by fliers thrown down from the second floor of the Hamilton-Williams Campus Center; they also contained statistics on rape.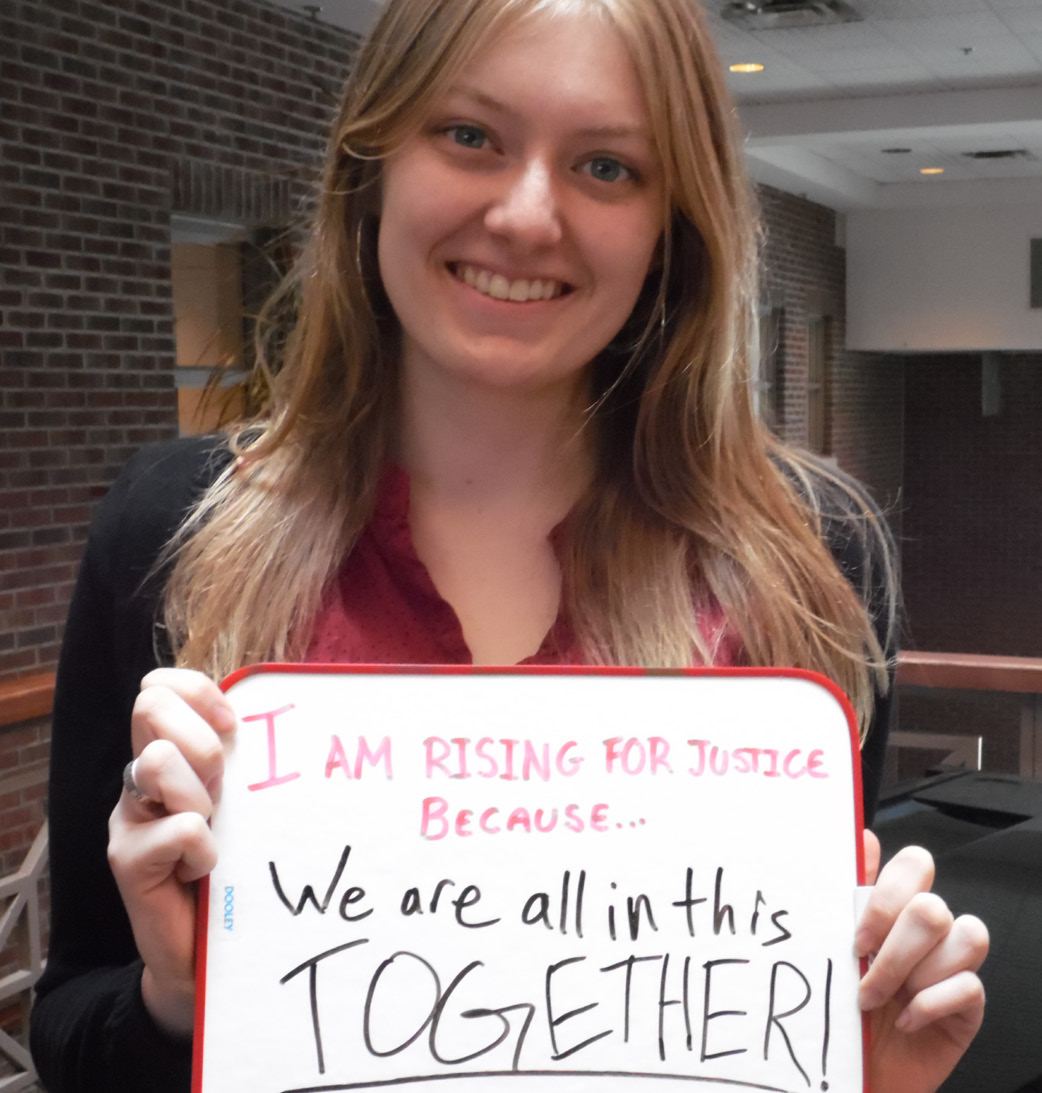 "A lot of people argue that "The Vagina Monologues" and V-Day itself aren't as inclusive as they could be, and I totally agree with that," Reed said.
"So I'm happy that the 'Butterfly Confessions' are now a part of the show this year at OWU."
"We now have so many more women involved and it reaches a whole new, bigger audience and it's just fantastic," she said.