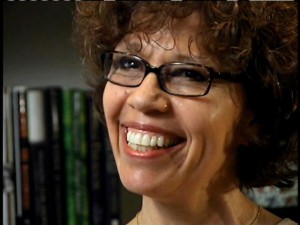 As thunder began to rumble in the distance, a veteran Navy nurse spoke to a packed crowd at Ohio Wesleyan on the lasting impacts of the chemical Agent Orange and implored everyone to get involved to help those suffering.
Susan Schnall is a core member and co-coordinator of the Vietnam Agent Orange Relief and Responsibility Campaign and is involved with Veterans for Peace and Vietnam Veterans Against the War.
President Rock Jones began the lecture on Monday night by presenting an honorary degree of Doctor of Humanities to Schnall for her work with these organizations.
Rock said this is the highest honor and needs approval from both the faculty and board of trustees.
True to Schnall's character, she said she accepted this honor on behalf of Veterans of Peace who do the real work.
Schnall spoke about the use of the chemical Agent Orange in Vietnam during the Vietnam War from 1961-1971. Most importantly, she focused on how this harmful chemical is still affecting the landscape and the people-both the Vietnamese and the U.S. soldiers.
The chemical destroyed the mangrove forests, farmland and other crops.
"We kinda destroyed the ecology in Vietnam," she said.
More than that, recent studies have shown correlations between exposure to Agent Orange and various health problems.
Currently, the Department of Veterans Affairs provides services and compensation for veterans exposed to Agent Orange for 12 health problems, including Parkinson's disease, Type 2 diabetes and prostate cancer.
No such compensation is provided for the Vietnamese.
If there is this much damage to people who have only been there for two years, Schnall said, what is the damage to the people who live in the country?
And more than just the initial exposure to the chemical, the children of these men and women are often born with severe birth defects.
VA provides support to the children of female veterans for more than 20 diseases and birth defects, while descendants of male veterans only receive compensation for spina bifida.
But once again, there is little aid provided for these children in Vietnam, besides the care family members can provide.
"I would suggest to you all that we really do have a responsibility to help take care of these children," Schnall said.
The Vietnam Agent Orange Relief & Responsibility Campaign is currently working on legislation to help take care of children of service men and women in both countries, clean up the land in southern Vietnam and provide services for Vietnamese Americans.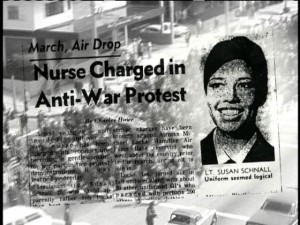 Chaplain Jon Powers said he had led a spring break mission trip to parts of northern Vietnam several years ago. They even had an Agent Orange Awareness Week on campus with Vietnamese students, though attendance was low.
"My favorite thing she said is to beware of labeling people as the other," Powers said. "I grew up in the Vietnamese era and that's what we do. 'There's nothing better than a dead Gook,' that's just the way the culture was. It was an unthinking era."
Powers said he had worked indirectly with Schnall before but was excited to officially meet her.
"As a military veteran, she brings both the commitment to service plus an awareness of the dangers and evils of warfare," he said.
GMOs
Monsanto, self-defined as a sustainable agriculture company, is often critiqued for its use of genetically modified organisms (GMOs) and other chemicals in their seeds.
Schnall said that this company is a descendent of Dow Chemical, the company who produced the Agent Orange chemical.
She went on to say that the chemical glyphosate can be found in both Monsanto's GMOs and in Agent Orange, which studies have shown could produce cancer.
In addition to helping move along legislation for veterans, Schnall encouraged those present to also boycott the products that use crops by Monsanto.
Senior Michelle Smith said she liked the accessibility of Schnall.
"She brought something from the past that was kind of forgotten about into our present lives with the GMOs debate and Monsanto," Smith said.
This lecture was also a part of Green Week on campus and was sponsored by the university's Honors Program; Poverty, Equity, and Social Justice Course Connection; Department of Philosophy; Office of the Chaplain; Women's and Gender Studies Program; and Andy Anderson Symposium Fund.