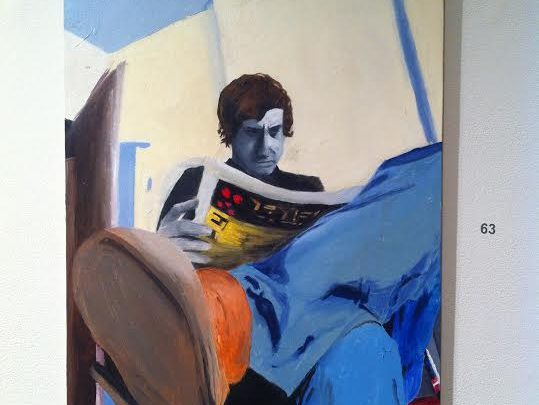 Senior art students leave impression was 'Happening'
The vast diversity within the graduating class of Ohio Wesleyan Fine Art students was displayed for all to see this weekend at the Ross Art Museum.
The mixed media now exhibited in "Happenings" ranges from photography and paintings, to booklets and jewelry with each piece telling a distinct and unique story.
Senior Ha Le said she was most excited and honored to display her four portraits of family members.
"They're the center pieces of the show and they're hung on the wall right opposite to the entrance," Le said.
"My parents are coming for my graduation so I can't wait to walk them through the show."
Another senior featured in the gallery, Melissa Ward, said she was thrilled to have five of her pieces shown.
She also said that she was excited to display a technique she has become "obsessed" with over the past year.
"I draw with a painted brush dipped in ink onto canvas," Ward explained.
"I have a large un-stretched canvas drawing of cow skulls and a book created with the ink and canvas featuring an idea of dancing," she said of her art presented in "Happenings."
In order to prepare for the senior show, students formed a board with various responsibilities assigned such as Reception Chair, Executive-Installation Chair and Publicity Chair, among others.
Tasks involved fundraising for free wine, appetizers, and the musical accompaniment of student band Wahoo! Sam Crawford to supplement the opening.
"Besides actually creating the art works," Ward said that she, along with most of the other students, were responsible for framing and displaying their pieces.
"I had a solo show at the Werner Art Gallery," said Ward.
"And that helped me in prepping for the senior show because I had to have many of the same works finished and framed."
Similarly, Le said that she put on an individual show earlier in February and framed many of her pieces for that.
"I also signed up to help set up the show," said Le. "I have some art handling experience from the Gallery Management class I took last year."
Le also said that she helped to fundraise and promote the exhibit across campus.
Across the 18 seniors that will be featured in Ross through May 11 each has their own vision and background behind their work.
Concise booklets with photos and statements of each individual student were available to make the exhibit easier to digest by spectators.
The booklets also featured a collective artist statement expressing the basis for "Happenings":
"A celebration of our moments- both the ones that happened at Ohio Wesleyan University, and the ones that happen continually in our work. Though we say a bittersweet goodbye to our peers and professors, our art keeps the memory of our collegiate experience alive."