Police obtain search warrant in stabbing case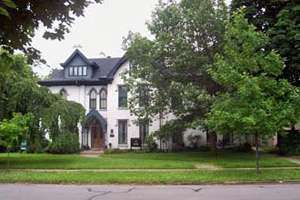 By Ellin Youse and Spenser Hickey
Editor-in-Chief and Managing Editor
Delaware Police Detective David McQuigg, investigator in Saturday's stabbing of senior Anthony Peddle, received a search warrant Monday morning for a smart phone and other electronic devices that may contain evidence related to the crime.
The warrant, signed by Detective McQuigg, says that the devices in question belong to a Delaware resident who matched the physical description of Peddle's assailant and with whom Peddle had "a long-standing feud."
The warrant also says that an Ohio Wesleyan student had seen the person of interest less than an hour before the incident occurred and that he was wearing a green hoodie; witness descriptions of the assailant said he wore "a blue or green hoodie."
The student declined to comment.
At this time the person of interest has not been charged with a crime and no suspects have been named in the incident. The incident has been classified as a felonious assault and the case remains open and under investigation.
As senior class president, Peddle was scheduled to speak at commencement Sunday May 11. Vice President Aara Ramesh said she did not know if Peddle plans to speak at commencement or not. If Peddle cannot speak, she will take his place during the commencement ceremony.
"My hope is that Anthony will be able to make it; he has been working on this speech for months and deserves something nice after this terrible incident," Ramesh said.
Ramesh said that in times like these, seniors should remember that OWU has taught them to be strong and resilient.
Sophomore Jerry Lherrison, vice president of the Wesleyan Council on Student Affairs and a member of the Greek community, said WCSA would like to extend its "warmest wishes" to Peddle and the members of Chi Phi.
" I know without a doubt that Anthony has (a) strong support system from both the Class of 2014 and the OWU community as a whole," Lherrison said.
Following the news that Peddle had been attacked, the Chaplain's Office and Counseling Services made themselves available to students, particularly members of Chi Phi.
"In times of crisis or tragedy, we strive to be a supportive presence, someone students can simply sit with quietly or provide a few words of encouragement and peace," said Associate Chaplain Lisa Ho.
Following the attack, University Chaplain Jon Powers met with Peddle and his family at Ohio State's Wexner Medical Center while Associate Chaplain Chad Johns supported the other members of Chi Phi. Johns, a graduate of the Class of 2002, is a member of Chi Phi fraternity. Ho stayed in touch with Peddle via phone, and he was visited by other chaplains as well.
Powers said the brightest point he'd seen following the attack was after Peddle's surgery, when Powers "saw the sparkle in his eye again."
He also credited seeing what he called "the outpouring of the mature care of people in the community."
"People stepped up and took care of each other," Powers said. "It illustrates how strong we are."
Ho said she was inspired by seeing community members change their Facebook profile pictures to ones of them with Peddle.
"I observed the very best of Ohio Wesleyan displayed in the very worst of circumstances," she said. "Everyone from the Chi Phi brothers, to Public Safety, to the administration has reached out to Anthony during this time."