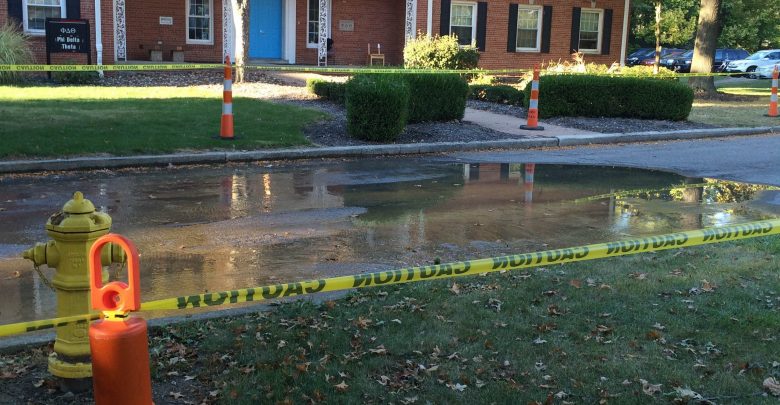 Water main break had easy fix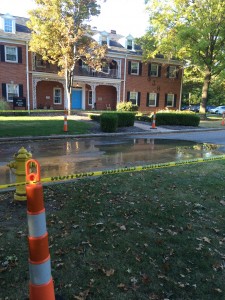 A water main break on Williams Drive caused four fraternity houses to be without water for several hours on Sept. 29 while crews fixed the overflow.
The pipe burst in front of Phi Delta Theta on the morning of Sept. 28. Excess water formed a shallow pool on Williams Drive near the break, flowing down into the storm drain west of the pipe.
"Our best guess is that there were cracks around the pipe due to the stress of freezing and thawing from last winter that broke around the perimeter," said Peter Schantz, director of physical plant for Buildings and Grounds.
Students were alerted of the problem in the afternoon and early evening after the situation had been assessed by Buildings and Grounds and Delaware City crews, said Levi Harrel, the residential life coordinator for Williams Drive houses.
Because the buildings maintained water pressure and there was still water in the pipe, residents of Williams Drive houses were able to safely continue using water for all needs on Sunday Sept. 28, said Schantz.
These residents were alerted through email and signs that water would be shut off at 8:30 a.m. on Monday Sept. 29 to allow crews to repair the break.
"This means there will be no water available for drinking, bathing, or flushing toilets until the work is complete," said the email from the residential life office.
However, only Alpha Sigma Phi, Sigma Phi Epsilon, Phi Kappa Psi and Phi Delta Theta were affected by the shut off.
Crews had found the leak and put a cuff on the pipe by 11 a.m., Schantz said. Water pressure was restored to allow bathing and flushing toilets as well, although a 24 hour boil alert was in place for drinking the water.
The scene was taped off with yellow caution tape and orange barrels until Thursday. The dirt removed in order to reach the pipe was piled into a heap next to the road until the hole was filled Thursday morning.
However, the asphalt above the pipe has not yet been replaced. The plan is to let the fix settle and then replace the asphalt in the spring, Schantz said.
"While I would never say a water main break was a minor issue, it was something that crews were easily able to repair," Harrel said.
–30–