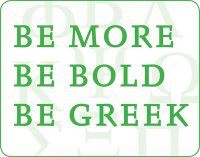 Low enrollment expected to affect Greek recruitment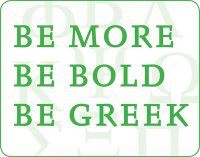 Greek organizations may have a harder time recruiting new members due to the low enrollment of this year's freshman class.
On average, Ohio Wesleyan University admissions have a goal of 600 new students each year that is usually met or exceeded. This year only 490 freshmen arrived on campus in August.
OWU is 40 percent Greek, which means in a normal recruitment season there would be about 240 new members spread throughout the Greek community. However, if only 40 percent of this year's freshman class plans on going through spring recruitment there will only be 196 new members.
"I think that the number of new members each fraternity will sign will certainly be down due to the smaller class size, but overall I do not think the quality of men signed by each fraternity will change at all," Dan Kasian, VP of Recruitment Events for the Inter Fraternity Counsel (IFC), said.
OWU's Panhellenic Counsel and IFC have been working hard to make sure this year's recruitment is well advertised and marketed. According to Assistant Director of Student Involvement for Fraternity and Sorority Life, Dana Behum, there aren't going to be many changes to how the Greek system approaches spring recruitment, however, more upperclassman are expected to go through formal recruitment.
"Over the past three years the average spring new member class for women's organizations has been 16, while the average new member class for men's organizations has been 13," Behum said. "My hope is that this year rather than focusing solely on the number of new members, that our focus may continue to be about finding the right fit for each person who wants to serve as a leader in the Greek community."
On Nov. 6, at 12 p.m. there will be an informational session in the Benes rooms for women interested in going through with spring recruitment.
"We are really excited to meet new girls and introduce them to Greek life," said Carly Zalenski, Vice President of Recruitment for Panhellenic Counsel.