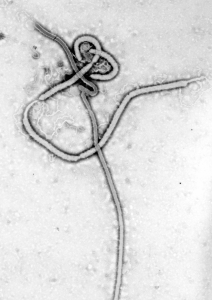 In recent weeks, Ebola has gone from an unknown disease, to an epidemic, to a disease better understood and controlled. Although the only three official Ebola hotspots are halfway across the world, it still has the potential to affect the U.S., including Delaware, Ohio.
Senior MbaMemme Onwudie has a family member in Nigeria. Although not one of the hotspots for Ebola, there have been reported cases in Lagos. However, Onwudiwe does not seem concerned:
"I am honestly more concerned for my family in the U.S.," he said. "There has only been one case in Nigeria. The virus is known to have travelled across the US, and in Nigeria it was one isolated case."
The CDC has confirmed three cases of Ebola in the U.S. Most recently there has been one in New York City, where a member of Doctors Without Borders who had just returned from Guinea has already been put into a 21-day quarantine.
One of those cases is of particular interest to Ohio Wesleyan students because the patient is from Akron, and attended Kent State University. Amber Vinson is a nurse in Dallas who treated one of the previous Ebola cases in the U.S. She has since been quarantined, treated, and cleared on Oct. 28.
There were follow-up tests made with people she came in contact with, especially around the Akron-Canton-Cleveland area. So far, no tests have come back positive.
There have been no confirmed cases of Ebola in Ohio. Two weeks ago, however, the State Panel of Ohio voted and approved a motion to spend about $800,000 on Ebola prevention and treatment.
$800,000 might seem like a large sum of money, but that is not the case, once the costs of treating the disease are understood. For example, the insulated suits health care officials use to treat patients with Ebola costs around $7,000 dollars. Expensive, yes, but what makes it even more expensive is the fact that these suits can only be worn once.
After an official wears one of those suits, it is immediately discarded to minimize contamination risks. Considering that nurses, doctors, and officials probably check in on patients more than once a day, it is easy to see how quickly the $800,000 can be spent – especially if there are multiple patients.
While the CDC and the World Health Organization both state that contracting Ebola in the U.S. is a "low possibility," they still affirm that citizens should stay alert, and wash their hands/use hand sanitizer as often as possible.
Ohio Wesleyan students gathered last week to show their support for those affected by ebola around the world by having a candlelight vigil.