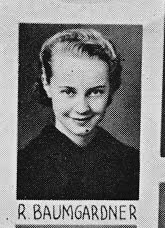 The tale of the missing Tri Delt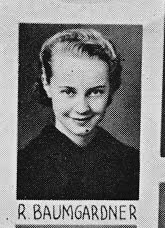 This Halloween, instead of watching "Halloweentown" on Disney Channel with a stuffed ghost and hot tea, I've been researching with Delta Delta Delta's faculty adviser, classics professor Lee Frantantuono, to unearth the mystery behind my missing sorority sister.
Ruth Baumgardner, 22, of Lakewood, Ohio, was last seen leaving her dormitory of Austin Hall on a spring finals week in the late 1930's and went missing without a trace.
The mystery has never been solved, nor has it even come close to being solved, and is truly bone-chilling. An executive from the Travel Channel's hit TV show "The Dead Files" recently contacted Megan Dill, Tri-Delta's sorority president, searching for old photos of Baumgardner, assuming they were somewhere in our house, which was the first time any of us had ever heard about her story. In the attic we have hundreds of old composites and hers is most likely up there, covered in dust and left in the dark like her file at the police station has been for all these years.
While Frantantuono and I were searching for information, we found many old news articles, composites and, most importantly, the 1937 Ohio Wesleyan yearbook, titled "Le Bijou," French for "The Jewel.'
So where did she go? Who took this young woman just as she was about to begin her future, or did she choose a different future of her own?
There are many different assumptions about what happened to Baumgardner. Some believe she was kidnapped, except her room was left in pristine condition. According to these accounts, the typically disorganized Baumgardener usually left her room disheveled.
Also complicating the issue of her kidnapping was that there was no evidence of foul play.
Other stories say she became too stressed and nervous before her tests and left with an unknown lover, leaving behind her beloved family and fiancée in her hometown.
Baumgardner was described to be wearing a brown sport suit, with a matching hat and brown suede gillie shoes that tied at the ankle. She had blonde hair and blue eyes, and an unusual light streak of hair on the left side of her head and a dimple on her chin.
This description was enough to freak me out, only because I also have a dimple on my chin and have an unusual dark streak of hair on my right side.
Her friends last saw her at 11 p.m. on May 4 with her hair in curlers and pins in her room in Austin Hall (now Austin Manor), room 319.
An article mentioned that she probably only had an old handbag and $5.00 in cash, and left behind her watch, sorority pin and loose change.
The investigators originally believed she suffered an amnesiac episode and wandered off.
To this day, no one knows what happened to her. Some claim they hear voices in Austin Manor of a female ghost. This Halloween, maybe if I go up to the third floor and call out "Ruthie," I'll find some answers or truth to the tale of the missing Tri-Delt.