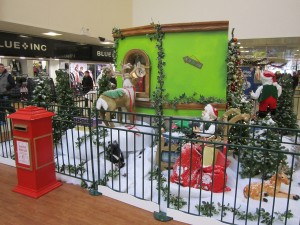 I would be lying if I said I didn't have ABC Family's "25 Days of Christmas" schedule screen-shotted on my phone, patiently waiting in my iPhoto for December 1st to come.
I like to think I'm pretty good at the act of Christmas shopping, buying the perfect gifts for those who deserve it.
Having worked retail before, I understand marketable time periods and points of higher sales.
I work at a Sunglass Hut in Polaris, and my job there also entails I work at our booth in the Macy's Department store as well. As I am getting older, I feel like I go through a Cindy Loo Who type crisis around the holiday season.
I struggle through early December trying to get past the maiming's on Black Friday and to remember why Christmas is important to me.
To say the least, I was not prepared for the day after October break when I returned to Macy's to find it was a Winter Wonderland. As I rode down the escalator, I heard "Jingle Bell Rock" blasting on the loudspeaker. Concerned, I look around to see Twizzler-like banners hanging from the ceiling and big glass balls that say "Believe" with red writing covering the sales floor.
I turned to see where the purses used to be, which had been replaced by a faux Santa's Workshop and two little girls were sitting already writing their letter's to Santa in the North Pole.
When I got to my register, I was in a daze with specs of shiny white fake snow that covered the walls in my peripherals.
A note was left from my manager, saying, "Whoever can work from 5 p.m. Thanksgiving day through 10 p.m. (overnight) on Black Friday please contact me ASAP."
My anxiety boiled up like marshmallow in hot chocolate and I felt I had been forced into this candy cane lane retail nightmare.
Department stores have taken Christmas shopping too far, this year being the tip of my iceberg. It was more unnerving than annoying that holiday commercials in October became more prominent in 2014.
Let's not forget the fact that these stores will be open on Thanksgiving Day this year to boot, taking away from the true meaning of a holiday designed to bring family and friends together in thanks for what they already have. Thanksgiving should not be about what people neeed to buy.
I truly believe people need to take this issue seriously and as an issue reevaluate what the season really is for. We need to be thankful before we can be giving, because we need to understand how lucky we are to have what we have and whom we get to share it with.
I don't appreciate snow in early October, just like I don't appreciate being forced into the least important part of Christmas before I even pass the gravy.