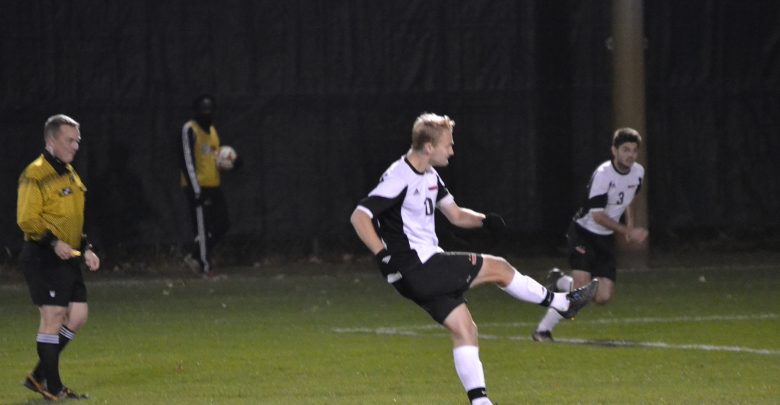 Men's soccer primed for NCAA tournament run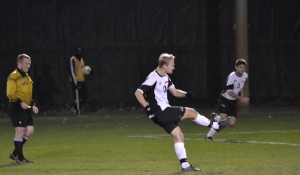 With a 3-2 win over DePauw University on Nov. 6, the men's soccer team finds themselves in a familiar spot, the North Coast Athletic Conference finals.
There they will meet Kenyon College on Saturday Nov. 8.
During the regular season the two teams played to a tie at Mavec Field in Gambier Ohio. This time the match will take place at the Jay Martin Soccer Complex here on the campus of Ohio Wesleyan.
The Battling Bishops have mustered up an impressive 9-1-1 record at home and look to continue their four game winning streak by claiming the NCAC title. The Lords of Kenyon College also come in to Saturday's match with a four game winning streak.
"We pretty much know what we're going to get with Kenyon. They're big, athletic, physical and intense," said senior Colton Bloecher.
"I think if we are able to match their intensity and defend well, we will be successful on Saturday."
Bloecher contributed one goal on two shots and an assist in the win over DePauw.
"I think my goal last night was an important one, but I also think we should have scored a few more, myself included," he said. "I thought Matt Cohen's goal a few minutes into the match really set the tone for the night, and Evan Lee's goal in the second half proved a crucial one."
In fact, Junior Evan Lee's second half goal proved to be the difference that would advance OWU to the NCAC finals.
"Last year they (Kenyon) lost to us in the final at our place and it is here (Jay Martin Soccer Complex) again," Lee said. "They have the motivation to beat us and they are trying to prove that they are the class of the NCAC now. They will come out flying but if we match their intensity then we will be fine."