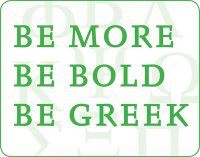 OWU Greeks speak to over-involvement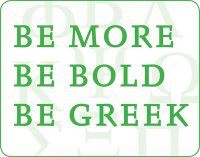 Some might call junior Dara Markus and seniors Jennifer Lloyd and Zach Paull over-involved. Markus is on the varsity women's soccer team while also being philanthropy chair of Delta Delta Delta. Lloyd is on the education department student board, a member of Presidents Club, Orchesis, Terpsicorps and also holds the position of membership chair for Kappa Kappa Gamma. Paull serves on the Wesleyan Council of Student Affairs, works as a tour guide, is a member of the Owtsiders and is the secretary for Alpha Sigma Phi fraternity.
These impressive campus leaders have learned to juggle their classes, clubs and Greek organizations. Time management has been an asset and a skill throughout their OWU careers and they were willing to share their knowledge with the rest of the campus community.
The Transcript: How do you balance all the events in your life?
Dara Markus: I balance all the events in my life through careful planning and time management. The fall is always particularly hectic because I am in season so often times I find myself prioritizing events to complete them in an efficient and timely manner.
Zach Paull: I try to stay organized and keep a pretty detailed schedule with all of my responsibilities and have learned to regularly reflect on where my limits are at and where to find a balance.
Jennifer Lloyd: I definitely could not live without my planner and Google calendar.  I try to update both as frequently as possible.  Also, I often make to-do lists to track my daily assignments and responsibilities.
T: Do you ever feel like you're overwhelmed?
DM: In college it is easy to feel overwhelmed, but am blessed to say I have such a strong support system within my house that always keeps me going.
If I ever feel overwhelmed with planning a philanthropy event, I know there are girls who would be more than willing to assist me in any way possible. It's truly touching how strong the bonds of sisterhood are in Greek life. No matter what you are going through, you are never alone.
ZP: It's easy to feel a bit overwhelmed when papers and projects are due or when it is a busy time in the semester, but I have learned to create a balance in my organizational involvement, schoolwork, and fraternity responsibilities.
JL: I try to keep everything in perspective and just take it one day at a time.  If I do have too much on my plate, I will reach out to my sisters, especially those on my committee, for their assistance.  They are always willing to help.
T: Do you prioritize Greek events over other clubs or organizations?
DM: I prioritize all events in my life because it is so important to live up to commitments. To get the most out of something you have to give it your all. Greek life has always and will always have a special place in my heart. Going Greek and joining Tri Delta and meeting my best friends has been the greatest experience and joy of my life.
ZP: My fraternity is a family to me, so if there is a scheduling conflict with another organization and a specifically important fraternal event like initiation, my fraternity would generally take precedent.
However, my fraternity does a very good job at trying not to have our events overlap with other large-scale campus events, especially those that are put on by student groups that our members that are involved in.
JL: It's all about finding balance.  I am involved with other organizations on campus because I want a broad experience at Ohio Wesleyan and it's important to me to honor the commitments that I have made to all the groups that I'm a part of.  With that said, I always enjoy going to the Greek events on campus, so I make time for as many as I can.
T: What advice do you have to freshmen going into Greek life and other organizations?
DM: The greatest advice I can give to freshman is to keep an open mind. You'll never know what you'll miss out on if you don't branch out and try something new. The best part of getting is involved is meeting new people. Through my involvement on campus, I have met life long friends who I couldn't imagine my life without
ZP: Joining a Greek organization is a definite commitment. However, the commitment that you make is worth the amazing experience and the close family like structure that you can make out of it. The level of involvement that you have can also vary depending on whether you hold a position or not. Generally, becoming a part of any organization requires a level of commitment that both benefits the group you are a part of. It is up to you to decide if it is something that you can donate your time and energy to and be happy at the end of the day.
JL: I would encourage freshmen to explore all that Ohio Wesleyan has to offer.  For me, joining Kappa was the best decision I have made in college.  The sorority experience has only enhanced my opportunities to be involved in other organizations on campus. 
It requires time management and planning, but it is doable to achieve balance with a variety of commitments.  Sororities are seeking well-rounded women who have a variety of interests and want to make it possible for their members to be involved in a variety of ways.