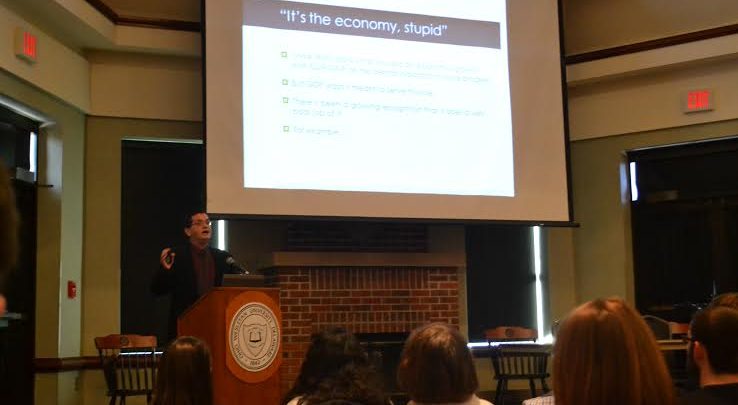 Visiting lecturer says happiness should be first priority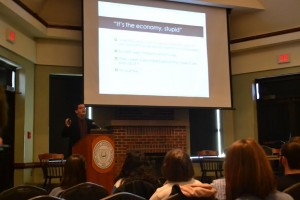 Even though incomes in the United States have nearly tripled since World War II, Americans are not much happier, according to a college professor who studies happiness.
"We as policymakers need to look at how policies affect citizens' quality of life," said Daniel Haybron, an associate professor of philosophy at St. Louis University.
Haybron came to campus Jan. 20 to share his views about the morality of happiness and public policy. He describes his work as at the intersection of value theory and psychology.
According to Haybron, a number of nations including Bhutan, UK, France and, most recently, Germany are making happiness a major policy goal. Instead of focusing on gross domestic product, these nations now emphasize gross domestic happiness.
While focusing on the assertion happiness should be taken into account in policy, Haybron also made it clear happiness should not be the only or most important thing. At a minimum, society should use its resources to help the sick, disabled, marginalized and poor. He described this as the belief we should all take care of each other because we are our brother's keeper.
Haybron primarily discussed the moral objections of adopting a happiness policy, and evaluated those objections from a philosophical perspective. While individuals are not owed assistance or increased happiness, he said, people should feel a duty to be good citizens. This would help create a better society and increase overall happiness.
"I thought it was an interesting topic, though I was hoping he'd get down to the nitty-gritty of how he collects data and what it has proven internationally," sophomore Rachel Morley said.
Beyond just the realm of public policy and societal happiness, Haybron touched on individual happiness.
"If you want to be happy, don't be just going after happiness all the time," Haybron said. "Instead do things that are worthwhile."
The presentation was sponsored by the Arneson Institute for Practical Politics and Public Affairs and was the first of its events this semester.
For institute director Sean Kay, Haybron's visit held sentimental importance as well; the two graduated from high school together.
"I've watched him within the past few years especially take off as a national philosophy rising star, so I was well aware of what he was doing," Kay said. "And with the university I'm trying very consciously to look at and show public policy through different frameworks of thinking."
The next institute-sponsored event, "Unstable Majorities, Polarization and the Contemporary American Electorate" will feature Stanford University professor Morris Fiorina and take place on Mar. 25.