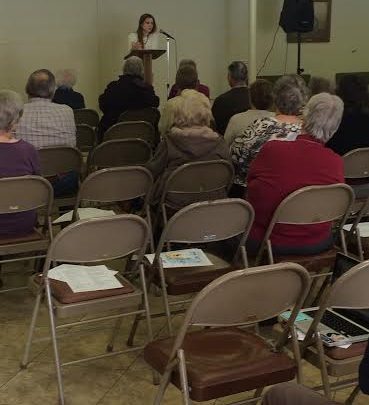 Syrian refugees pose crisis for neighbors
An uprising three years ago against the government of Bashar al-Assad in Syria dramatically increased the number of Syrian refugees and exposed an Ohio Wesleyan University student to a growing crisis.
OWU senior Brenda Gable talked about her study-abroad program and recalled her internship at the Syrian-American Medical Society as part of the 2015 Great Decisions Community Discussion series on Friday.
Gable traveled to Jordan last spring studying health and community development where she was able to see the refugee crisis first hand.
"We were able to go to a make-shift hospital and see how the government was responding to this influx of refugees. That's when my interest increased in this crisis," Gable said.
Nearly half of Syrian's population has fled or lost their homes altogether, many of them crossing the borders of Turkey and Jordan.
"The infrastructure in the surrounding countries can't really support this large influx. It was really interesting to see how Jordanians reacted to the movement into their country."
The massive influx of refugees is straining the resources of host countries and the United Nations has about half of the amount of the money it needs to help. The lack of jobs, education and water has created conflict and competition between the refugees and host citizens.
Gable is a pre-medicine major and interested in studying global public health. She said she hopes to work in that field.
"There's a lot that needs to be done, so I guess I'm attracted to that," Gable said.
In front of a crowd of about 60, Gable dove into the history of Syria, what led to the uprising and the causes of the war.
"Syrians started protesting for basic rights, and the Syrian government wasn't willing to negotiate at all," Gable said. "People believed it was going to be a simple thing that was over in a couple months."
Robert Tannehill, who attended Gable's presentation, said there is a solution for individuals to help.
"It's a whole mess, but individuals can contribute to organizations to help refugees that have fled from Syria." Tannehill said.
OWU junior Lizzy Wynne, who came to support Gable, said she was jealous of Gable's experience.
"I thought she did a great, she was calm and you could really tell that she knew her stuff," Wynne said. "I wish I could go on a trip like that and see it first hand and try to help."
"If all the violence stopped tomorrow," Gable concluded, "it would still take around 30 years for the Syrian government to rebuild it itself."
A three-member panel will discuss human trafficking in the 21st century at the next lecture of the Great Decisions series at William Street United Methodist Church on March 13 at noon.