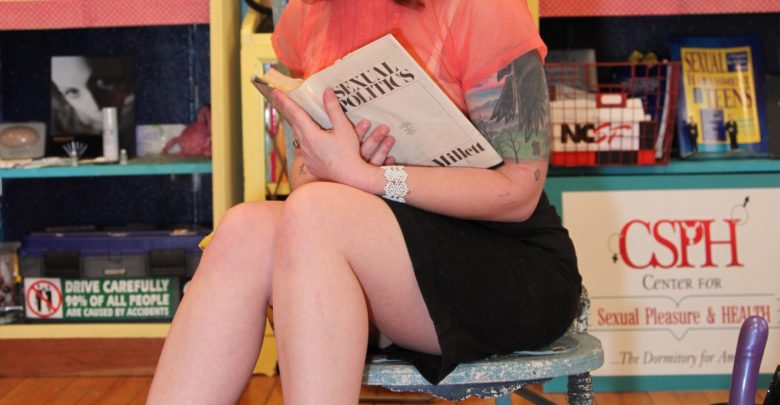 By: Gopika Nair, Transcript correspondent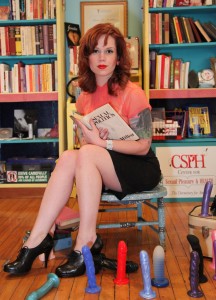 It isn't every day that Ohio Wesleyan students walk into Bishop Cafe to find silicone-based condoms, lubricant and an assortment of sex toys lying scattered on the tables.
Curious glances, suppressed smiles and bold jokes was the popular attitude of the crowd until Megan Andelloux, the person who instructed that the objects be kept there took to the stage.
A clinical sexologist and certified sexuality educator, Andelloux witnesses such student responses regularly and she is on a mission to break some taboos.
Andelloux, the founder of the Center for Sexual Pleasure and Health, visited OWU on Tuesday, March 24 to give a talk titled, "Purring into Pleasure: Exploring Female Desires and Orgasms." Extra seating arrangements had to be made to accommodate all the students in attendance.
Andelloux has an effortless and charming manner about her that put the audience at ease. It is not difficult to understand why.
She said that the center was created when she realized that people had a lot of questions about sex, but there wasn't a platform that could address their concerns.
Andelloux said that talking about sex can awkward and uncomfortable, but discussing it is important.
"I don't think people talk about it in intelligent manners," she said. "I think that we snicker about it."
Andelloux's own upbringing was conservative, raised in Cape Cod, Massachusetts. She said it took her parents nine years to accept her career choice, but they are supportive now. In fact, six years ago, her mother protested for sex workers' safety and healthcare, and this happened only by talking openly about sex.
Addressing the students, Andelloux said, "Today, you're going to hear me say things like 'clit owner' and 'penis owner' because not everyone who has a clit identifies as female and not everyone who has a penis identifies as male." Her words earned finger snaps from the audience.
She covered topics ranging from orgasm techniques to butt play in a frank and engaging manner. While discussing sex, she was inclusive of all genders.
Andelloux talked about embracing sex and dispelling the negativity surrounding sex. She also set out to help the audience understand that everyone's bodies are different.
"It's important to feel safe in our bodies," she said. "I think that we're taught to fear our bodies instead of rejoicing them."
Her candid, no-nonsense approach eased the seeming disquiet that had prevailed initially, and the students responded to her constant encouragement to ask questions. She also offered prizes from the collection of sex toys to those who did.
An attendee at the talk, freshman Alanna Easley, said that it helped her learn more about sex. Having attended a Catholic school, she was taught that abstinence is good.
"Women are portrayed in media in a certain way," Easley said, "but [talks like Andelloux's] help people realize that that's not what they are and that's not what they'll ever be. We should accept that and learn to be comfortable with our bodies."
Freshman Mel Fizdale said the talk helped her further understand the difference between consensual sex and nonconsensual sex.
Earlier during the interview, Andelloux said that one of the reasons she is proud of her career choice is because she has helped sexual assault victims learn to love their bodies.
On their way out, students hovered by the tables with the sexual goodies, and excitedly rummaged through them.
Those were free samples from Andelloux. Greater still in value will be the sense of freedom she gave to the students to discuss topics often considered taboo.