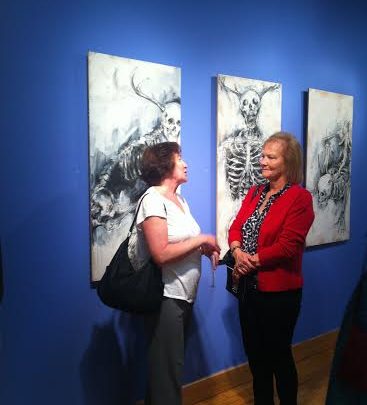 Senior art students look ahead in "Ongoing"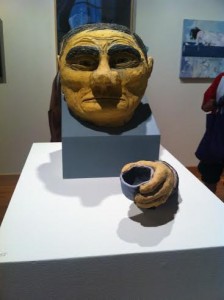 While many students are just beginning to brace themselves for the storm of finals only a few weeks away, Ohio Wesleyan senior art students are starting to breathe easier. On Saturday April 18, the Bachelor of Fine Arts seniors opened the doors to "Ongoing," their last undergrad art show.
"We decided on 'Ongoing' for our title because we thought it represented us as artists," publicity chair and senior art student Kim Lewis said. "With graduation coming up, this time in our lives can seem like an ending of our artistic processes, but in reality we have much more to work towards. Our work is ongoing in that we will always be working on our craft."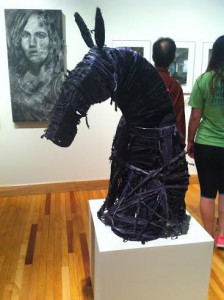 Through a BFA focus on metals, Lewis created a series of wearable art that interlaces the fragility of thread and fibers with the rigidity of copper and nickel.
"I love my work that is in the show and I can't wait to share that with everyone," she said.
As per every year, the diversity in artist mediums was immense. From computer imaging and photography, to metals and ceramics, the senior art students showcased a breadth of talent among many fields.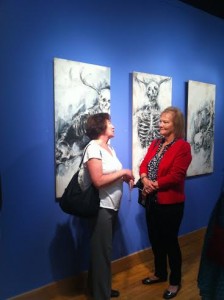 Senior Ben Quick – truly a product of the Ohio Wesleyan art department with both parents as professors – rejects the label of choosing one specific interest within art.
"I identify myself as a sculptor, however, the pursuit of printmaking, panel painting techniques and encaustic painting are modes that I still feel passionate about," Quick said in his artist statement. "When people ask, 'What is your medium?' it strikes me as limiting to define my work by a single medium."
While Quick recognizes the restrictions of labeling oneself as an artist, he centered his final undergrad works on one theme: horses. To portray this interest he created a series of vastly different pieces. A large metal sculpture of a horse head wrapped in dark purple strips of cloth serves a contrast to the creamy white ceramic "Spliced Horse head".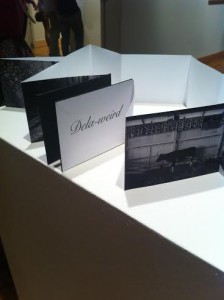 "I try to imbue my sculpture with qualities that make them recognizably related," Quick stated. "I want them to communicate when situated in the same room."
Sophomore gallery management student Leia Miza attended the opening after working many hours prepping the museum to appear as cohesive as possible.
"Some of the hardest pieces to display were the black and white photographs, just because there were many of them," Miza said.
Miza said that overall she is happy with the exhibit's layout, and thinks that the seniors are satisfied as well. "We tried really hard to display their work in the best possible way. We cared about each individual piece and hopefully it showed."
She said that some of her favorite pieces in the show include senior Leah Budde's ceramics and senior Ruby Bemis' metalwork.
A few of the other stand out pieces include senior Mackenzie Schroeder's stoneware "Business" series ,senior  Colleen Bodee's haunting "Egotism" charcoal series and senior  Abbie Love's handmade photography booklet "Dela-weird" that documents the local atmosphere.
"Ongoing" will be on display at the Ross Art Museum through May 10. Museum hours are 1-5 p.m. Sunday, 10 a.m. – 5 p.m. Tuesday, Wednesday, and Friday, 10 a.m. – 9 p.m. Thursday, closed Saturday and Monday. Admission is free.