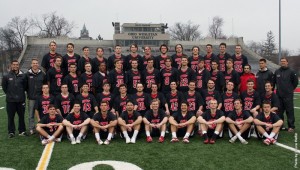 Whenever the Ohio Wesleyan men's lacrosse team faces Denison University, there's bound to be some excitement.
On April 12 that was exactly the case as senior attacker John Umbach scored the winning goal with only 19 seconds left in regulation. Junior Marcus Dietz was credited with the assist.
OWU defeated their rivals by a score of 9-8 to remain undefeated. The dramatic win avenged two 2014 losses to Denison including a 5-14 loss in the North Coast Athletic Conference (NCAC) tournament.
"We definitely felt very confident going into that game," said senior attacker Tommy Minkler. "We knew that if we played our game and did not focus too much on them, then we would come out on top."
The goal came just after Denison received a penalty with under a minute left. This gave OWU a one man advantage.
"Prior to the goal we had a lot of opportunities in the last couple of minutes to score," Umbach said. "As a team we did a great job forgetting about the missed shots and were able to settle down and bury one with 19 seconds left."
The goal, number 27 of the season for Umbach, was scored in front of an ecstatic crowd of over 2,000 at Selby Stadium.
"The atmosphere is amazing and nerves always kick in," said Umbach. "Luckily for us we have been fortunate enough to play in big games with big crowds this year like the Franklin and Marshall game and the Salisbury game."
OWU is now 12-0 on the year with only two games remaining in the regular season. Current Division III polls have them ranked at 3 and 4 in the country respectively.
"We have really been trying not to focus on the rankings too much," said Minkler who contributed two goals in the win. "It's easy to get caught up in the polls and get a big head, so both the coaching staff and the senior class have been really trying to keep everyone grounded and humble."
Minkler and Umbach both said that the feeling after the game was incredible but that the goals for the season were still clear.
"While this was just another regular season game, the atmosphere in the locker room was great," Umbach said.
Minkler added that the game taught the team a lot about themselves and that they plan to play Denison again in just a few weeks, at the NCAC tournament.